Stories you shouldn't miss:
1. Mayor Jean Quan has a lead in the Oakland mayor's race and is ahead of Councilmember Libby Schaaf, 53 to 47 percent in ranked choice voting, the Trib$ reports, citing a new poll from the Oakland Jobs and Housing Coalition. In terms of first-place votes, Quan leads with 20 percent, followed by Schaaf with15 percent; San Francisco State professor Joe Tuman at 8 percent; Port Commissioner Bryan Parker at 7 percent; civil rights attorney Dan Siegel at 5 percent; and City Auditor Courtney Ruby at 4 percent. The poll did not include Councilmember Rebecca Kaplan, who led previous polls but has not yet decided whether she will enter the race. The poll also showed that nearly three-quarters of city residents back a plan to raise the minimum wage to $12.25 an hour.
[jump]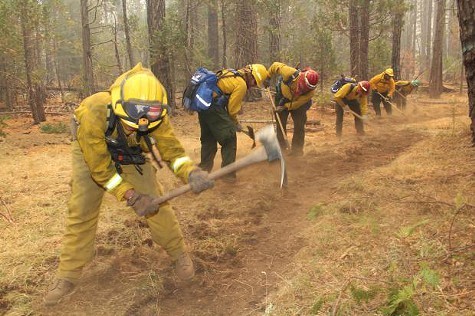 USFS
Fire crews battled a massive fire near Yosemite last year.
2. State fire officials plan to declare today the beginning of the summer fire season as unseasonably hot weather is set to sweep into the Bay Area this week, the Chron reports. Because of the drought, CalFire has already battled 1,350 fires throughout the state since January 1, about double the typical number. The official fire season does not usually begin until June. Weather forecasters predict that temperatures this week will top triple digits in some parts of the Bay Area and could reach 90 degrees in San Francisco.
3. State regulators found that PG&E committed numerous errors in its pipeline inspection records following the deadly 2010 blast in San Bruno, the Chron reports.
4. Because of staffing shortages, the Oakland Police Department has been mandating overtime for eighteen months, raising concerns that police officers may become burned out, the Trib$ reports.
5. ICYMI: The state Senate last week passed kill switch legislation, mandating that all smartphones sold after July 1, 2015 come equipped with kill switches that render phones inoperable when stolen. The Senate had previously voted down the bill, but then some senators changed their votes after Apple and Microsoft withdrew their opposition to it.
6. The state Assembly passed legislation that bars lobbyists from hosting fundraisers at their homes, in the wake of a lobbying scandal earlier this year.
7. And both houses of the legislature passed dark-money legislation, requiring nonprofits that engage in politics to reveal their donors for all contributions made after July 1 of this year. The legislation now goes to the governor for his signature.
$ = news stories that may require payment to read.