Colorado state tax reports issued on May 8 showed that $19 million worth of cannabis was sold legally in the state in March, up almost a third from February. The state also reported $7.3 million in retail weed tax revenues, plus another $12.6 million from taxes on medical cannabis. Last week, state lawmakers moved to spend some proceeds — about $33 million — on school nurses and public education touting responsible use.
[jump]
Colorado lawmakers also moved to create a special bank to handle cannabis transactions, which remain illegal under federal law. But a so-called "Dank Bank" appears to be DOA, because it needs US Treasury approval, and a bill in Congress to green-light pot banking faces long odds.
As far as public safety: crime in Denver declined slightly, compared to the same three-month period a year ago. This is despite doom-laden prognostications from Denver and Colorado officials as well as national law enforcement. "Property crime is down 14.6% compared to the same period in 2013. Violent crimes are down 2.4%," PolicyMic reports.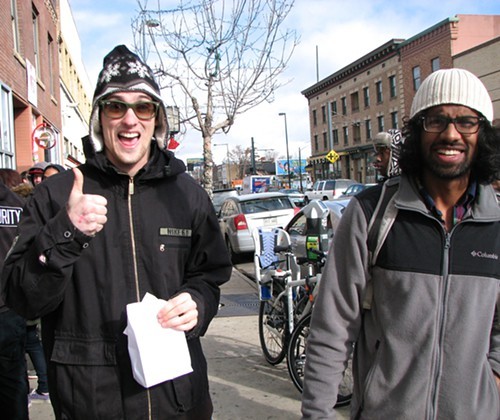 Ninety days after adults over 21 could begin buying cannabis over the counter, taxes were up and crime was down. Above, satisfied customers in Denver January 1, 2014
The results mesh with a recent PLOS One research study that found that legalizing medical marijuana does not result in more violent crime.
"Alternatively, state MML may be correlated with a reduction in homicide and assault rates, net of other covariates. … These findings run counter to arguments suggesting the legalization of marijuana for medical purposes poses a danger to public health in terms of exposure to violent crime and property crimes."