Welcome to the Mid-Week Menu, our weekly roundup of East Bay food news.

1) A quick update on Kingston 11 (2270 Telegraph Ave.), the long-awaited Jamaican restaurant coming soon to Uptown Oakland: It looks like chef Nigel Jones and his partners are in their final fine-tuning stages. The restaurant hosted one last fundraising event over the weekend (h/t @lettuceeatkale), and Jones told What the Fork that final inspections from the city have been scheduled for later this week. Look for a soft opening — with full dinner service — on or around November 15. Lunch and brunch service will launch in subsequent weeks.

[jump]
2014 Michelin Guide
list of starred restaurants was released yesterday, and of the
thirty-eight Bay Area restaurants
to receive at least one Michelin star,
Commis
(3859 Piedmont Ave.) remains the lone East Bay representative. James Syhabout's Oakland flagship has maintained its one-star rating since that star was first awarded in the 2010 guide.
3)
Daily Cal
reports that a new burger restaurant called
Eureka!
(2068 Center St., Berkeley) will have its grand opening on Monday, October 28. The Berkeley location is the SoCal-based chain's tenth restaurant. Owner Robert Suzuki told Daily Cal that the focus of the menu is affordably-priced handmade foods, including french fries that "take 24 hours to prepare." Eureka! will also feature a rotating selection of thirty draft beers and a few off-menu high-end whiskeys like Pappy Van Winkle bourbon and Buffalo Trace's Antique Collection.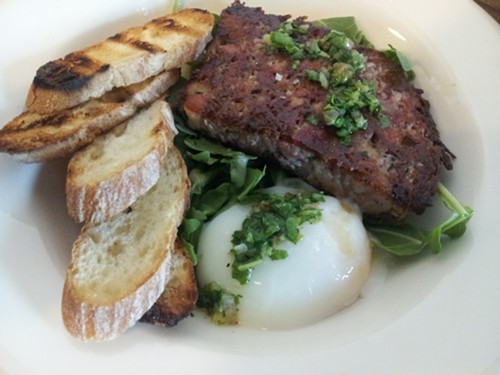 4) Though it has temporarily discontinued its Friday night dinner program,
Marrow
, Uptown Oakland's nose-to-tail sandwich shop, is celebrating its six-month anniversary by
launching weekend brunch service
, which will run on Saturdays and Sundays from 10:30 a.m. to 2:30 p.m. This past Sunday's
debut brunch menu
featured stracciatella, French toast, and steak and eggs, among other dishes. Chef Jon Kosorek told What the Fork that he's just testing the waters for now to see if there's enough customer interest to make brunch a permanent fixture. For what it's worth,
Marrow's weekday breakfasts
are some of the tastiest (and most criminally underrated and under-publicized) in the entire East Bay, so I'd venture to guess that Kosorek's brunches will be worth checking out as well.
5) One more tidbit of Uptown restaurant news: After
closing its doors
a couple of weeks ago — seemingly for good — the Loring Cafe (37 Grand Ave.) announced that it will
reopen this week
under a new chef, Ming Chen.
6)
Berkeleyside
notes the opening of Cup Story (2384 Telegraph Ave., Berkeley), a new Korean fast food restaurant where all of the food — mostly different variations on fried rice — is served in takeaway-friendly paper cups.
7)
Tribune Tavern
(401 13th St.) is hosting a
Warriors Fan Fest block party
in downtown Oakland this Sunday, October 27, from noon to 5 p.m., to celebrate the impending start of the NBA season. The street in front of the restaurant will be closed off, and the first 2,500 fans will receive free
Oaklandish-designed t-shirts
. A few Warriors players will even put in an appearance (at around 1 p.m.). Oh, and there will be food and drink: Tribune Tavern and its sister restaurant,
Lungomare
, will be selling "concession stand" style bites;
Rock Wall Wine Company
and
Trumer Pils
will supply the booze.
a delightful piece of graphic art
that you can purchase and hang on your wall: an artist's rendering of seventy-one "Fantastical Fictive Beers" that run that gamut from Butterbeer to Duff Beer to (my personal favorite) Samuel Jackson Beer — cue the
NSFW Dave Chappelle clip
(h/t
Deadspin/Foodspin
).
9) Finally, ICYMI, the Bay Area might be getting its
first soul-food food truck
, and East Bay food movement folks are celebrating
Food Day
(October 24) throughout the week.
Got tips or suggestions? Email me at Luke (dot) Tsai (at) EastBayExpress (dot) com. Otherwise, keep in touch by following me on Twitter @theluketsai, or simply by posting a comment. I'll read 'em all.