While the concept predates human civilization, for many, the idea of "foraging" for food still seems vaguely exotic — a practice best reserved for the Chez Panisse kitchen staff, hardcore nature enthusiasts, or, perhaps, the exceedingly frugal.

Kevin Feinstein, a Walnut Creek-based wild edible plants expert, says he would like to change that perception. According to Feinstein, his new book project, The Practical Forager, will treat foraging not as an environmentally-conscious hobby, but rather an overarching worldview and lifestyle choice — one with practical, everyday applications for anyone interested in issues of food and sustainability.

[jump]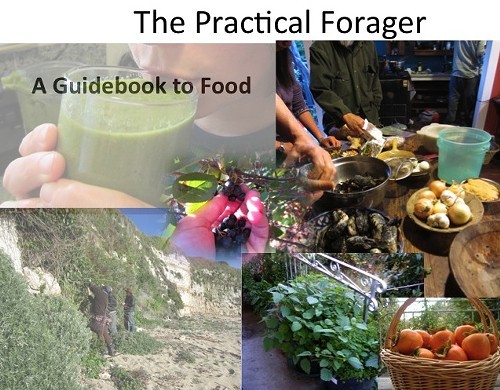 Having just completed a successful
$10,000 Kickstarter campaign
that will cover the cost of self-publishing — most of the money raised in small increments, as funders essentially pre-purchased copies of
The Practical Forager
— Feinstein said he's now ready to buckle down and start writing the book he has spent the better part of the past fifteen years researching.
His plans are nothing if not ambitious. Not only will
The Practical Forager
include an in-depth guide to common edible wild plants, it will also serve as a cookbook, a gardening manual, and a treatise on GMOs, food waste, and various other ripped-from-the-headlines issues. The book will address the question, "Can I actually live off the wild in this day and age?" (Answer: Yes, with caveats.)
But more than anything, the book will teach readers how to take practical steps to reconnect with the natural world — a reconnection that Feinstein believes is the only way to solve most pressing environmental issues facing the world today. And what better way to encourage people to do that than through the lens of food?
As Feinstein put it, "Everybody eats food." Not everyone has the time or the inclination to, say, go off into the wilderness to meditate.
"Best Restaurant in the World,"
in Copenhagen) have brought to foraging — the fact that you can now find formerly obscure edible plants like miner's lettuce on countless restaurant menus. That said, he stressed that the focus of his book won't be "exotic niche ingredients in gourmet cooking."
The Practical Forager
also won't be a glossy coffee table book, long on pretty photos but short on practical advice. And it won't be about providing jaded foodies with new taste experiences or sending them off on truffle-hunting adventures — indeed, Feinstein's response to a question about his favorite East Bay spot for foraging wasn't some hard-to-reach mountaintop retreat, but rather "your backyard."
Hence, the "practical" in
Practical Forager
. Or, to borrow a tried-and-true aphorism, "It's more like teaching people how to fish rather than giving people a fish," Feinstein said.
Ultimately, if you define "foraging" broadly to mean the simple act of gathering food, then everyone is a forager — whether you're foraging at a restaurant or at the supermarket or in the woods behind your house. What
everyone
can do, Feinstein said, is take steps to procure their food more directly from the natural world.
Feinstein is mostly known around the Bay Area for his guided edible plant walks and foraging classes, which you can learn about on
FeralKevin.com
. The website's URL alludes to an online handle that Feinstein adopted during the pre-Facebook early Aughts. "'Feral' [refers to] something that has reverted from a domesticated state toward a wild state, but it's not fully wild," he explained. At the time, he chose the moniker because he felt the word was an apt analogy for what we as a human culture need to do — to "re-wild" ourselves in terms of our relationship with food and nature.
Feinstein said
The Practical Forager
— which, in many ways, will serve as a kind of "re-wilding" guide — should be available for purchase by December 2014.