Welcome to the Mid-Week Menu, our roundup of East Bay food news.
1) Some three weeks after Haven (44 Webster St.) went on what was 
initially an unannounced hiatus
, the Jack London Square restaurant will reopen this Friday with a new menu format in place,
Oakland Local
reports. Or rather, the restaurant will go back to a version of the prix-fixe, family-style format that it has tinkered with previously. Chef Charlie Parker will now serve a daily-changing chef's choice tasting menu, with the first and last courses served as big, family-style platters. "It's like a big dinner party," Parker told Oakland Local.
[jump] We'll see if the concept takes. In truth, Jack London Square could probably use a showstopping destination restaurant, and the prices for
Haven's new prix-fixe
— $45 per person on weeknights and $60 on Friday and Saturday nights — place the restaurant squarely in the special occasion category for most of the dining public. That's a bit of a shift from
Parker's recent efforts
to make the restaurant less expensive and more down-to-earth, though it appears that diners who sit at the bar will still be able to order a burger and other more casual offerings from a
rotating a la carte menu
.
2) Box and Bells (5912 College Ave.), James Syhabout's meat-centric Rockridge restaurant, has closed suddenly,
Inside Scoop
reports. The restaurant's menu was built around the kinds of rich
dishes that chefs serve each other for staff meals
(e.g. Japanese-style fried chicken with raw oyster mayonnaise), but apparently the concept "did not resonate with the neighborhood," according to a statement from the restaurant. No word yet on the future of the former Somerset space.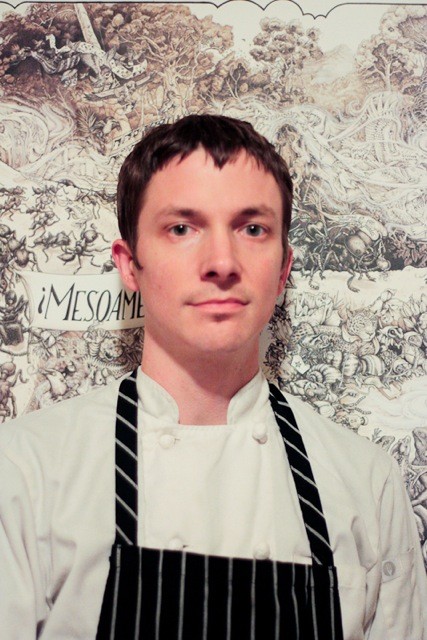 3) One more closure, this one with silver lining: Veg 388, the
modern vegetarian pop-up
that took over Oakland's Kitchen 388 (388 Grand Ave.) five nights a week, has
ended its five-month run
. However, fans of chef Kevin Schuder's food can look for him at
Citizen Fox
(2205 Mission St.), a forthcoming plant-based restaurant and brewery in San Francisco's Mission District where Schuder has signed as the new executive chef. Citizen Fox is slated to open early this year, and Schuder said he plans to do several pop-ups in the meantime.
4)
Dopo
(4293 Piedmont Ave.), a longtime favorite in Oakland's Italian food scene, is about to become even more of a specialist:
Tablehopper
reports that moving forward the restaurant will focus solely on the food and wine of Sicily.
5)
Inside Scoop
reports that Jon Guhl and Ryan Murff, the owners of Boss Burger (one of the subjects of this week's
restaurant review
), have another new project in the works. Tentatively named "Eugene" (after Murff's hometown in Oregon), the casual, farm-to-table, breakfast-through-dinner restaurant will take over the Guhl-owned Little Star Pizza space at 1175 Solano Avenue in Albany. Deep-dish pizza lovers need not worry, though — Little Star is moving into a larger space, just a few doors down, sometime this summer.
6) Good news for fans of Sophina Uong's food from her time as the executive chef at Uptown Oakland's Pican: After taking some time off to travel, Uong is back in the kitchen at Berkeley's
Revival Bar & Kitchen
(2102 Shattuck Ave.), where she'll be the co-chef through the end of March. Uong told me that she's been working on the restaurant's late-night bar menu (available until 11 p.m. Thursday through Saturday), and she's also planning to help the restaurant launch weekend brunch service at some point in the near future.
7) Peter Levitt, the co-owner of Saul's Restaurant & Delicatessen (1475 Shattuck Ave., Berkeley), has applied for a permit to build a parklet in front of the restaurant,
Berkeleyside Nosh
reports. The project, which aims to create a lively sidewalk gathering place, would be the third parklet approved by the city. To help pay for the project, Saul's has launched a
$15,000 crowdfunding campaign
.
8) If you like your real-life restaurant drama to read like it's ripped straight from the pages of
Kitchen Confidential
, check out the
Contra Costa Times'
tale of the rise and fall of Lafayette's American Kitchen. The story has a little bit of everything: embezzlement, restraining orders, the alleged brandishing of butcher knives, and accusations of sexual harassment.
9) Finally, ICYMI,
Taiwan Bento
is now serving Taiwanese street snacks for dinner,
Ajuzoun
aims to bring Japanese fusion and American steak to the Oakland waterfront, and a tiny Richmond restaurant ups the ante on its
anti-Yelp campaign
.
Got tips or suggestions? Email me at Luke (dot) Tsai (at) EastBayExpress (dot) com. Otherwise, keep in touch by following me on Twitter @theluketsai, or simply by posting a comment. I'll read 'em all.