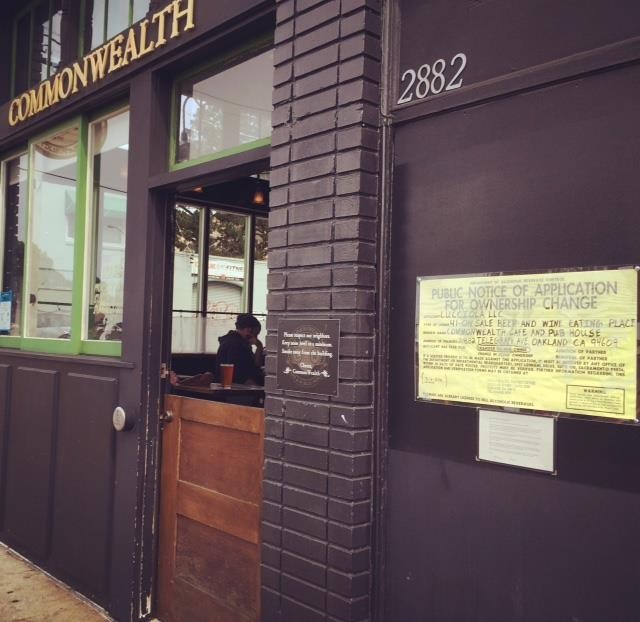 Welcome to the Mid-Week Menu, our roundup of East Bay food news.
1) CommonWealth Cafe & Pub (2882 Telegraph Ave.), the popular Uptown Oakland watering hole, has new owners. In a
Facebook post
earlier this week, Ahna and Ross Adair announced that they've sold the pub to two longtime customers: Lizzie Alford (a CommonWealth employee for the past two years) and Josh Rosenberg.
It's unclear whether any major changes are forthcoming, but the Adairs say the bar will continue to offer customers "all the things you've come to know and love." Beloved by Anglophiles, soccer fanatics, and Scotch egg eaters, CommonWealth is known, among other things, for its large selection of British beer. The pub's sister location in Emeryville
closed in December
.
[jump] 2) After closing abruptly this past fall after being open just two months (
the weekend before my review was due to drop
, no less), Grand Fare is now planning to reopen, according to the
Splash Pad Newsletter
. I've reached out to owner Doug Washington and will update with additional details, but for now it sounds like changes will include indoor seating and a smaller and less expensive grocery section.
3) With the
newly rebranded Temescal Brewing
already in the works, Oakland's Temescal neighborhood will be home to yet another brand new small-batch craft brewery and taproom.
Inside Scoop
has the scoop on Rose's Taproom (4930 Telegraph Ave.), which aims to be a "human-scale" brewery that will offer a rotating selection of six beers, all brewed on-site. Look for a late-summer opening.
4) After having been shut down for ten days as a result of a
small fire
, Chop Bar reopened today — Wednesday, March 9 — with regular business hours.
5)
Inside Scoop
reports that Noodle Theory Provisions (5849 San Pablo Ave.), an offshoot of the Rockridge pan-Asian noodle shop, will open for business in North Oakland on Monday, March 14.
6) Herb n' Chicken (1511 Shattuck Ave., Berkeley), the rotisserie chicken spot in North Berkeley's Epicurious Garden — from the owners of nearby Tigerlily — has closed just five months after opening,
Berkeleyside Nosh
reports. It will be replaced by
Guacamole 61
, a taqueria co-owned by Willy Perez (one of the owners of Sliver Pizzeria) and head chef Gustavo Orozco.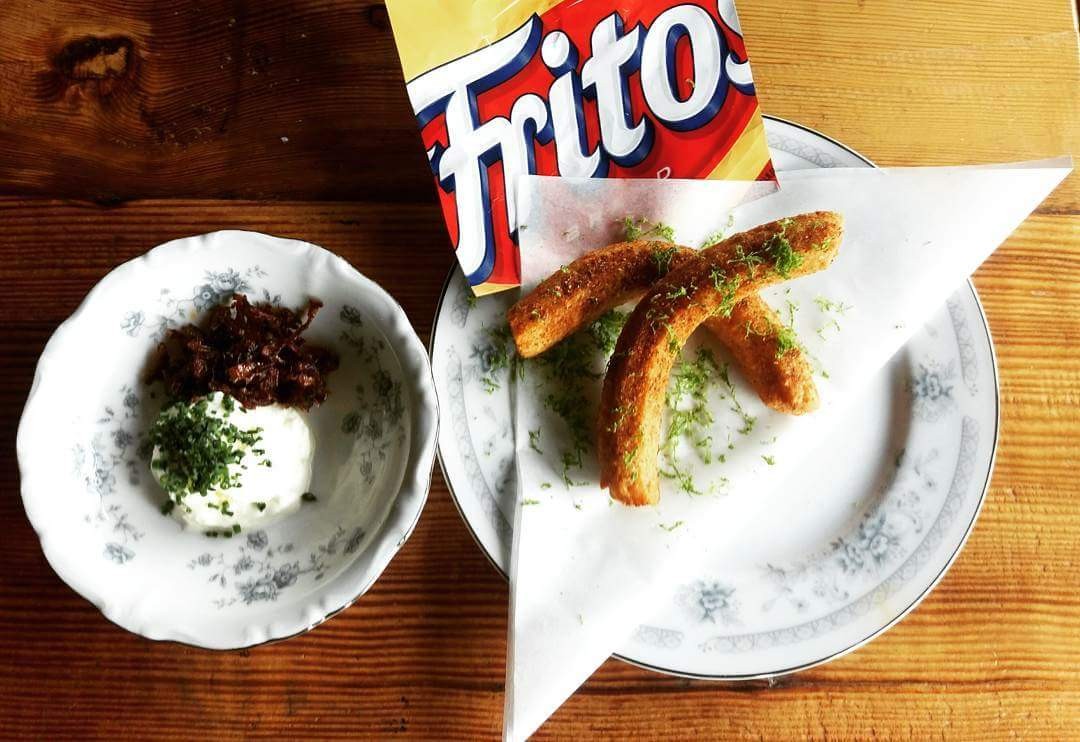 7) The
"Journeymen,"
the ambitious chefs behind the monthly pop-up dinner at Temescal's Blackwater Station (4901 Telegraph Ave., Oakland), are back. Next week's pop-up — on Monday, March 14 (6–10 p.m.) — will have a "staff meal" theme: dishes inspired by the kinds of decadent, over-the-top kinds of foods that chefs like to cook for each other. So there will be Frito pie churros, tater tots fried in schmaltz, and lasagna made to look and taste like a McDonald's cheeseburger.
Tickets are $59.02 on Eventbrite
.
8) Umami Mart and the UC Berkeley Center for Japanese Studies are hosting a fundraising dinner to commemorate the fifth anniversary of the Fukushima tsunami/nuclear disaster. Check out the details
here
.
9) One more upcoming event: a six-course
"Soil to Soul" vegetarian tasting menu
at Guerilla Cafe (1620 Shattuck Ave., Berkeley) inspired by the book Bread, Wine, Chocolate: The Slow Loss of Foods We Love (whose author, Simran Sethi, will be a guest speaker at the event). The meal will be prepared by Jocelyn Jackson, whose company,
Justus Kitchen
, is organizing the event.
10) ICYMI, I wrote about how a
recent federal court decision
has prompted some East Bay restaurants to again consider going tipless.
Got tips or suggestions? Email me at Luke (dot) Tsai (at) EastBayExpress (dot) com. Otherwise, keep in touch by following me on Twitter @theluketsai, or simply by posting a comment. I'll read 'em all.