Welcome to the Mid-Week Menu, our roundup of East Bay food news.

1) Soon after I reported the shuttering of the Grand Avenue coffee shop/high-end furniture store Monkey Forest Road (3265 Grand Ave., Oakland) last week, I heard rumors that Charlie Hallowell and his business partner, Richard Weinstein, had bought the space and were planning either to turn it into a food market or an outdoor patio for Hallowell's still-new restaurant, Penrose, next door. As it turns out, the rumor was partly true: Hallowell confirmed the purchase, but he told me that he's had his hands full, having taken over as the full-time chef at Penrose (the subject of this week's restaurant review) since the beginning of the year. So, Hallowell and his partner decided to lease the space to Doug Washington (a partner at Salt House and Town Hall in San Francisco), with the idea that Washington might turn it into a kind of "Oakland Bi-Rite," as Hallowell put it.

Washington spoke to Inside Scoop about the project, tentatively named Grand Market, which sounds to me a little bit more akin to The Pasta Shop than Bi-Rite Market per se: a food market with different counters selling carefully curated cheeses, charcuterie, baked goods, and so forth — plus a big outdoor area where there will be coffee and booze for sale, as well as seating. ETA is at least five months from now.

[jump]
2) The formerly-all-vegan beer garden Olde Depot (468 3rd St., Oakland) closed its doors last month, announcing plans to reopen under the auspices of "a brand new company." Unfortunately, Olde Depot's demise means that the Santipapas taco stand that has been operating inside the bar since November is also closed, though proprietor Mark Sorensen told What the Fork that he's looking into the possibility of doing various taco pop-ups in the future. Meanwhile, Sorensen said Santipapas' main salsa business is still going strong.

3) Speaking of which: Olde Depot later identified that "brand new company" as none other than Fivetenburger, the popular burger-slinging food truck, which would presumably reopen the space as a brick-and-mortar restaurant. But when I reached out to chef-owner Roland Robles, he denied the rumor — though, for what it's worth, Robles did recently hint on Facebook that an Oakland location was in the works. Stay tuned! As for the burger maestro's previously announced brick-and-mortar project, Handlebar (at 984 University Ave. in Berkeley), Robles said he's now aiming for a March opening.


Fist of Flour Pizza Company
opens the doors to its first "Doughjo" at 4166 MacArthur Blvd. in East Oakland, starting at 5 p.m.
The pizzeria will offer takeout and stand-at-the-counter service only — no seats, no delivery.
For now, the restaurant's hours are Wednesday to Sunday, 5-9 p.m., with lunch service to come later on.
5)
Berkeleyside Nosh
has additional details about
Salsipuedes
, San Diego transplant Jay Porter's North Oakland farm-to-table restaurant, including its exact location: 4201 Market St., in the Longfellow neighborhood.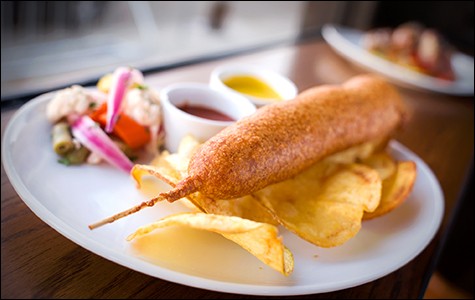 Corn dog at Hog's Apothecary
6) Elsewhere in North Oakland:
Eater
reports that
Hog's Apothecary
(375 40th St.) is
expanding its hours
, in part to cater to folks who work in the local bar and restaurant industry. The beer-and-sausage specialist will now serve food until 11 p.m. (and drinks until midnight) Wednesday through Monday.
7) As the new semester kicks off, another
Edible Education course
— offered in collaboration with Alice Waters' Edible Schoolyard Project — is about to get underway at UC Berkeley. Michael Pollan's class on "The Rise and Future of the Food Movement" will be held on Mondays, 6:30-8:30 p.m., starting on January 27, at Wheeler Hall. The class features an
all-star lineup
of guest lecturers who will speak on such topics as agriculture and climate change, plant genetic engineering, and the rise of female farmers. A limited number of tickets (usually free) to each class session will be made available to the general public a week in advance via the
Edible Schoolyard website
. (For what it's worth, I sat in on one of the Edible Education lectures a little over a year ago and found it
thoroughly entertaining/edifying
.)
8) As Chicago's Alinea
considers a ban on children
(after one couple brought a crying eight-month-old to the $200+/person temple of gastronomy over the weekend),
Inside Scoop
weighs in on the issue of bringing babies to fine-dining restaurants.
9) Finally, ICYMI, this week I wrote about
Oakland Restaurant Week
and
Odd Bagel
, whose bagels might be the be gluten-free bread I've ever tasted.
Got tips or suggestions? Email me at Luke (dot) Tsai (at) EastBayExpress (dot) com. Otherwise, keep in touch by following me on Twitter @theluketsai, or simply by posting a comment. I'll read 'em all.