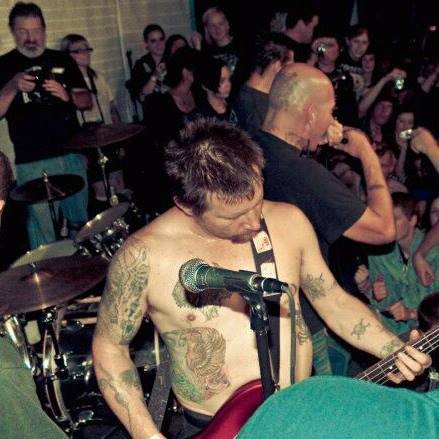 Last Monday, Michael "Mike-o the Psycho" Montano passed away at the Richmond home of his friend and caregiver, Steve "List" Koepke, following a battle with metastatic prostate cancer. He was 46.
[jump] On Sunday at 924 Gilman Street, Jello Biafra noted the passing of Montano and another East Bay punk,
Heiko Schrepel
, in his introduction for
Green Day's secret performance
. Koepke confirmed Montano's passing to the
Express. 
Montano was best known as the bassist of Filth, the influential East Bay act formed in 1989 by members of Isocracy and Crimpshrine. On Sunday, Filth's logo adorned the clothing of many teenage punks at Gilman, a venue the band was closely associated with in its own time.
Montano performed on the 1990 full-length 
The Shit Split,
which featured Blatz on one side and Filth on the other. One of the most lauded and emblematic East Bay punk statements of the era,
The Shit Split
originally appeared on Lookout! Records and remains in print through Alternative Tentacles. Following Filth, Montano formed Strychnine. Later he formed Fields of Shit and performed with White Trash Debutantes. 
Montano was born on October 15th, 1968, in San Pablo. Koepke met him at age fourteen, around the time he formed his band, Ralph. Before Montano joined Filth, Koepke recalled the two of them seeing the group perform on a bill with Green Day in Robert Eggplant's backyard. Montano joined the band shortly after, Koepke said, noting that he quickly became one of the finest bassists in town.
Filth reunited for several shows in 2010. One occurred at Oakland's now-defunct underground punk venue Hazmat, where Montano lived at the time. Another was at Gilman, celebrating the twentieth anniversary of
The List
, a crucial concert directory maintained by Koepke, who looked after Montano in his final months. 
In 2013, Blatz performed for the first time since 1992 at Gilman benefitting Montano's cancer treatment fund. As frontman Jesse Luscious told me
at the time
, "When someone so closely linked to our old band got such a sudden, severe diagnosis, we were shocked into action." Benefit events occurred throughout California. 
Koepke said that the cancer had already spread throughout much of his friend's body by the time it was discovered. Montano's sister and stepfather are handling his affairs, Koepke said, adding that supporters could give to charities working to make prostate cancer screening services readily available.