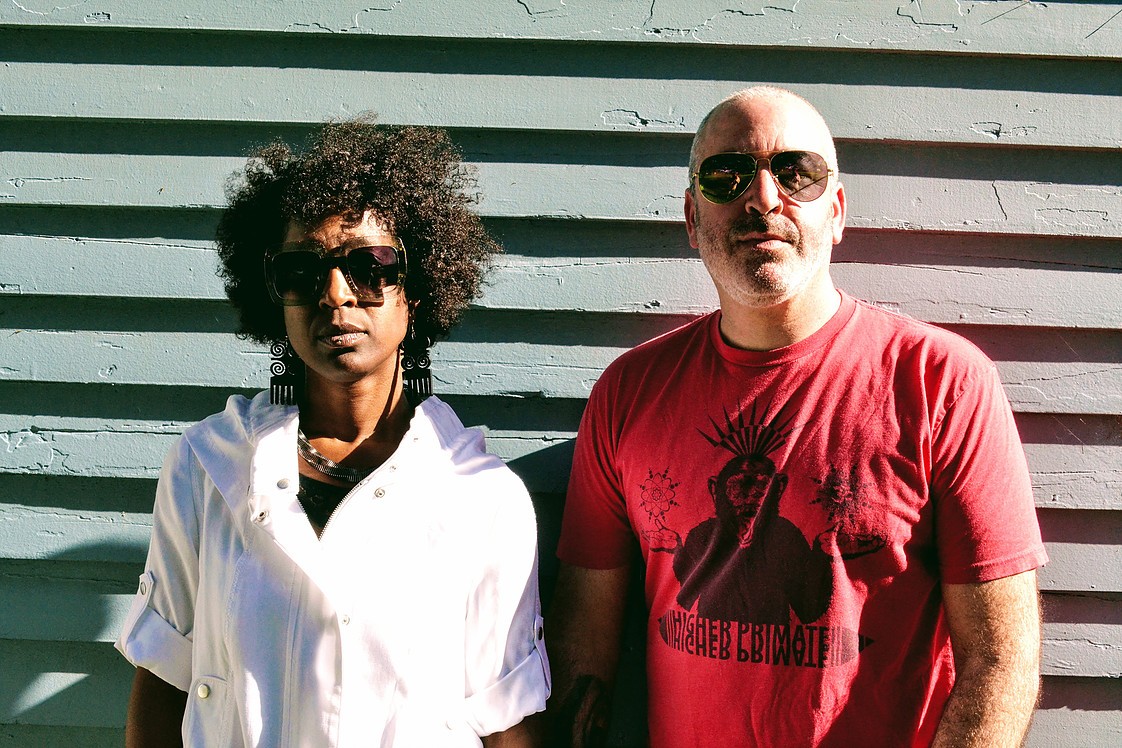 More than a song, Oakland-based duo Max Park's new release "
Say Their Names
" is a social justice project. The collaboration between singer Lesley Grant and producer Tal Ariel is a devastating gospel piano ballad that culminates in Grant reciting the names of 26 people of color who were were killed by racially motivated violence. At the end of the song, a few seconds of blank space remain so the names of new victims can be added, creating a sort of living memorial.
"It is a terrible and heartbreaking thing to include in a song, just as the reality itself is terrible and heartbreaking," said Ariel.
Max Park
is named after the Maxwell Park neighborhood in Oakland. The electro-soul band collaborated with the Oakland Youth Choir for "Say Their Names," a decision made not just from a musical standpoint but also a socially conscious one.
"Children's voices felt like a powerful statement to me," said Ariel. "These kids are the future, and they're seeing what's happening to their friends and other people in society. Giving them the chance to speak and lend their voices to what we're saying I felt was very poignant."
[embed-1] As a white man originally from the Middle East collaborating with a Black woman from the South, Ariel hopes to do his part in engaging white people with the harsh realities of racism. In conversations with close friends, he realized there was an obvious divide between reactions of those who had been personally exposed to racism or not.
When white people "hear about these names, maybe they're sad but it's not personal," said Ariel. "There's sort of a dehumanization going on where it becomes just statistics and headlines, as opposed to the real human being."
"Say Their Names" is about humanizing these names. The song was released on Feb. 26, the sixth anniversary of Trayvon Martin's murder. Currently in the works is a crowd-sourced music video, for which Max Park is inviting the general public to submit videos of themselves singing along to the song or holding up signs with names of victims. Ariel hopes the video gives those who feel helpless in the face of senseless violence a way to participate in the fight against injustice.
Max Park will also be featuring some of the victims' families in the video. They've connected already with Stacey Sims, the sister of
Will Sims
, and Ron Davis, the father of
Jordan Davis
 with whom Ariel had an extremely emotional conversation that left him in tears. Part of the intent of "Say Their Names" is to show support to these families.
"Just the fact that they know there are people out there who know their stories and that we won't let them be forgotten has some kind of impact on them," said Ariel. All profits from the song will also be donated to organizations working on racial justice issues.
Max Park has more new music scheduled for release on strategic dates throughout the year, and hope to generate enough buzz from the music video to eventually tour. Anyone who wants to show solidarity by submitting a clip for the "Say Their Names" video can do so via the band's
website
.