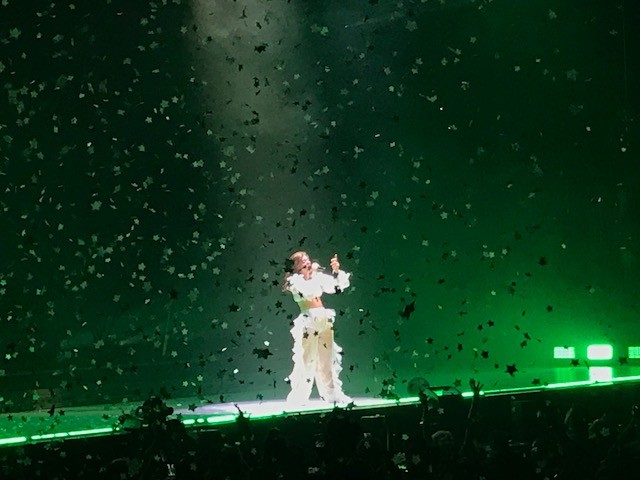 Four years ago, Lorde was a shy 18-year-old singer-songwriter who was just absorbing the success of her debut album,
Pure Heroine
. Performing at Berkeley's Greek Theatre in October 2014 was a pivotal moment for the New Zealand native, whose real name is Ella Marija Lani Yelich-O'Connor. She had no idea that four years later she'd be selling out arenas around the world.
"The Greek was one of the biggest venues I've ever played," Lorde  told thousands of screaming fans during the Oakland stop of her Melodrama World Tour. "It felt archaic, like I was at the Coliseum."
While some singers fail to recreate the smash success of a debut album, Lorde isn't one of them. Her sophomore album,
Melodrama
, has been critically acclaimed, and her performance at the Oracle Arena last night proved that the four-year wait for her return to the stage was certainly worth it.
Lorde opened the night with "Homemade Dynamite," swaying onto the stage wearing a sheer black outfit with a rhinestone-embellished bra peeking through her top. Several dancers dressed in nude colors joined her, swaying to the rhythm of each song.
She didn't need them. Lorde has the ability to command a stage all by herself — no elaborate production needed. Yet the subtle theatrical production complemented her performance perfectly.
"Oakland, welcome to the Melodrama World Tour," she told the audience.
Sure, the night was all about the Melodrama tour, but Lorde also incorporated songs from her Grammy-award-winning debut album,  performing "Tennis Court," "400Lux," "Ribs," and "Buzzcut Season."
After a quick wardrobe change into a long and flowy pink dress, Lorde was back onstage.
Broadcast the boom boom boom boom/ And make 'em all dance to it
, she belted. This wardrobe change also served as a transition to the more talkative Lorde, who addressed the crowd about being vulnerable.
Lorde has told the press that
Melodrama
isn't a break-up album; it's a record about being alone. The majority of the album was co-written and produced by Jack Antonoff, who the singer is rumored to be dating.
When introducing "Hard Feelings," Lorde told the audience, "This song is about a sad moment, the moment when you break up with someone, and you know it's over but you haven't left the room."  Another song about feeling vulnerable was "Writer in the Dark."
During the almost two-hour set, Lorde also covered the Frank Ocean song "Solo" and delighted the crowd with fan favorite "Liability."
After performing "Royals," "Perfect Places," and "Green Light," with star-shaped confetti falling from the ceiling, the singer returned to the stage once again with a mic and drum pad to belt out three more songs: "Loveless," "Precious Metals," and "Team."
[embed-1]
Lorde isn't your typical pop star. Her lyrics and stage presence — which is especially impressive considering her age and short musical carer — surpass those of other singers around her age, the Taylor Swift's and Selena Gomez' of the pop world.
One thing is certain: She's no longer a shy teenager. "I feel very at home in this room," Lorde told her screaming fans.