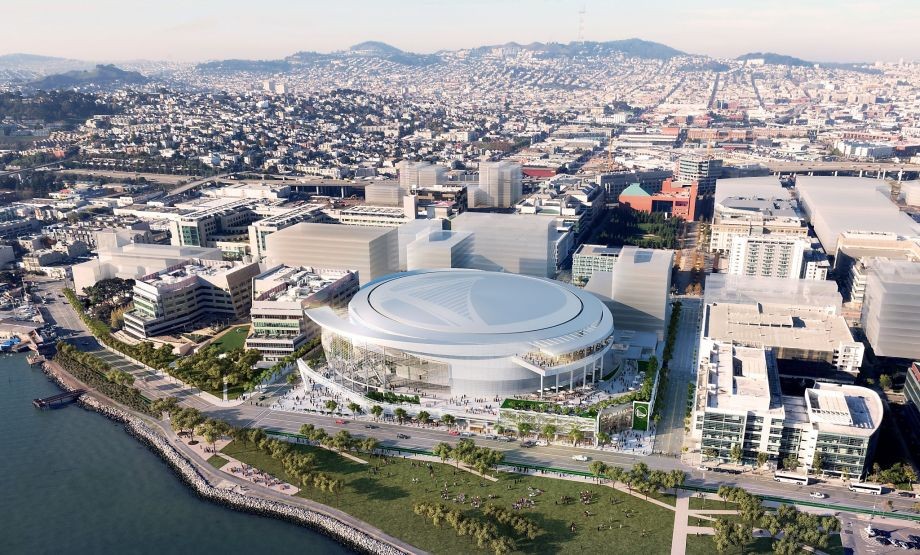 From Oakland's perspective, there's much to dislike about the Warriors' impending relocation to San Francisco. The move could chill East Bay support, kill the franchise's soul, and ruin its fabled home court advantage. And, as recently stated in an
Express
column, placing "The Town" logo on Dubs jerseys this year
has been an empty gesture
, especially because the Warriors are trying to avoid paying the $40 million public debt they'll owe after they leave.
Such putdowns over the long term could hinder public relations for owners Joe Lacob and Peter Guber at the worst possible time, as they're privately financing the $1 billion Chase Center, the 18,064-seat waterfront arena under construction a mile south of AT&T Park.
But those slights might pale in comparison to the harsh words of Allen Jones, a longtime San Franciscan who has channeled his disdain for the Warriors' move into authoring Proposition I, an uncommonly critical ballot measure that San Franciscans will consider this June. The unusual proposition might be the nation's first to ask voters to apologize to a neighboring city for taking one of its sports teams, and the potentially pointed slam from San Franciscans could damage the Warriors owners' grandest ambitions for their Mission Bay entertainment complex.
If approved, Prop. I's purely symbolic result wouldn't directly stop the Dubs' plans. But Jones, a retired draftsman who heads a small political group called the Good Neighbor Coalition, hopes a "yes" vote at the polls will force NBA Commissioner Adam Silver to rethink his approval of the team's relocation. At minimum, Jones aims to publicly shame San Francisco leaders and Warriors owners for betraying Oakland with the move, actions he describes as "an embarrassment, un-American, and certainly un-San Franciscan."
The measure presents a direct challenge to San Francisco voters, asking them to follow a "Thou Shall Not Covet Policy" with other cities' sports franchises.
"We the people of the City and County of San Francisco will not endorse or condone the relocation of any sports team that has previously established itself in another municipality," the measure text states. "Instead of looking for an opportunity to take from our neighbors, we wish to fully support each other and the entire Bay Area."
The proposition needs 50 percent plus one to pass.
Jim Erickson, a Warriors suite holder, supports Prop. I because of what the team means to Oakland, the team's home since 1971.
"That's a unicorn right there," Erickson said while pointing to Oracle Arena, where the Warriors make big profits and enjoy one of the NBA's loudest home crowds. "That place there is special."
Erickson said the Dubs' impending move will mirror the 49ers' relocation in 2014 to Levi's Stadium in Santa Clara, around 40 miles south of Candlestick Park.
"If you tell the Warriors owners, 'You're going to make more money in San Francisco, but your fan base won't be as good, and your arena won't be as cool [as in Oakland],'" he added. "Their reply will be, 'Yeah, so?' It's going to be just like the 49ers in Santa Clara."
Erickson, president of an Oakland nonprofit group called Direct Help, said the team's departure will "devastate East Oakland" because of the loss of jobs in an area that sorely needs them. "Everybody wants the Warriors here in Oakland," he said, "Everybody except for the Warriors owners and the San Francisco politicians."
Jones, 61, was raised in San Francisco's Mission district in the 1960s and '70s. And his actions have all the indignation and quixotic passion of old-school, anti-authoritarian San Francisco. In other words, what made Jones a fairly typical San Franciscan in the crunchy 1970s, now makes him an iconoclast — perhaps even an outcast — in the city.
Jones' fiery words and persistent activism, in contrast to his soft-spoken delivery, place him among a dying breed of outspoken, perhaps hyperbolic, San Francisco rebels; those who never got the memo that they're required to shrug off and accept the sight of average joes being crushed by corporate behemoths. And Jones believes the Warriors' billionaire owners are doing just that to Oakland and the franchise's East Bay fans. Even more, he hates that the historically generous and tolerant spirit of San Francisco — named after St. Francis of Assisi, after all — has been dragged into it.
"I have no objection to any owner taking his team somewhere else to make the most on his investment, but you shouldn't do it by stiffing the community that has supported you for so long," Jones said. "I don't believe San Franciscans would appreciate the fact that we're looking like thieves."
Jones, a Warriors fan since the mid-1970s, notes that the Dubs have been loyally supported in Oakland for nearly 50 years, even when they were terrible. In contrast, the Warriors' nine seasons west of the Bay Bridge during the 1960s were marked by poor attendance, whether playing in downtown San Francisco at what is now the Bill Graham Civic Auditorium or the Cow Palace in Daly City.
"San Francisco never supported pro basketball; it's not fit to be an NBA city," Jones said. "When you have the NBA's lowest attendance in a time when you've been to the finals twice — once in 1964 and again in '67 — that's a good indication you're not supporting the team."
Jones says all pro sports leagues must change their ways by eschewing greed and showing more loyalty to their home cities. The Warriors' attempts to avoid paying their Oracle Arena debt to Oakland and Alameda County is a prime example of what not to do, he said.
"You can't convince me San Franciscans are saying, 'We don't care if you stiff Oakland for $40 million, come on over,'" Jones said. "A world-class city helps its neighbors, it does not help itself to its neighbor's jewels. I can't be convinced this is the spirit of San Francisco."
He hopes his fellow San Franciscans agree with him, and they express their solidarity by voting yes on Proposition I in the June 5 election.
"The move shows no respect for the great Warrior legacy established in Oakland," he added. "I'm saying, 'Check your heart, San Francisco. I don't think you're this cold and callous.'"
Chris De Benedetti writes a regular sports column for the
Express.