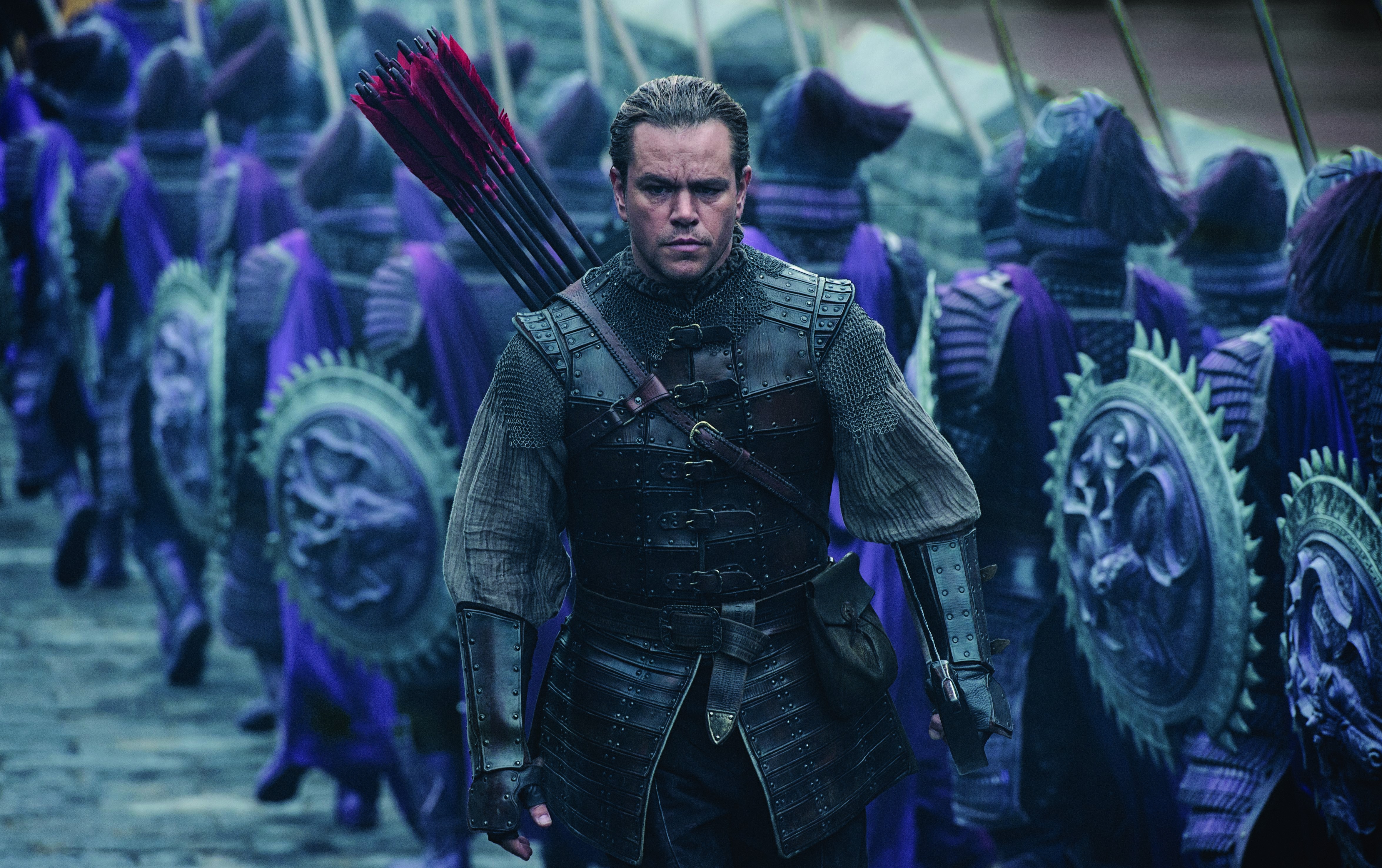 Portrait of a movie nobody knows what to do with: Zhang Yimou's
The Great Wall
. Ever since last summer, there have been complaints about that film's casting of Matt Damon as a "European mercenary" who joins forces with imperial Chinese troops to defend that title structure from mythological creatures, sometime in the ancient past. Righteous commentators have hurled such terms such as "cultural appropriation" and "white savior archetype" at the phenomenon.
The 2016 fantasy adventure by veteran filmmaker Zhang (
Shanghai Triad
,
Raise the Red Lantern
), billed as China's most expensive production to date, opened in English-speaking territories last December to largely negative reviews — the
UK Telegraph
said, in reference to the title: "Watching it feels like repeatedly banging your head against one." And now it's finally making its way here, in a cloud of disapproval.
But really, is it all that bad? Cultural appropriation, however questionable, is nothing new. Hollywood and Europe have been inserting white movie stars into "exotic" Third World scenarios for more than a hundred years — check the filmographies of Errol Flynn or Marlene Dietrich, or practically any fanciful short by Georges Méliès. Richard Barthelmess (
Broken Blossoms
) and Myrna Loy (
The Mask of Fu Manchu
) even went so far as to portray Chinese characters. Back then it was probably viewed as part of the willing suspension of belief — never mind that such genuine talents as Anna May Wong were shunted off to minor roles. Now, it's a hot-button intercultural topic. None of that makes Damon's character — as written by a tag team of six screenwriters — any easier to swallow, but that's more or less beside the point.
The point is,
The Great Wall
would be a bloated, cheap-looking, wholly synthetic mega-production no matter who acts in it. The screenplay makes a feint toward the irony of the Western mercenaries' quest for black powder (to enable their countries' own imperial efforts, no doubt), but the thrust is relentlessly juvenile. Millions of unconvincing CGI monsters, loads of fireballs, dim-bulb dialogue, typical hasty-looking 3-D. Damon's performance is as witless as the character's conception. Chinese screen idol Jing Tian fares a little better as Commander Lin, the female general. The dinosaur-like Tao Tei creatures look to be leftovers from the
Lord of the Rings
series. Meanwhile, Willem Dafoe wanders through scenes looking lost, as if he woke up in the wrong movie.
It's hard to imagine how the creator of the 2008 Beijing Olympics spectacles, let alone the down-to-earth tale spinner of
Ju Dou
and
The Story of Qiu Ju
, came to this. If only Zhang had used the actual Great Wall as the setting for, say, a realistic story of China defending against the Mongol hordes. Instead, the U.S.-China co-prod's backers settled for a $150 million bet on a bunch of lizards. There's a new nickname for any theater showing
The Great Wall
: The Forbidden City.