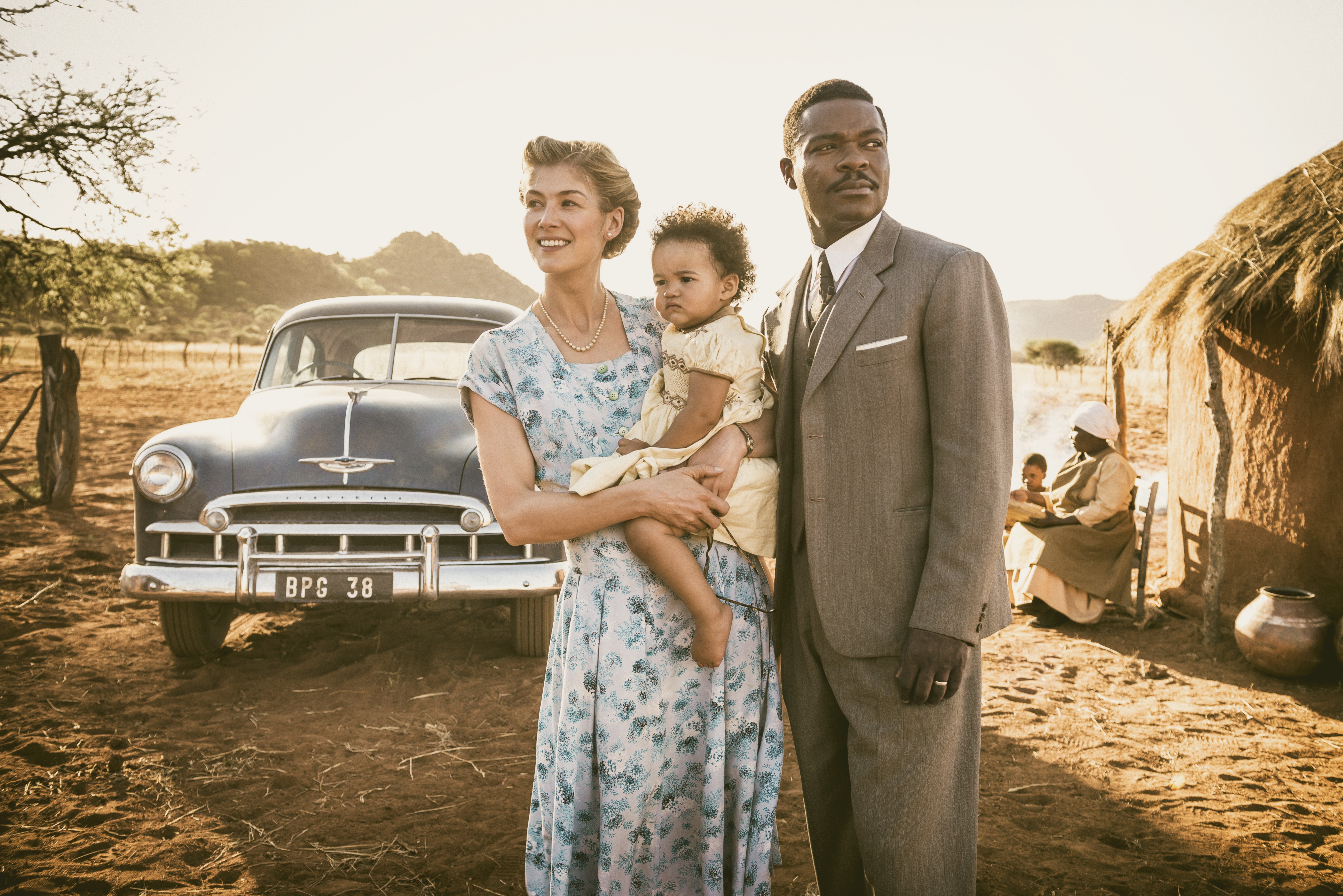 So, is
A United Kingdom
an African version of
Loving
, or is it merely a harmless Coffee Table Film to reassure well-meaning art-house audiences about the best intentions of the British Empire and its former African colonies?
Well, both. But director Amma Asante and screenwriter Guy Hibbert's historical/political love story also contains two praise-worthy performances, in the story of an interracial romance that had major repercussions during the era of European de-colonization in the second half of the 20th Century.
When mild-mannered middle-class office worker Ruth Williams (Rosamund Pike) meets calm and handsome university student Seretse Khama (David Oyelowo) at a missionary society mixer in London in 1947 and they fall in love, they immediately discover four large, seemingly intractable obstacles to their relationship: No 1., He is in fact the Black king of the British protectorate of Bechuanaland; No. 2, She's an ordinary white Englishwoman; No. 3, Her people, in the form of her family as well as the British foreign ministry, strongly disapprove; and No. 4, So do his people, especially his uncle, Bechuanaland's official regent. Reason: That sort of thing just isn't done. Blacks can't be mixing with whites, especially in African lands where militants are already clamoring for independence. If Bechuanaland – now known as Botswana – starts breaking the rules, it might upset the British applecart in neighboring South Africa, where the local whites are busy installing their system of Apartheid.
The old-boy colonial snobbery of Sir Alistair Canning (Jack Davenport) and his Foreign Office minions makes it easy to admire the innocent lovers by comparison. Furthermore, we learn that there are diamonds and oil underneath Bechuanaland, so there's that. Despite it all, Ruth and Seretse make a cute couple. She helps out carrying firewood and charming her new relatives, he promotes a democratic referendum on independence, based on tribal tradition. They take their case to the British tabloids. Prime Minister Winston Churchill comes across, offscreen, as an immoral opportunist.
In short, there's a lot more real-world power and influence at stake in
A United Kingdom
than in
Loving
— even though we have the luxury of knowing all along, in both cases, that everything turns out all right. It's not just personal between Ruth and Seretse, although we wouldn't mind at all if they walked off into the sunset, swatting flies and singing folk songs.