Sad news for fans of Marrow (325 19th St.), Jon Kosorek's tiny, meat-centric sandwich shop: Kosorek announced that last Wednesday was the last day of business for the restaurant's Uptown Oakland location.
For the past several months, Kosorek has been searching, without success, for a larger location for Marrow — one that would allow it to operate as a sit-down restaurant with a full liquor license. Originally, the restaurant went on what was supposed to be a week-long summer break, but, as Kosorek said in a post on Marrow's Facebook page, "This recent break has helped me put things in perspective."
[jump]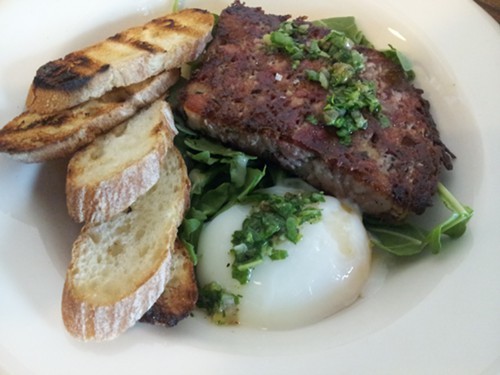 Grilled pork terrine = breakfast of champions.
In explaining his decision to close, Kosorek cited a desire to spend more time with family (he and his wife have a new baby daughter) and to focus his time and energy on selling Marrow's current location — a necessary step in order to have the funds to buy a new space. In the interim, Kosorek plans to help a friend with his catering business in Napa. And he'll continue to search for "the ideal location for Marrow or the next incarnation of Marrow."
I've reached out to Kosorek for additional comment on his next steps. Regular customers will, of course, want to know how likely it is that Marrow's next incarnation will still be in Oakland — or whether Kosorek will end up deciding to stay up in Napa, where he lives. In the meantime, we'll all have to look elsewhere for our patty-melt or grilled-pork-terrine fix.
Update: When reached by phone today, Kosorek told What the Fork that the timing just hasn't worked out in terms of finding a larger spot for Marrow. At one point he found a desirable location but didn't have an investor; later on, he had an investor, but no location. Meanwhile, he found that the immediate neighborhood around the sandwich shop wasn't interested in the more refined and/or offal-heavy (and expensive) dishes that he'd served when Marrow first opened.
"I had to stray from the original concept," Kosorek said. "We dumbed down the menu to where it's basically a burger joint." In the end, he felt it just wasn't sustainable to spend three hours in the car every day to run a burger joint that was only ever busy during the daily lunch rush.
So, for now, he's taking a break. As for the future, Kosorek said he's open to coming back to do another project in Oakland, but, as noted, it would have to be for a more substantial, full-service restaurant with significant financial backing.