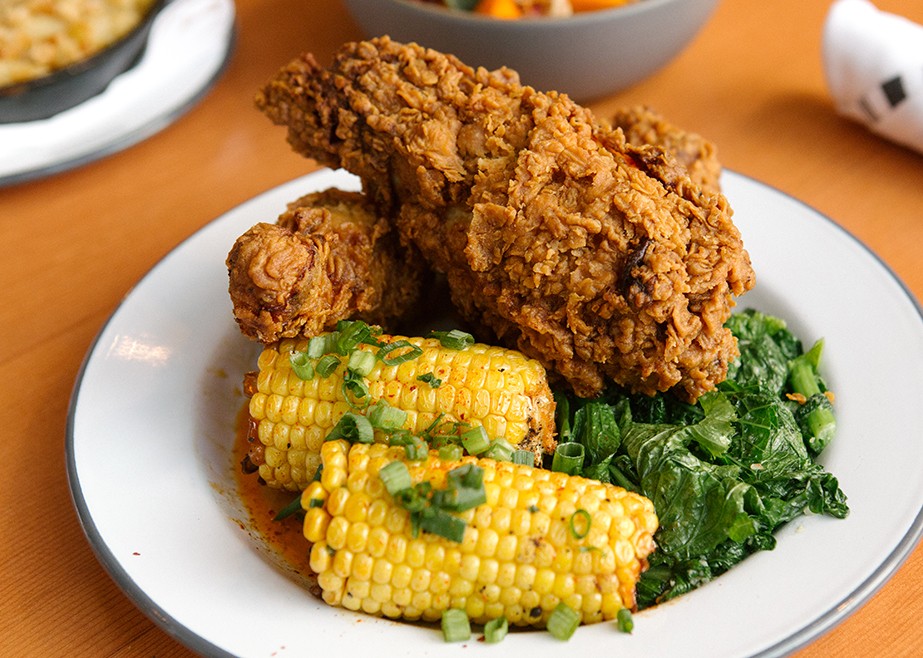 When restaurant owners talk about building community, it can often feel contrived. Not so at Maker's Common, a three-month-old spot in downtown Berkeley that was only made possible because of its already strong community.
Maker's Common comes from Sarah Dvorak, Oliver Dameron, and Eric Miller of San Francisco's Mission Cheese, which opened in 2011 to national acclaim. When they decided to pursue a second eatery, they already had support from a devoted following.
Instead of going to a bank or targeting a few key investors, the owners opened up the opportunity to the masses via a Direct Public Offering. Unlike with a crowdfunding campaign like Kickstarter, investors are entitled to annual interest. They wound up raising $532,000 from 165 Californians, and, according to the owners, Maker's Common became the first restaurant in the Bay Area to fund itself in such a fashion.
"A bank loan, while it takes less time, didn't seem as soulful," Dvorak said.
That means the restaurant is being held accountable by people who want to see it thrive. In turn, just about every aspect of Maker's Common feels thoughtful and full of good intentions. It's a gorgeous, airy space with enormous windows, pale wood, and lime green tile. The ceramics are lovely. The kitchen is open. There's a rose garden out back. And displays such as the house-made salami hanging out to dry and the huge jars of colorful pickles look like sources of pride.
At this point, the East Bay already hosts some cute places that blend artisan cheese shop with cozy eatery like Mission Cheese, but Maker's Common takes the concept to a new level.
In addition to a solid selection of domestic cheeses and a knowledgeable cheese monger on site, there's a small market with top-notch products mostly sourced from California. Think picnic supplies along the lines of cured meats, jams, crackers, chocolate, and grab-and-go salads.
The kitchen is where things get really interesting, though. Maker's Common isn't a chef-driven restaurant — instead, the focus is on really great ingredients — but the results show vision and sound cooking.
As culinary director, Miller carried over some of the greatest hits from Mission Cheese, including simple sandwiches, charcuterie, and cheese platters. The most exciting item from this lot is the crispy-gooey mac 'n' cheese, which oozed with cheddar and washed-rind cheeses such as Cowgirl Creamery's Wagon Wheel.
But Maker's Common's best dish, the fried chicken, is unique to the location. It's brined in whey, a byproduct of the cheese-making process that often goes to waste. Dvorak said the eatery's commitment to sustainability was the driving force behind the dish, but as it turns out, whey-brined fried chicken is also sublime. The meat's subtle milky notes tasted unique, and the crust was well-seasoned and crunchy.
The fried chicken, which also comes with corn and peppery greens, is one of three dishes only available after 5 p.m. Another is the house-made fennel sausages, served on a bed of green beans, roasted tomatoes, and caramelized fennel. The actual sausages were a bit dry, but the whole dish offered a nice combination of flavors. Both are family-style options that can be scaled up from serving one to as many as six people.
For vegetarians, there's the Ashbrook gratin, but omnivores shouldn't neglect this creamy, savory, and satisfying entrée. With leeks, chard, and potatoes, the flavor of Spring Brook Farm's Ashbrook — a washed-rind, Alpine-style cheese with a thin layer of ash — really sang.
In general, everything at Maker's Common felt reasonably priced and well-portioned, particularly given the quality. It's the sort of place where becoming a semi-regular actually feels achievable. The only exception was a $9 snack of smoked pork belly: three tiny cubes of meat that were a mix of too fatty or too dry.
For lunch, the sandwiches are a solid way to go. I appreciated the minimalist strength of the muffaletta, the New Orleans sandwich that's tough to find in the East Bay. To some, the layers of mortadella and soppressata will look too thin, but with the cheese, olive relish, and Acme bread, each element felt balanced.
Close out your meal with the chocolate pot de crème, topped with malted cream and studded with crunchy cocoa nibs and flake salt. It looks absurdly small at first, but it's intense enough that you really don't need more.
With the price point and casual atmosphere, you wouldn't necessarily expect the service to be so warm and attentive — especially given the state of restaurant staffing in the Bay Area right now. One server was quick to replace a dropped napkin after proving he knows how to recommend a beer pairing. Another spaced out our meal into a multi-course, leisurely experience, despite it being an unusually busy night.
Maker's Common is slowly and slightly changing, though, and that's a good thing. When the restaurant first opened, the owners envisioned serving just one family-style dinner option each night. But Dvorak said they listened to diners and realized the neighborhood actually wanted more evening options from the restaurant. They're planning to add more variety soon, including some vegetable-centric dishes — another instance where Maker's Common's whole community ethos feels wholeheartedly legit.
Maker's Common
1954 University Ave., Berkeley
510-833-2170
MakersCommon.net
Hours: Tue.–Thu. 11 a.m.–10 p.m., Fri. 11 a.m.–11 p.m., Sat. 10 a.m.–11 p.m., Sun. 10 a.m.–9 p.m.
Cash, all major credit cards
Sample Menu
Fried chicken (1-2 people)  $19
Ashbrook gratin $15
Muffaletta $12
Wheat berry salad $11