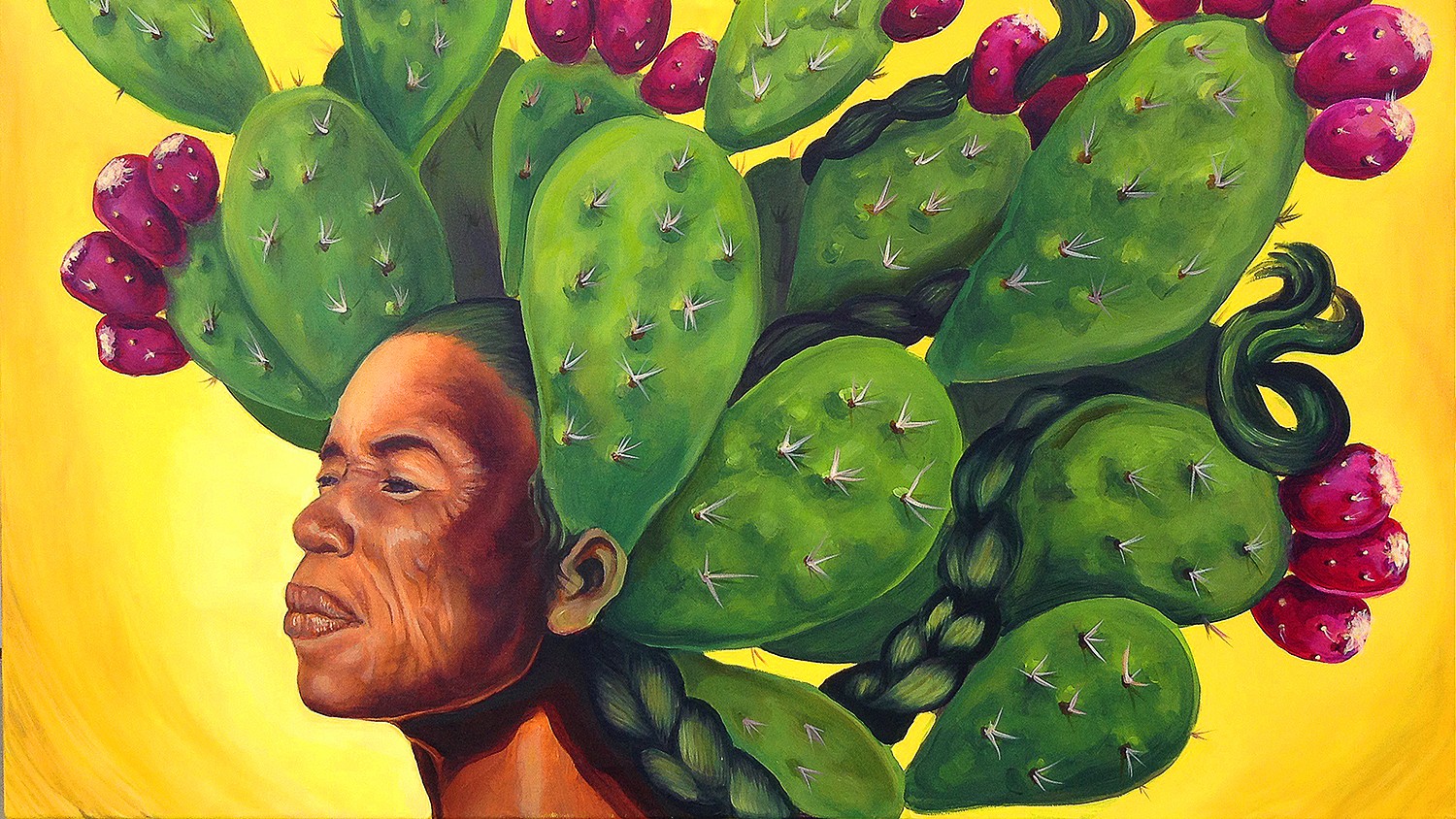 To Luz Calvo, the American diet isn't just unhealthy — it's an act of colonization. Calvo, who lives in Oakland and is a professor of ethnic studies at Cal State East Bay, co-authored the cookbook Decolonize Your Diet: Plant-Based Mexican-American Recipes for Health and Healing in 2015. Calvo, who prefers the pronoun they, believes that traditional indigenous foods, which are considered sacred, are being exploited.
It's a topic also explored at Comida es Medicina (Food is Medicine), an art exhibit now on display at Galería de la Raza in San Francisco through Nov. 2. Co-curated by Calvo and Suzy González, with support from the Galería staff, including its director, Ani Rivera, the exhibit further opens up the conversation of how ancestral cooking rituals are becoming gentrified and exploited in the name of mass production, without any regard for the indigenous groups who have been passing on their sacred recipes for generations. A total of 41 artists from all over the country and Latin America contribute works exploring ancestral food knowledge and the need to educate and preserve traditions.
One example of ancestral foods under threat is corn, which is native to Mexico but has mostly become a genetically modified crop produced by multinational corporations. Indigenous people have had a relationship to maize dating back to when it was first domesticated in Mesoamerica, and it remains a staple in Mexican cuisine. "Maíz," a digital mural by Federico Cuatlacuatl that's part of the exhibit and displayed around the corner from the gallery, at 24th and Bryant, explores the connections between Mesoamerican culinary practices and political acts of resistance. "It's about defending the sacred maíz," Calvo explained. "It's about hanging on to it with all of our might. It really speaks to defending food knowledge, especially foods under threat, maíz being the first one."
For Calvo, food can be healing in multiple ways: for the literal nourishment it provides, but also the emotional comfort. To understand ancestral foods and how they have been passed on from generation to generation is to acknowledge how deeply rooted certain foods are in the everyday lives of immigrants and their children: the comfort they get when eating a homemade meal prepared by their mom or grandma, and how that feeling extends even when they eat a familiar dish at a hole-in-the-wall establishment.
"The food is, yes, medicine, and we should be attuned with what's healthy for us but also the comfort that comes from a homemade flour tortilla," Calvo said. "And the memories and feelings is something for us to honor, and embrace this part of our culture."
One of the pieces that alludes to this sentiment is a quilt by artist Yolanda Guerra. From afar, it looks exactly like a giant and slightly burnt flour tortilla, but upon closer inspection, the texture of the tortilla turns out to be the words "love" and "home" embroidered onto the quilt.
The title of the exhibit, Food is Medicine, also serves as a reminder of how indigenous groups used the resources found in nature to treat their illnesses. At a time when Western medicine was a nonexistent concept, these groups found ways to use the items readily available to them as much more than nourishment.
Joe Angel-Toledo, a Mexican-Salvadorian artist from Sacramento, shows how this practice is still being used today with his painting titled "Remedios" (Remedies). The work depicts the natural remedies his mother taught him: scrub lemons on your scalp to get rid of dandruff, rub aloe vera on your skin when you're sunburned.
Calvo understands all too well the healing powers of food: Their journey to the rediscovery of food came after a diagnosis with breast cancer. "I became profoundly curious and interested in food as a form of medicine," Calvo said. "In the process of growing my own food, I found that connection to my ancestors, both through the land and the food itself."
Calvo describes this connection to ancestors through food as "profoundly healing" and something needed in our communities now more than ever. Food trends come and go, but the nourishment and knowledge from our ancestors are enduring. "It's a way of relating to the past and each other," Calvo said.