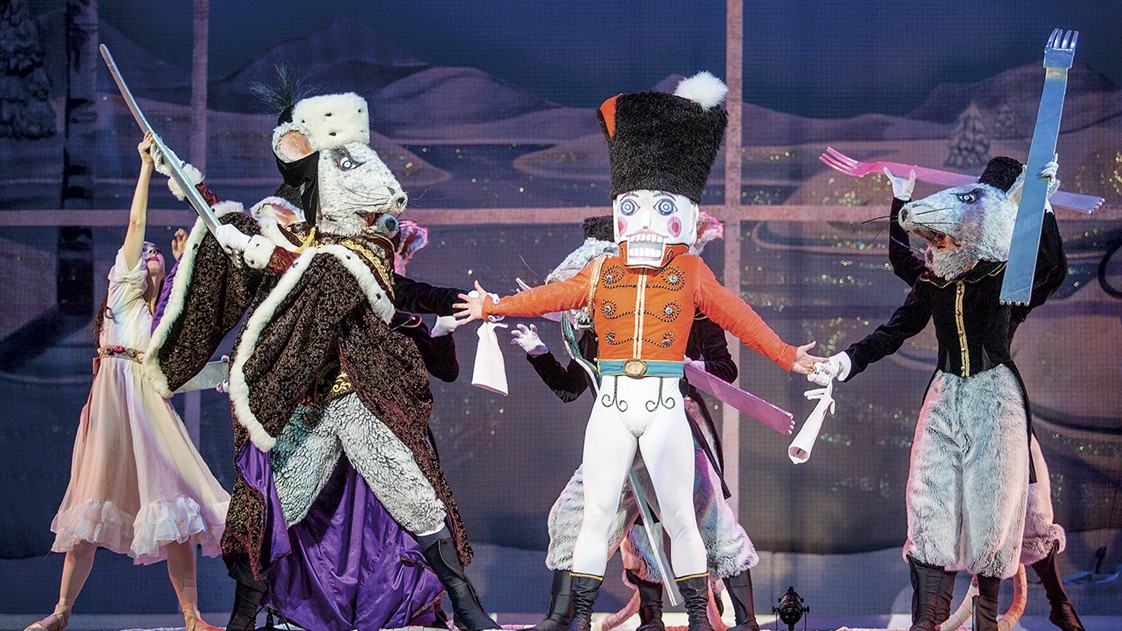 The Nutcracker
It is hard to imagine that Pyotr Ilyich Tchaikovsky's legendary score has been an East Bay favorite for more than 47 years, nine of which have been under the direction of Oakland Ballet Artistic Director Graham Lustig. Many flock to the Paramount Theatre every year to witness the beloved classic live. Catching this theatrical production is rewarding not only for the magnificent costumes and seamless choreography — Lustig always ensures that young Bay Area dancers are given the opportunity to showcase their talent alongside seasoned professional dancers. As you watch The Nutcracker, make sure you pay attention to the snowballs, mice, soldiers, and candies, as these are the young dancers ages 7 to 17 who are ecstatic to be on stage. If this isn't enough reason to go, the ballet company dedicates the month of December to doing community outreach and in-school performances for those who can't afford to attend. — Azucena Rasilla

Saturday, Dec. 22, 1 p.m., 5 p.m., Sunday Dec. 23, 1 p.m., $27-$100, 2025 Broadway, Oakland, ParamountTheatre.com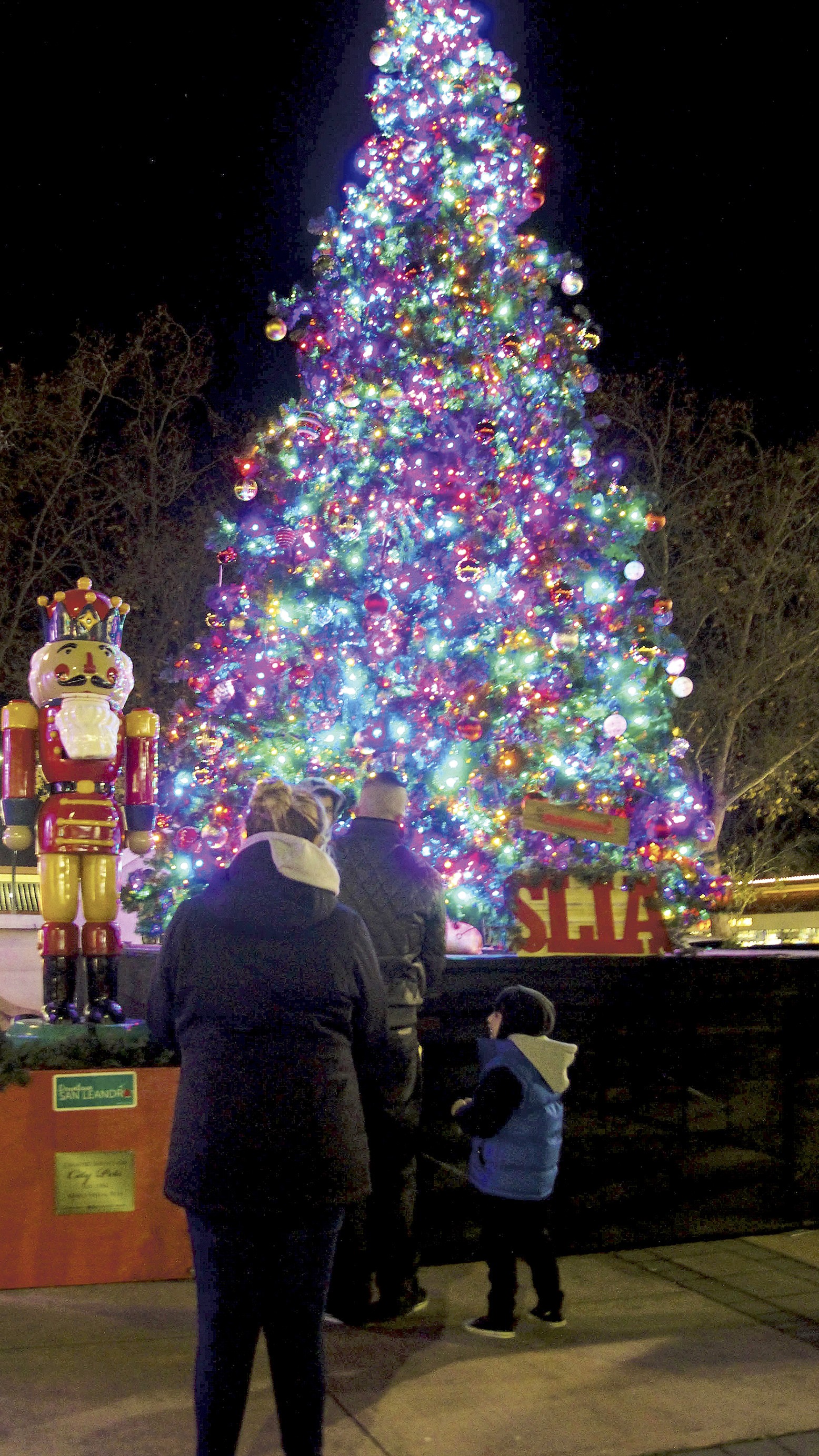 Christmas Tree Lighting
For those who celebrate Christmas, the official kick-off begins with the lighting of the tree, which takes place at different places around the Bay Area. If you want to avoid the insanity that is going to Union Square, Santa's helpers got your back in the East Bay. There's Jack London Square's lighting, which will be hosted by KTVU anchor Gasia Mikaelian and feature a musical performance by Oakland's own Kev Choice and Friends. Needless to say, bundle up, and take public transportation as parking is extremely limited around the Jack London Square area. If you prefer a place with more parking, then head to over to San Leandro's Estudillo Plaza, where attendees not only will get to light up the tree but also hang out with Mr. and Mrs. Santa Claus and roam around "Holiday Tree Lane," a row of holidays trees along the pathway from Washington Avenue to E. 14th Street. — Azucena Rasilla

Jack London Square: Friday, Nov. 30, 5 p.m., free, Broadway at Embarcadero West, Oakland, JackLondonSquare.com
Estudillo Plaza: Friday, Dec. 7, 5:30 p.m., free, 1301 E. 14th St., San Leandro, DowntownSanLeandro.com


Art Galleries
20/20 Vision: An annual exhibition and sale of smaller works by Mercury 20 Gallery artists. Participating artists have been invited to respond to the theme of "20/20," including the ability to see clearly, the number 20, mathematical formulas, and the year 2020. Artists reception on Saturday, Dec. 8, from 4-6 p.m.., Dec. 6-29, free. Mercury 20 Gallery, 475 25th St., Oakland, MercuryTwenty.com.
Beloved California III: Paintings of Northern California from the entire roster of Holton Studio artists. Tuesdays-Saturdays, 11 a.m.-6 p.m. Continues through Dec. 29, free, Holton Studio Gallery, 2100 Fifth St., Berkeley, HoltonFrames.com,.
Beneath the Mask: Artist and clinical psychologist Sharon Strong presents an exhibition of masks. Through Nov. 30, free, Bridge Storage and ArtSpace, 23 Maine Ave., Richmond, BridgeStorage.com.
Hysterical Organs: Aubrey Learner and Mitsu Okubo explore the unsettling corners of corporeality. Paintings, prints and other 2D works will fill the walls of the cavernous showroom as they fill you with a luxurious and colorful unease. Through Dec. 31, free, Classic Cars West, 411 26th St., Oakland, ClassicCarsWest.com.
Loop Melody: United by a mutual appreciation for rhythm, color, and pattern, artists Alexander Kori Girard and Rachel Kaye spiral off into their own personal explorations of hidden symbols and frenetic motion. Through Jan. 4, 2019, free, Johansson Projects, 2300 Telegraph Ave., Oakland, JohanssonProjects.com.
No Other + No Lie: A two person exhibition: Diana Guerrero-Maciá's art practice explores the complexities of meaning inherent in her materials. Ebitenyefa Baralaye's sculptures are formal in approach and rooted in his personal narrative of migration from Nigeria through the Caribbean to the United States, where he has spent much of his life. His work addresses the idea of displacement through a distinct visual language equally emphasizing form, pattern and symbolism. Tuesdays-Saturdays, 10 a.m.-4 p.m. Continues through Jan. 19, free, Traywick Contemporary, 895 Colusa Ave., Berkeley, Traywick.com.
The Edge: A modern and minimalist exhibition featuring two painters and one sculptor, bringing into focus the lines, curves and forms that make up compositions that can be at once geometric and organic. Through Dec. 29, free,SLATE contemporary, 473 25th St., Oakland, SlateArt.net.
Against the Static: A new retrospective of the painter Harvey Quaytman's career from the '60s to the '90s and his experiments with formalism and materiality as well as sensuality and humor. Wednesdays-Sundays. Continues through Jan. 27, included with admission. Berkeley Art Museum and Pacific Film Archive, 2155 Center St., Berkeley, BAMPFA.org.
Art in Motion: Airballin presents live body painting, custom cars and motorcycles, paintings and drawings, a live DJ, food, and drinks. Sat., Dec. 8, 5-10 p.m., $18-$50. Blue Dream, 1300 7th St., Ste. B, Oakland.
Crossing Boundaries: An exhibition of Asian multicultural calligraphy, ceramics, and cuisine. Through Jan. 16, 2019, free, Oakland Asian Cultural Center (OACC), 388 9th St., Ste. 290, Oakland, OACC.cc.
Dimensionism: Inspired by Albert Einstein's theory of relativity, an avant-garde movement emerged in the early 20th century, seeking to expand the "dimensionality" of modern art by engaging with ideas of time and space. Wednesdays-Sundays. Continues through Mar. 3, free with admission. Berkeley Art Museum and Pacific Film Archive, 2155 Center St., Berkeley, BAMPFA.org.
Light and Color: In a series of paintings, Doug Lawler explores light as the driving force in understanding the universe and the laws of physics. Through Nov. 30, free. Abrams Claghorn | Craft Showroom & Art Gallery, 1251 Solano Ave., Albany, AbramsClaghorn.com.
The Take-Off: An inclusive monthly art exhibit showcasing seven visual artists, two live performances, and a live poetry reading. Sat., Dec. 8, 7-11 p.m., $7. Adelines Lab, 3140 Martin Luther King Jr. Way, Berkeley.
You're Seeing Less Than Half the Picture: Taking its title from the 1989 Guerrilla Girls poster "You're Seeing Less Than Half the Picture Without the Vision of Women Artists and Artists of Color," the exhibition questions the lack of diverse narratives in cultural institutions by foregrounding the work of traditionally underrepresented artists. Dec. 5-June 2, free. Mills College Art Museum, 5000 MacArthur Blvd., Oakland, MCAM.Mills.edu.
Health, Wellness, & Sexuality
Nature and Nurture Thanksgiving Yoga Retreat: The yoga will be Vinyasa style, moderate level. Strong beginners are welcome. Participants will have the chance to enjoy guided meditation sessions. Nov. 23-25, $432-$472, WetTravel.com/trips/thanksgiving-yoga-retreat-mendocino-ranch-house-trip-to-hot-springs-shakthi-ganeshan-mendocino-county-51566006. Shambhala Ranch, 21200 Orr Springs Rd., Ukiah.
Take a Break to Meditate: Are you feeling stressed? Ever wonder if meditation would help you stay calmer during the holidays? Head to the Oakland Library for an introduction to meditation to learn the basics of the practice. Beginners and experienced meditators welcome. Sat., Dec. 8, 10:30-11:30 a.m., free, Oakland Public Library, Dimond Branch, 3565 Fruitvale Ave., Oakland, OaklandLibrary.org.
Sales, Swaps, Promotions, & Fundraisers
6th Annual Holiday Tianguis: A tianguis is an open-air market or bazaar that is traditionally held on certain market days in a town or city neighborhood in Mexico and Central America. Browse over 30 local vendors selling handcrafted goods, as well as unique imports from Mexico and beyond. There will also be live music, activities for the kids and traditional foods for sale. Sat., Dec. 1, 12-6 p.m., free, La Peña Cultural Center, 3105 Shattuck Ave., Berkeley, LaPena.org.
Brown Girl Surf Year End Celebration & Benefit: Hosted by M.C. Mama B featuring local DJ set with live performances by hip hop diva and surfer Art3mis Prime and Marlim. Eats from Homeroom and The Little Chihuahua, and beer from Queers Makin' Beers. Sat., Dec. 1, 6:30-9 p.m., $25-$100. Impact Hub Oakland, 2323 Broadway, Oakland, Oakland.ImpactHub.net.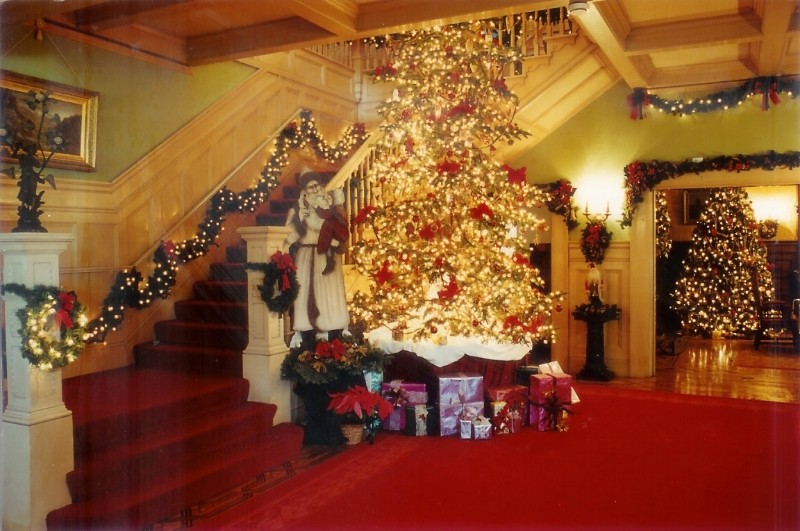 Holiday Tradition
The city of Oakland bought the magnificent place of residence of Alexander Dunsmuir and I.W. Hellman Jr. in the 1960s, and these days, the Dunsmuir Hellman Historic Estate's grounds and mansion primarily serve as a space for weddings and other private events. There is, however, one public event that Oakland residents look forward to every year: the Holiday Tradition, which starts in early December and sometimes lasts until Christmas Day. The mansion, usually not open to the public except during select tour hours, will be decked out in holiday décor — Christmas trees, garlands, and all of the vibrant colors that scream winter cheer. But that's not all; there's also a brunch with Santa, screenings of holiday movies, high tea, and more. This is your chance to see what it was like for the Dunsmuir and Hellman families to call the estate home. — Azucena Rasilla

Dec. 8-22, general admission costs $12-$22, individual event prices vary, 2960 Peralta Oaks Court, Oakland, Dunsmuir-Hellman.com/Events


For the Culture: A Black Women's Holiday Market: An annual holiday marketplace that celebrates Black women artists, makers, and entrepreneurs. This dedicated marketplace will feature more than 30 Black woman-owned businesses and food trucks. Fri., Nov. 23, 11 a.m.-6 p.m.; Sat., Nov. 24, 11 a.m.-6 p.m., free, Alena Studios, 2725 Magnolia St., Oakland.
Holiday Lounge: Seasonal items and unique gifts for purchase, including quilts, coloring posters and books, baskets, wall hangings, tree ornaments, hats, and scarves, and more. Dec. 1-Oct. 27, free. NIAD Art Center, 551 23rd St., Richmond, NIADArt.org.
Palestinian Holiday Crafts Bazaar: Unique gifts from Palestine, benefitting Palestinian children. Items include olive oil, pottery, embroidery, olive wood, jewelry, scarves, and cookbooks. Sat., Dec. 8, 10 a.m.-5 p.m., free, www.Middle East Children's Alliance, 1101 Eighth St., Berkeley, MecaForPeace.org.
Small Business Saturday Octopus Gift Bazaar: Gifts, gift wrapping, free hot cider, caroling, and a raffle for a $50 Octopus gift card. Sat., Nov. 24, 6 p.m., free. The Octopus Literary Salon, 2101 Webster St., Oakland.
Religion & Spirituality
Hanukkah Celebration for Families with Young Children: Celebrate this festival of lights with Hanukkah songs, stories, a hands-on project, and treats. Led by Rabbi Bridget and Joel Siegel. Sat., Dec. 1, 10:30 a.m.-noon, free for children under one year, $5 for children, $12 for adults, JewishGateways.org/holidays-for-young-children. Epworth United Methodist Church, 1953 Hopkins St., Berkeley, EpworthBerkeley.org.
Attractions
Alameda Mayor's Holiday Tree Lighting: Enjoy performances from community groups and special guests followed by the tree lighting ceremony. Sat., Dec. 1, 4:30-7 p.m., free. Downtown Alameda, Park Street, Alameda.
Fairs, Festivals, & Fiestas
16th Annual Holiday Stroll: Montclair Village celebrates the holiday season with an evening of festivities, live music, and performances, Children's Holiday Court, holiday trolley rides, toy, and food drives, plus giveaways, a Santa Photo Booth, and more. Thu., Dec. 6, 5:30-8 p.m., free, Downtown Montclair Village, LaSalle Ave. and Mountain Blvd., Oakland.
Annual Holiday Tree Lighting: Come for the lighting of the 55-foot tree and stay for live music, holiday pop-up shops, and Santa Claus himself. The festivities include live music and entertainment from local artists. Fri., Nov. 30, 5-9 p.m., free. Jack London Square, 55 Harrison St., Oakland.
Bridge Holiday Open House & Block Party: Tatsumaki Taiko, the Milkbar, and Bridge Storage and ArtSpace invite you to enjoy an evening of live music, food and drink, film screenings, art exhibitions, and a holiday craft market at three local businesses located at the intersection of South First and Maine Avenue in Richmond. Sat., Dec. 15, 3-8 p.m., free. Bridge Storage and Artspace, 23 Maine Ave., Richmond.
GIFTY 2018: Annual Craft Show & Open House: East Bay artists and craftspeople sell jewelry, clothing, whimsical metal sculptures, ceramic tableware, and more great holiday gifts Dec. 14-16, free. The Crucible, 1260 7th St., Oakland, TheCrucible.org.
Jack of All Trades Market: A curated mix of local makers, indie designers, antique dealers, collectors, artists, start-ups, and more. Find one-of-a-kind items, enjoy live music, and participate in several free DIY workshops for all ages. Second Saturday of every month, 11 a.m.-5 p.m. Continues through Feb. 13, free, JackofAllTradesOakland.com. Jack London Square, 54 Washington St., Oakland.
Piedmont Ave Holiday Stroll: A nighttime art walk showcasing local businesses with carols from the Pacific Boychoir Academy. Sat., Dec. 1, 7-9 p.m., free. Piedmont Avenue, Corner of 41st St. and Piedmont Ave., Oakland.
SantaCon Oakland: The annual non-commercial, nonsensical Santa Claus convention Sat., Dec. 15, 11 a.m.-5 p.m., free. Jack London Square Pavilion, 98 Broadway Ave., Oakland.
Second Annual Temescal Holiday Fair: This year's theme is Creators & Critters: shop for unique gifts and visit the free petting zoo. Sun., Dec. 2, 11 a.m.-5 p.m., free. Temescal Alleys, 49th St. between Telegraph Ave. and Clarke St., Oakland.
LGBT
Christmas Cookie Decorating Party: Baked cookies, icing, and toppings are provided. Vegan options available, plus hot chocolate and eggnog. Sat., Dec. 22, 5:30-8:30 p.m., free. The Oakland LGBTQ Community Center, 3207 Lakeshore Ave., Oakland, OaklandLGBTQCenter.org.
Hella Gay Dance Party: A once-a-month queer dance party featuring great beats, a diverse crowd, and good drinks. Third Saturday of every month. The Uptown Nightclub, 1928 Telegraph Ave., Oakland, UptownNightclub.com.
LGBTQ Thanksgiving: Give thanks and enjoy a delicious meal and a familial environment at this Thanksgiving celebration. Thu., Nov. 22, 1-9 p.m., free. The Oakland LGBTQ Community Center, 3207 Lakeshore Ave., Oakland, OaklandLGBTQCenter.org.
Queer Holiday Faire: Shop your favorite local queer makers with goods from Show and Tell Concept Shop, Dylan The Jeweler, Shooting Star Botanicals, Diaspora Co., and more. Sat., Dec. 15, 11 a.m.-6 p.m., free, Qulture Collective, 1714 Franklin St., Oakland, qulturecollective.com.
Social Events
Snow Day in the Gourmet Ghetto: Take your children to a snow day complete with pony rides, DIY crafts, holiday gifts, and free hot apple cider (without the actual freezing cold snow). Sun., Dec. 2, 10 a.m.-3 p.m., free. Gourmet Ghetto, Vine St. and Shattuck Ave., Berkeley, NorthShattuck.org.
Thanksgiving Concert and Vegetarian Dinner: Annual Thanksgiving International Vegetarian Dinner and Concert with Aks and Lakshmi, Electronic Bhakti Music, and Hindustani Classical Instrumental concert with Amit Gud, sarod, and Omkar Bhave, tabla. Thu., Nov. 22, 3-7 p.m., free, Badarikashrama, 15602 Maubert Ave., San Leandro, Badarikashrama.org.
Sports & Outdoors-Participatory
Oakland Turkey Trot: More than just a healthy start to the holiday, the Oakland Turkey Trot 5K is a fun and healthy way to give back while you give thanks. Thu., Nov. 22, 8:30-10:30 a.m., $20-$30, go.evvnt.com/179470-0?pid=5417. Oakland Public Library, Lakeview Branch, 550 El Embarcadero, Oakland, OaklandLibrary.org.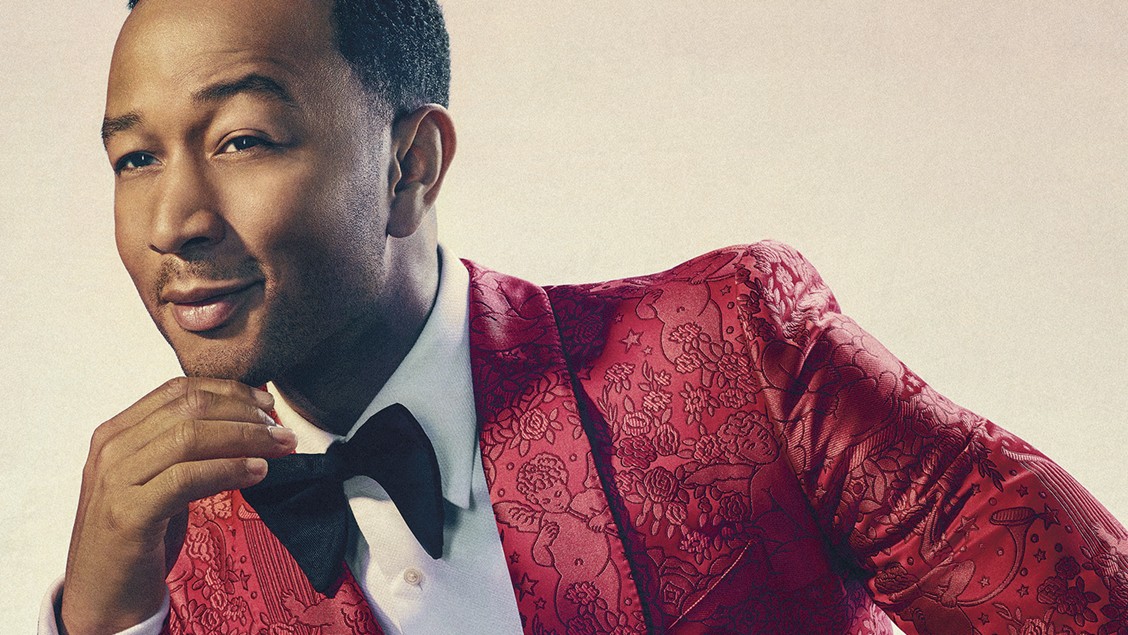 A Legendary Christmas Tour
When Grammy Award-winning singer-songwriter John Legend isn't being a husband to Chrissy Teigen, a dad to Luna and Miles, or calling out Trump and Kanye West for their racist and misogynistic rhetoric, he's busy putting out records. A departure from his past five albums, Legend's latest has him joining the ranks of Mariah Carey and many others with his very own Christmas album. Legend will be bringing his A Very Legendary Christmas tour to the Fox Theater for back-to-back shows. Unlike a lot of Fox shows where you have to fight your way to the front of the crowd, these concerts are all assigned seating, which means that you can enjoy Legend, his Santa hat, and his piano in comfort. — Azucena Rasilla

Friday Dec. 21, and Saturday, Dec. 22, 7 p.m., $149-$249+, 1807 Telegraph Ave., Oakland, TheFoxOakland.com

Culinary & Wine
2018 Officers' Holiday Tea: Enjoy tea in the Officers' Wardroom at this winter tea service. Eat and drink from vintage USN china aboard the historic aircraft carrier USS Hornet and explore the ship. All tickets to tea include general admission to the museum. All profits from this tea will go to improving the museum's exhibitions and caring for its collection of artifacts. Sat., Dec. 15, 11 a.m.-5 p.m., $20-$30, go.evvnt.com/302453-2?pid=5417. USS Hornet Museum, 707 W. Hornet Ave., Alameda, USS-Hornet.org.
6th Annual Crab Feed: Enjoy the first catch of the local Dungeness crab season along with sides and bottomless mimosas and endless beers. Sun., Dec. 2, 11 a.m. and 2 p.m., $81. The Alice Collective, 272 14th St., Oakland, TheAliceCollective.com..
Holiday Sweets & Treats Pairing Party: Featuring holiday desserts and cocktails from Chef Brick Burtleson and local bakeries Sat., Dec. 8, 12-4 p.m., $65, $75. Golden Gate Fields, 1100 Eastshore Hwy, Berkeley, GoldenGateFields.com.
Southern Holiday Pie Baking Class: Join chef Chrysta from Kiss My Bundt and learn to make easy, Southern-style pies for the holiday season Sat., Dec. 1, 12-3 p.m., $115. Kitchen on Fire North, 1509 Shattuck Ave., Berkeley, KitchenOnFire.com.
Literary Events
Thomas Lynch: The actor and longtime resident of Elmwood reads from Truman Capote's A Christmas Memory. First published in 1956, this much sought-after autobiographical recollection from Capote about his rural Alabama boyhood is a perfect gift for fans young and old, a "gem of a holiday story." Tue., Dec. 4, 7:30-8:45 p.m., free, Mrs. Dalloway's, 2904 College Ave., Berkeley, MrsDalloways.com.
Dance-Performance
The Nutcracker: Oakland Ballet Company's annual performance, featuring fresh and spritely dancing, magnificent scenery, and colorful costumes all to Tchaikovsky's brilliant score performed by the Oakland Symphony. Dec. 22-23, $27-$100. Paramount Theatre of the Arts, 2025 Broadway, Oakland.
Shen Yun: Experience a lost culture through the breathtaking art of classical Chinese dance, complete with a live orchestra and high-tech backdrops. Wed., Dec. 12, 7:30 p.m.; Thu., Dec. 13, 2 p.m.; Fri., Dec. 14, 7:30 p.m.; Sat., Dec. 15, 2 & 7:30 p.m.; Sun., Dec. 16, 1 p.m., $80-$220. Zellerbach Hall, UC Berkeley, Berkeley, CalPerformances.org.
Live Variety
A John Waters Christmas: "Like a damaged St. Nick for the Christmas corrupted, John Waters – legendary filmmaker ("Female Trouble," "Hairspray," "Serial Mom"), raconteur and author of bestselling books, Carsick, Role Models and Make Trouble – hitchhikes into town with a bag full of sticks and stones for the devoted and the damned, spreading Yuletide profanity and perverted piety with his critically acclaimed one-man show." Thu., Nov. 29, 8-10 p.m., $55-125, Great American Music Hall, 859 O'Farrell St., San Francisco, SlimsPresents.com.
Reveal at Revival: Very Special Holiday Edition: Enjoy burlesque and cabaret acts as you dine on seasonal Californian cuisine, this time with extra festive cheer. Sun., Dec. 9, 8:15-10:30 p.m., $5, Revival Bar + Kitchen, 2102 Shattuck Ave., Berkeley, RevivalBarandKitchen.com.
Theater & Performing Arts
17c: The 17th-century diaries of Samuel Pepys as a springboard to explore the erasure of women's voices in historical texts. Dec. 13-16, $15-$78. Zellerbach Playhouse, 2430 Bancroft Ave., Berkeley, CalPerfs.Berkeley.edu.
Arcadia: Tom Stoppard's play set on a country estate between 1809 and the late 20th century explores the power of the human heart. Presented by Shotgun Players. Nov. 30-Jan. 6, $8-$42. The Ashby Stage, 1901 Ashby Ave., Berkeley, ShotgunPlayers.org.
Dragon in the Drop-Off Lane: After her kids dodge bullets at the local park, Lisa Rothman seeks respite by bringing them to a Winter Solstice Carnival in the ritzy town where she grew up. The stage is set for a heartfelt farce in which Rothman must reckon with what her parenting choices have cost her children. Starting Nov. 29, Thursdays, 7:30 p.m.; Thursdays, 5 p.m. Continues through Dec. 22, $20-$100, he Marsh Berkeley, 2120 Allston Way, Berkeley, TheMarsh.org.
A Christmas Carol: Brimming with music and dance, love and laughter, spectacular special effects and scary ghosts, it's no wonder thousands make this theatrical event a part of their annual holiday traditions. Thu., Dec. 6, 8 p.m.; Fri., Dec. 7, 11 a.m. & 7:30 p.m.; Sat., Dec. 8, 2 & 7:30 p.m.; Sun., Dec. 9, 2 & 7 p.m.; Tue., Dec. 11, 9 a.m. & noon; Wed., Dec. 12, 9:30 a.m.; Thu., Dec. 13, 9:30 a.m. & 7:30 p.m.; Fri., Dec. 14, 7:30 p.m.; Sat., Dec. 15, 2 & 7:30 p.m.; Sun., Dec. 16, 2 & 7 p.m., $28-$42, CenterRep.org/Season1819/AChristmasCarol.php. Lesher Center for the Arts, 1601 Civic Dr., Walnut Creek, LesherArtsCenter.org.
Monday Night PlayGround: Staged readings of thematically-connected short works by the Bay Area's best new playwrights, staged by leading local professional actors and directors. Third Monday of every month, 8 p.m. Continues through Mar. 18, $15-$30. Berkeley Repertory Theatre, 2025 Addison St., Berkeley, BerkeleyRep.org.
Paradise Square: An American Musical: The world premiere of this musical is set in 1863 and in a 20-block area of Manhattan known as the Five Points, where Black and Irish Americans live side by side. But then, the intensifying Civil War results in the first-ever federal draft, and riots erupt. Third Monday of every month, 8 p.m. Dec. 27-Feb. 17, $40-$115. Berkeley Repertory Theatre, 2025 Addison St., Berkeley, BerkeleyRep.org.