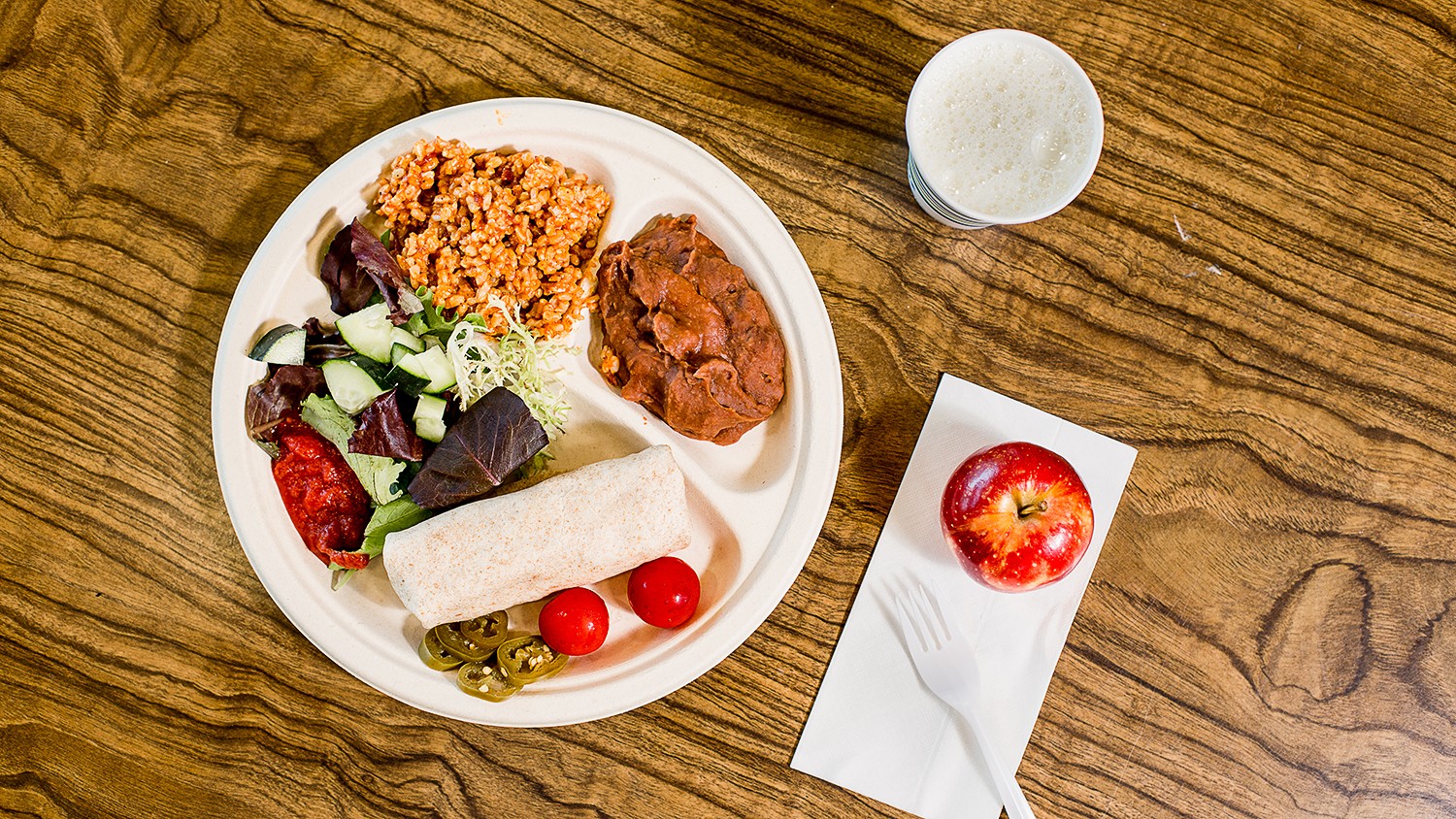 Cafeteria fare never had a golden age. For many of us, hospital meals summon images of cherry jello and mystery meats served on plastic trays. With the mid-century's shrinking focus on domesticity and the notorious Reagan-era spending cuts, schools became known for their cheap soft drinks and greasy pizza slices. So, where are we now?
Like everywhere, public programs in the East Bay operate within strict budgets, and places like soup kitchens have almost no budget at all. Yet, a brief look at local cafeterias shows a real shift to more wholesome, thoughtful meals.
The Berkeley and Oakland unified school districts have made swift, surprising changes in what they serve. BUSD maintains a wellness policy that goes beyond state and federal standards, working with purveyors to incorporate local and organic ingredients. To some students' chagrin, schools bid farewell to chocolate milk.
Until several years ago, OUSD provided mostly prepackaged Sysco lunches. Those are gone, along with sodas, preservatives, and high fructose corn syrup. Through partnerships and with the insistence of determined employees, programs like "California Thursdays" — meals made with ingredients entirely from California — have ushered in a new era of scratch-cooking enthusiasm.
The hospital cafeteria was, perhaps, most surprising of all. Indiscernible meats were nowhere to be seen. While the dining hall itself has seen better days, Summit Café — inside Alta Bates Summit Medical Center in Oakland— serves food that is not only colorful but unusual, and in constant rotation. Depending on the week, one may find Peruvian food, Korean bibimbap, or pho with house-made bone broth.
Cafeteria food is poised to get even healthier and more sustainable. California recently passed a law requiring hospitals, health-care facilities, and prisons to offer plant-based meal options to people in those institutions.
Food is for more than just quieting a hungry stomach — human connection during communal meals is arguably as important in the ritual of eating. Elijah, a longtime guest at St. Vincent de Paul — a charity with a meal program that serves hundreds of free meals a day — said he comes for the "spiritual and physical food." Volunteers sit down to visit with him while he eats a lunch that is cooked almost entirely from donated goods.
Nearby, at St. Mary's Center, a low-income senior facility, frequent diner Tomás said the meal program put on by Spectrum Community Services is "fairly consistent," but that what the dishes may sometimes lack in in flavor is made up for in the care and stewardship put into them. Many eager guests wear their favorite outfits to lunch.
"Some folks come in all decked out and dressed up, like they're going to a party," said Spectrum's meal site supervisor, Sindy Alvarez. "There are a lot of people who seem to be forgotten or who don't fit in. Here, they have something to live for."
Stonehurst Elementary, Oakland
Meal: Barbecue Mary's chicken with pita bread or grilled cheese on whole wheat. Pinto beans, salad bar with house-made ranch dressing, nectarine, and Berkeley Farms milk.
Price: $3.50
"'California Thursdays' was a way for us to work on recipe development and focus on more scratch cooking. … The education system stops at the kitchen door and health isn't written into the curriculums. Getting kids involved with what they're eating is incredibly important but we still don't have all of the resources." — Amy Glodde, menu planner
Cragmont Elementary, Berkeley
Meal: "All Star Tamales" bean and cheese burrito, brown Spanish rice, refried beans, baby green salad with cucumbers, cherry tomatoes, pickled jalapeños, and salsa. Organic Valley milk, organic apple.
Price: $4
"We really want [our meals] to reflect the values of eating well on a daily basis, not just about a political movement. A lot of our practices are about sustainability, our children's health, the future and the whole child." — Bonnie Christensen, executive chef
Summit Café, Oakland
Meals provided by nutrition services company Morrison Healthcare.
Meal: "Caribbean day" included braised oxtails in sofrito sauce, callaloo turnip greens, turmeric yellow rice. Salad with Marin County pattypan squash and quinoa pilaf. Coconut macaroon. Dasani sparkling water.
Price: $13
"Food can help with people's emotions, and in the drop of a hat you have to be ready for all of them at a hospital. I've seen someone come in who was very sad, so I walked them through the line and when they left, they were happy." — Lamons Cook, assistant menu planner and retail manager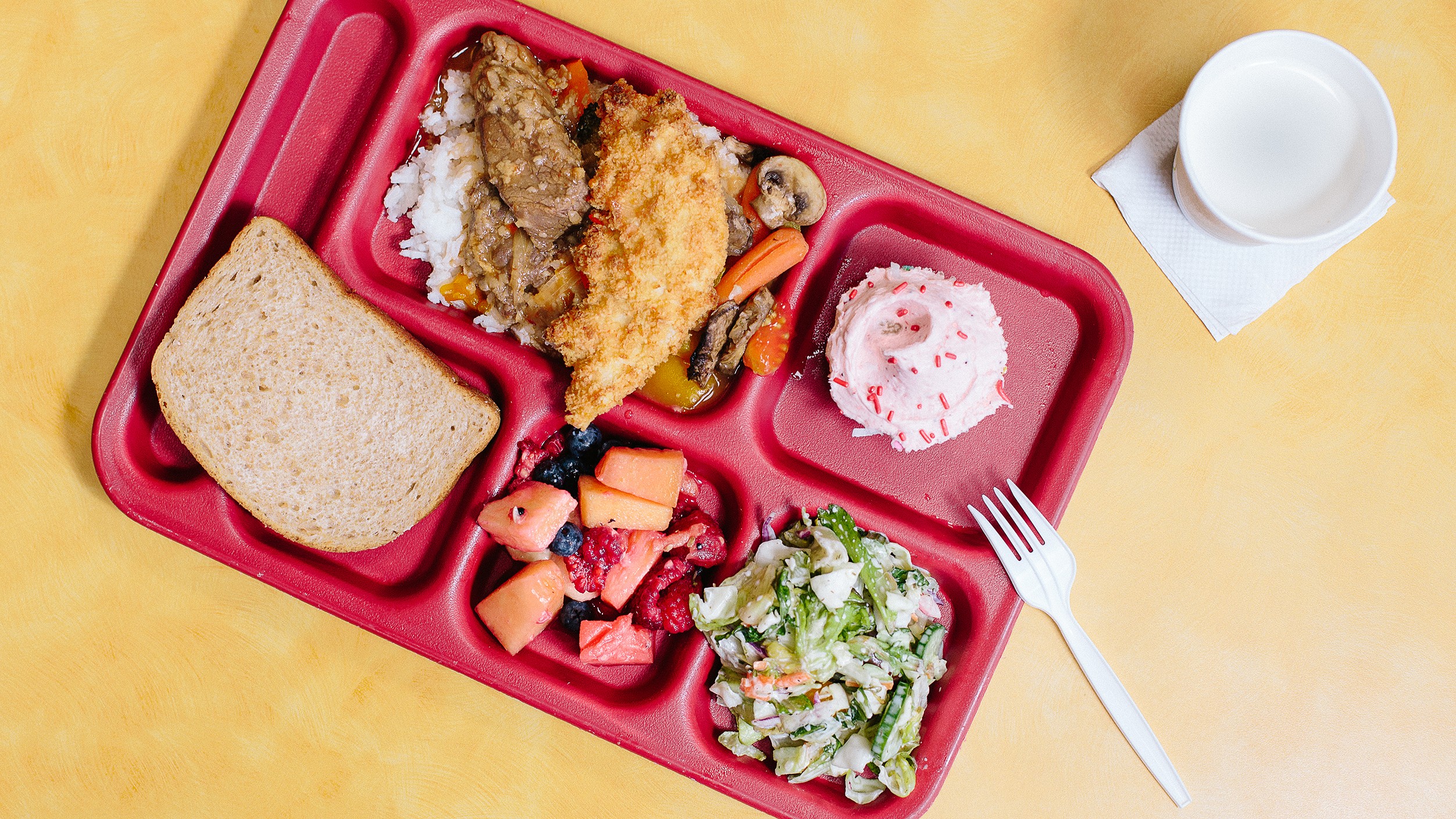 St. Mary's Center, Oakland
Meal program provided by nonprofit Spectrum Community Services.
Meal: Salisbury steak, rosemary potatoes with gravy, tomato and rice soup, fruit cup.
Price: $3.75 suggested donation
"Everything is homemade and we don't refuse anyone a meal. We have a dietician who plans the meals and has it approved by the state. We try to make sure our meals reflect what the seniors' likes and dislikes are." — Sindy Alvarez, meal site supervisor and cook
St. Vincent de Paul, Oakland
Meal: Chicken tenders with sweet chili sauce, teriyaki beef with vegetables, fruit salad, green salad, whole wheat bread, vanilla cupcake, milk.
Price: free
"We don't ask you what faith you are, if you're sober, if you can pay us anything. We just ask, 'How are you? Would you like a meal?' The food is given to St. Vincent, but it's not my food — it's their food. So we're presenting it to them as best as we can." — Armando Corpus, head chef