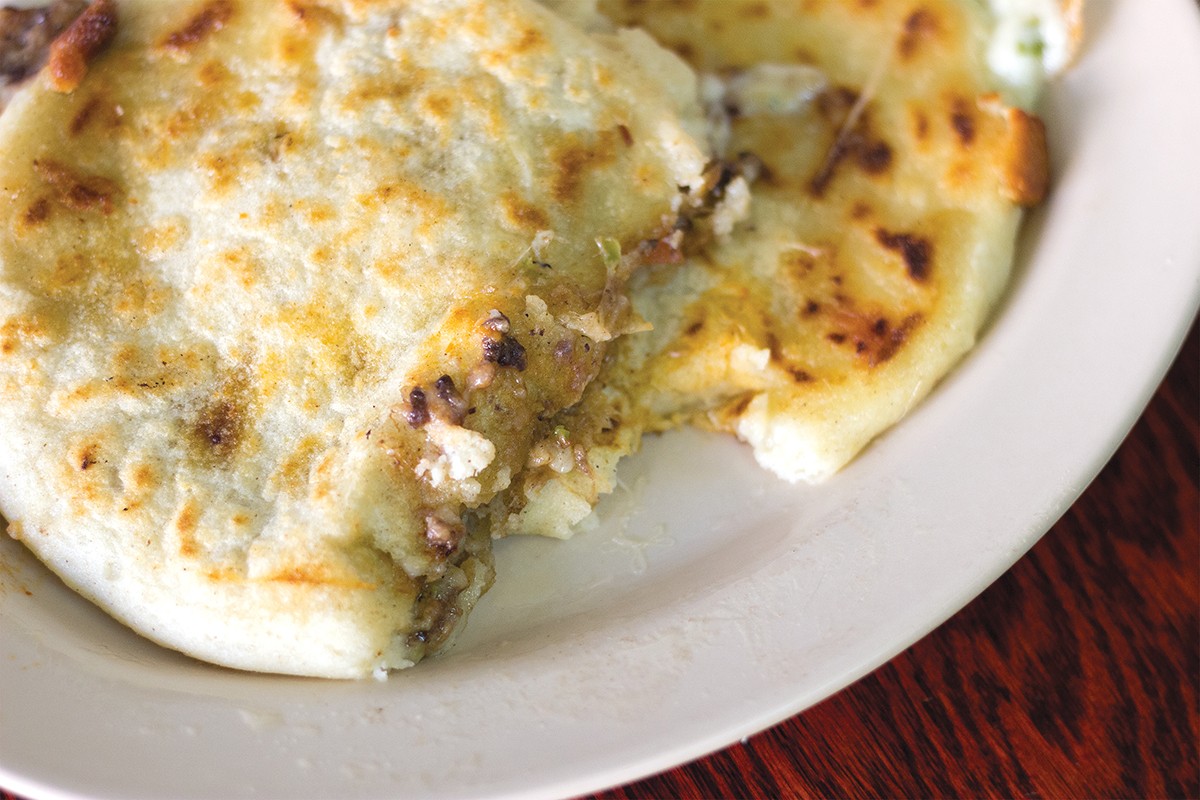 When people think about Oakland's Fruitvale district, the first thing
they think about is the neighborhood's abundance of Mexican restaurants and taco trucks. That's one reason why Los Cocos Salvadorean Restaurant (1449 Fruitvale Ave.) stands out: It's one of just a handful of Salvadoran restaurants in East Oakland.
Mario Melchor opened Los Cocos back in 1985, when it was the only Salvadoran eatery in Fruitvale. Melchor's sister, Rosa Gonzalez, and her husband, Ricardo, took over the family business in 1993, but the restaurant remains in the same location and serves more or less the same menu. Even now, you'll still find Gonzalez in the kitchen every day, and every
pupusa
she serves helps her Salvadoran customers feel a little closer to home.
Walk by, and the aroma of fried plantains, chicken soup, and pupusas on the grill emanating from the kitchen will make you want to step inside. Los Cocos is not a fancy restaurant by any means. Simple wooden tables and chairs fill the dining space, and there's a modest kitchen and a counter where you can order your food.
What to order? The menu is two pages long, but the most coveted and traditional dish is the pupusas. For those who haven't had the pleasure, a pupusa is a thick corn tortilla filled with all kinds of fresh ingredients: cheese, beans, pork rinds, squash, spinach, and
loroco
— an ingredient you might not have heard of if you aren't from El Salvador. The Fernaldia
pandurata
is a vine with edible flowers, and those flowers are the "loroco." Gonzalez gets her loroco straight from El Salvador; it's what makes the pupusas at Los Cocos so unique. Ask for a
pupusa
de queso con loroco
, and you will get a fried, cheesy piece of Salvadoran heaven.
"You eat [the pupusa] with your hands," Gonzalez said.
A pupusa is not complete without
curtido
, a traditional pickled slaw made out of cabbage, onions, and carrots. There's also a Salvadoran salsa that includes celery, cilantro, oregano, bay leaves, and other spices. It's more watery and less spicy than the typical chunky salsa you'll find at Mexican establishments.
If pupusas are not what you are after, the extensive menu has something for every palate. The
tamales pisques
are another traditional dish made with refried red beans. These tamales are wrapped in banana leaves — unlike Mexican tamales, which are usually wrapped in dried corn husks — and are perfect for vegetarians. There are also chicken tamales that have masa that's saturated with chicken broth. They're wrapped in banana leaves and foil, which keeps the masa especially moist.
[pullquote-1] When it comes to beverages, horchata is the drink of choice. Unlike the Mexican version, Salvadoran horchata is made out of sesame seeds, rice, cacao, peanuts, pumpkin seeds, milk, and a seed called
morro
that can only be found in El Salvador. All the seeds have to be roasted and ground up before they're mixed in with the milk. When you take the first sip, you first taste the rice and peanuts. It's refreshingly delicious.
Gonzalez travels to El Salvador once a year to buy ingredients that cannot be found in the US. She says she used to go more often, but changes in the economy, and around Oakland, have forced her to limit her trips.
In recent years, the clientele at Los Cocos has shifted, too. Gonzalez explained that more white people have been coming into the restaurant — new transplants who have recently moved into the neighborhood, some of them vegetarian or vegan. To cater to them, she added a squash pupusa and a spinach pupusa.
Looking forward, Gonzalez is worried that Los Cocos might get priced out of Oakland, as so many other businesses have. The building was recently sold, and while the owner has told her that he plans on keeping the current market-rate rent she is paying, Gonzalez knows this might not always be the case: "If he doubles the rent, I will not be able to keep the restaurant open."
Until that happens, her customers will continue flocking to the restaurant to enjoy a piece of El Salvador, even if it's just for that one sit-down meal. And, for as long as she's able to, Gonzalez will continue to preserve the authentic flavor that has made Los Cocos thrive.