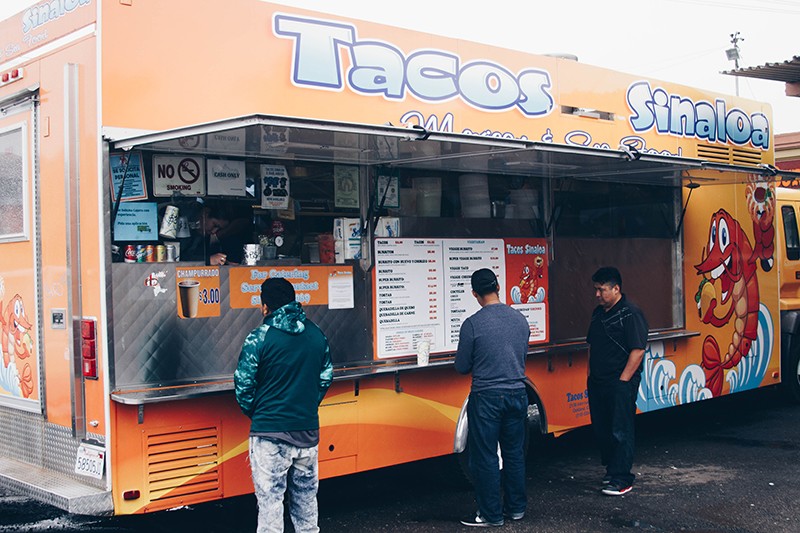 It's no secret that, in recent years, Oakland has become a mecca for foodies. It seems as if everywhere you turn, there is a new pop-up or food truck. But the city's taco trucks have a longstanding history in The Town. Some of the pioneers include Tacos Mi Rancho, Tacos El Grullense, and perhaps one of the most iconic and recognized, Tacos Sinaloa.
Nestled in the San Antonio neighborhood at the intersection of 22nd Avenue and International Boulevard, Tacos Sinaloa has been a staple in East Oakland. The truck got its start back in 1999 through the work of Guadalupe Bueno, an immigrant from Culiacán, Sinaloa, Mexico.
Bueno moved to the United States as a teenager in the early 1970s to work in the fields in Livingston, California. It was when he moved to Oakland in the 1980s that he began his venture in the food industry.
Before opening Sinaloa, Bueno worked for a taco truck for fourteen years. He was able to develop relationships with customers, many of them who later became his loyal followers.
At a time where there was no Google, Yelp, or social media, Tacos Sinaloa earned its notoriety based on word-of-mouth. The first truck, on 22nd Avenue, is within walking distance of Garfield Elementary School, a short drive from Roosevelt Middle School, and en route to I-880 and the 23rd Avenue Bridge that connects Oakland with Alameda.
For longtime residents of the San Antonio neighborhood and its vicinity, Tacos Sinaloa signifies a family connection. It's a daily lunch, a date, a late-night dinner outing, a mandatory stop after school or after prom, and even the perfect way to satisfy a pregnancy craving. Many cannot easily resist the tacos al pastor, a carne
asada
burrito, tacos de
tripa
.
As the years have gone by, Tacos Sinaloa has evolved and expanded. Next to the truck on 22nd Avenue sits its seafood counterpart. A few years ago, the second location opened in the Fruitvale District, right across the street from BART station. In the fall of 2015, a third location opened in Berkeley.
And Sinaloa is embracing Oakland's changes, from teaming up with local breweries like Ale Industries to collaborating on a T-Shirt with Oaklandish (currently available for purchase online and at both retail locations).
While food trucks come and go, Sinaloa's roots run deep. The Bueno family intends to continue serving longtime patrons and newcomers alike, while preserving their name as one of Oakland's best.