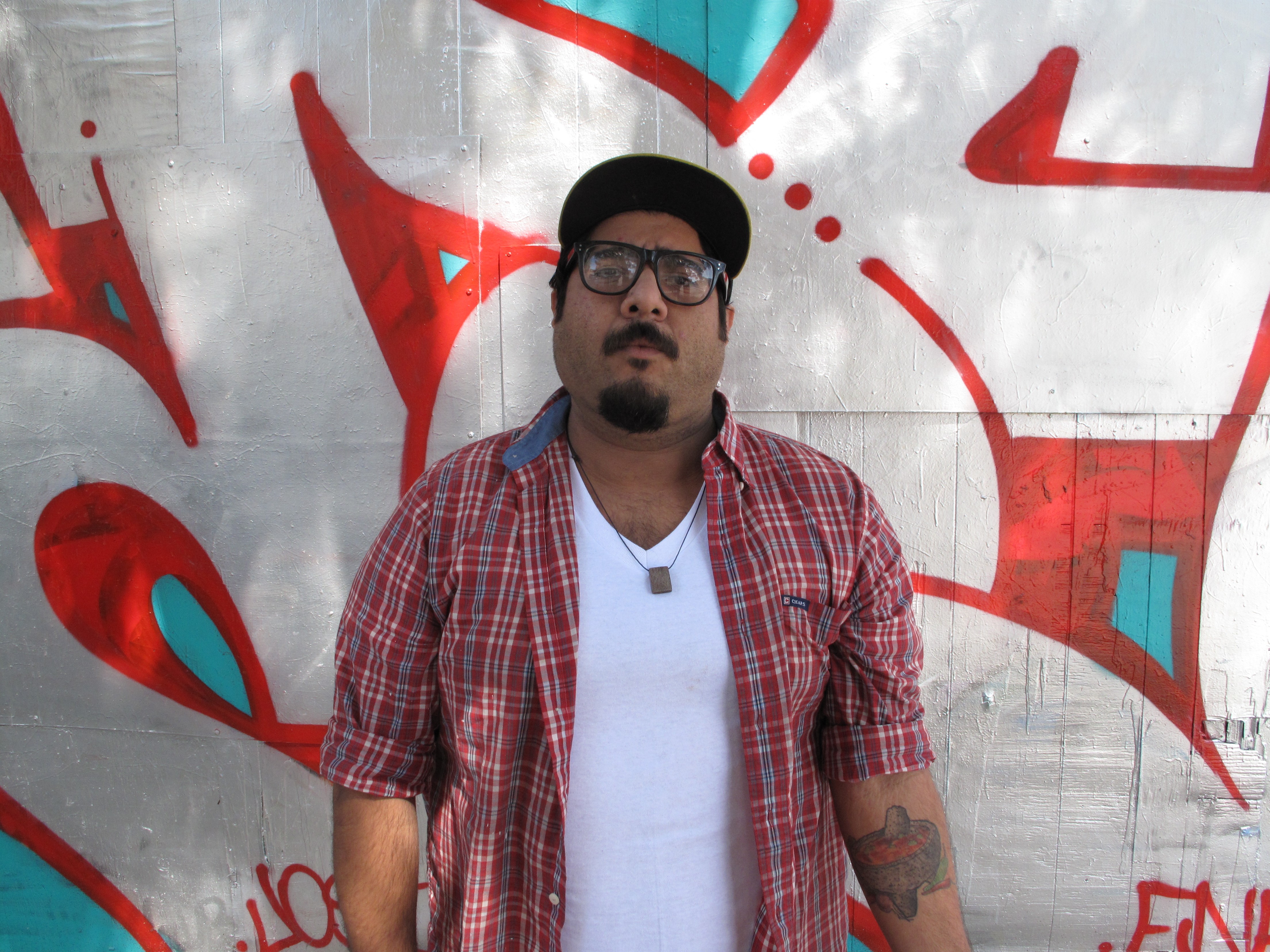 Raul Medina wanted a taco. This wasn't an unusual craving. But the catch was that Medina is vegan. "And I couldn't stand any of the vegan tacos out there," he explained. "You can't just put broccoli in there and call it a taco."
It was a veritable conundrum for the young Mexican-American living in Oakland. And that's why, in the rich tradition of California experimentalism, he embarked on a quest to innovate a better taco.
You see, Medina grew up in Southern California. In his youth, he wasn't vegan, so naturally he enjoyed savory
barbacoa
tacos, and even piping hot, meaty bowls of Vietnamese
pho
in Westminster's Little Saigon neighborhood near where he was raised. He knew that, if he wanted to revisit the flavors — the meat — of his youth, he'd have to fake it. And he'd have to do it himself.
That's why, on September 12 of last year, Medina debuted
Taqueria La Venganza
: a humble pop-up that he set up on the sidewalk near his downtown Oakland studio apartment. He served up street tacos and Mexican fare, all vegan. Now, months later, Venganza is an award-winning destination for many East Bay foodies, vegan or not.
[pullquote-1]Importantly, it's also one of few local spots for cuisine that celebrates the culinary traditions of immigrant food, instead of simply appropriating "ethnic" eats to California's agricultural bounty. Or, as Medina put it: "[Vegan] California cuisine, it's really good — but it shouldn't be called Mexican food."
Medina's fake-meat tacos taste so much like the real
carne
, they even trick his parents. "We make a vegan tripe that is so close to actual tripe that people freak out," he said. "It fooled my parents. It's ridiculous. It's funky, it's gamey."
Venganza's flagship dish, however, is the
barbacoa
— so popular that it took first prize at the Los Angeles Best Vegan Taco Competition last October (do not take lightly the phenomenon of an Oaklander winning a taco fest in SoCal).
He's reluctant to divulge his barbacoa formula, but Medina did share that he uses three types of tofu, which he actually smokes in lieu of using liquid smoke. To mimic the fatty, unctuous character of the meat, he adds starches, yam flour, and other ingredients, which he says impart the feel of cartilage, tendon, and "the gummy fat" qualities.
"In one bite of the taco, you get fat, you get meat, you get oil — it's as close as you get to the taste," he assured.
Medina says his goal isn't to serve the East Bay's bourgie foodie contingent, or hipsters. He wants to make food for folks who love real Mexican tacos — but probably shouldn't be eating a lot of meat, for health or dietary reasons.
Sadly, the barbacoa is served at special-occasion events only, like
quinceañeras
. So, it's hard to come by. But keep an eye out for the next appearance on Venganza's Instagram: @TheVeganTaqueria. (Medina also teased the prospect of a food truck in the near future, too.)
If you're a vegan craving more than just tacos — it happens — there's also chef Mohamed Aboghanem's restaurant
Saha
, inside the Art Deco building on Shattuck Avenue in Berkeley that formerly housed a vegan restaurant called Herbivore. Aboghanem's menu strikes a remarkable equilibrium between traditional, meat-forward Yemeni fare, and also vegan-friendly dishes. For instance, he highlights both lamb — which he says is commonly the main dish during Yemeni meals, always eaten at the end — and also vegetable-dominant, dairy-free eats featuring potato, okra, beans, broccoli, cauliflower, salads, and rice.
The chef says the most popular vegan dish at Saha right now is his signature curry, which he describes as having a "a Yemenese background to it." It includes plentiful fresh greens, mushroom, and tofu. It's "a super-light yellow curry," he said, but unlike what you would find in Thailand or India. The main spice in it is
hawaij
, he explained (his version is a blend of cardamom, saffron, turmeric, cumin, and black pepper), which he grounds into a paste with bell peppers and mangoes. There's also some dried chili and vinegar, and the result has the consistency of a
chatni
, he said, and is served over quinoa.
"People really love it. I think the clientele is at least 30 percent vegan, if not more," the chef said.
One of the most exciting aspects of eating vegan at Saha is that you can visit the restaurant often and not be forced to order the same dish twice. At dinner service, Aboghanem says the vegan falafels, formed with mushroom into little balls, and the Yemenese
fouel
— which
Express
food editor Luke Tsai praised during his review of Saha last year — are quite popular. The fouel is a hummus-like dip, made from fava beans instead of chickpeas, and with a bit more zing, from the floral and herbal
za'atar
spices.
"Yemen is a poor country. They do love lamb. But when you're at a Yemenese house, there's a lot of different dishes," including many veggie and vegan options, the chef explained. "Some, I give them a twist, and some I leave them alone, like the Yemenese okra," which is served in
helba
, the national Yemenese dish, a stew with fenugreek, potatoes, and rice, which the chef said is like a hearty gumbo.
Aboghanem likes that East Bay diners embrace his distinctive menu. "Berkeley now is like San Francisco thirty years ago," said Aboghanem, who moved his restaurant from across the bay last year. He doesn't regret it one bit.
Back in Oakland, many of the dishes at chef Preeti Mistry's
Juhu Beach Club
, in the Temescal neighborhood, also harken to the dairy-free fare of her childhood Indian-American cuisine. "I grew up eating mostly vegan at home," she explained. Her mom is vegetarian, and that's why many dinner and brunch options at Juhu are at once traditional but also vegan-friendly.
Consider Juhu's most popular item: the Manchurian cauliflower, which Mistry described as having "cult status" on the menu. It's a classic dish, but her spin on it celebrates "the little things," she said, such as how chefs prepare the cauliflower itself, slicing it in different ways — thinner pieces and florets — which impart different textures. She adds carrots and onions to amplify the variety of flavors.
There's also Juhu's summer eggplant curry (returning soon), which Mistry said they strive to keep vegan and faithful to the traditional
baingan bharta
. But … they'll dress it up a bit, to make it more interesting visually and texturally, since, as she put it, "it's delicious — but it kind of looks like baby poop."
Juhu's eggplant curry features whole-globe eggplants, roasted and, later, puréed, and also heirloom and Japanese eggplants, doused in house-made garam masala and roasted, then added in pieces, along with some kale or chard. Again, traditional, distinguished — and vegan.
"Dinner every night was, generally, aside from some
ghee
that might be on the roti, the only other dairy would be a
raita
," Mistry explained of the regional Gujarat fare she enjoyed as a child. "All of the vegetable dishes that my mom makes are vegan."
Juhu features a weekend brunch, which, like Saha, also has a few vegan options, such as the popular "doswaffle," comprised of masala potatoes,
sambar
, and coconut chutney.
Perhaps the take-home is that the East Bay's culinary diversity is very much no longer for just carnivores. "Here in downtown Oakland, you have a lot of different communities that come together," said taco master Medina.
And now it's easy for the no-meat crowd to join in.  
Taqueria La Venganza: With regular pop-ups in Oakland and San Leandro; @TheVeganTaqueria on Instagram.

Saha: 2451 Shattuck Ave, Berkeley; SahaBerkeley.com.

Juhu Beach Club: 5179 Telegraph Ave, Oakland; JuhuBeachClub.com.