Legendary Bay Area psychedelic band The Brian Jonestown Massacre played to a packed house at the Fox Theater in Oakland last night. The band — led by singer Anton Newcombe and including founding members Matt Hollywood (guitar) and Ricky Maymi (guitar), along with longtime members Joel Gion (tambourine), Dan Allaire (drums), Rob Campanella (keyboard and guitar), Frankie "Teardrop" Emerson (guitar), and Collin Hegna (bass) — played songs from throughout its 26-year career, as well as new songs off its forthcoming album,
Revelation
, which is due for release on May 19.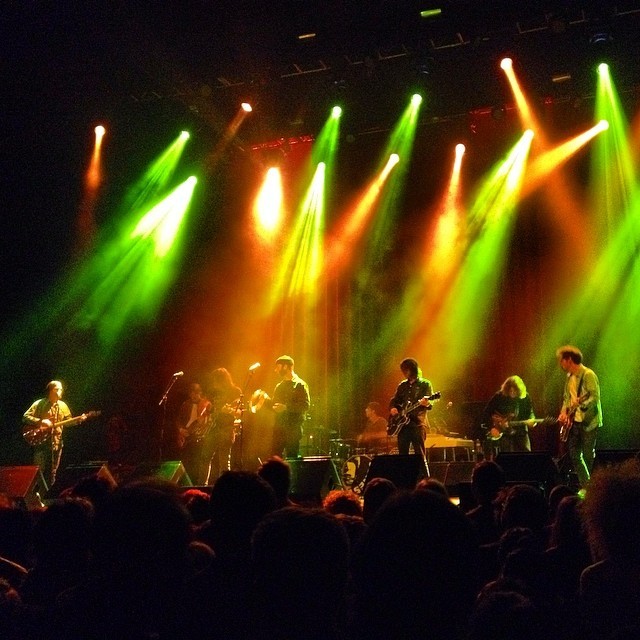 [jump]
The eight members were calm and professional as they walked onto the festively lit stage of the Fox. Anton greeted the audience by asking "How's everybody doing tonight?" and the crowd responded adoringly. The band kicked off the evening with "Whoever You Are" from its sixth album,
Give It Back
.
Early in the show, BJM performed a brand new song, "What You Isn't," which blended well with the band's older, classic songs that followed, including "Jennifer" and "I Got My Eye On You." The band only played a couple songs from its less-popular albums, and it entirely skipped the albums
My Bloody Underground
,
Who Killed Sgt. Pepper?
, and
Aufheben
. The band's original material was augmented with a cover of Bobby Jameson's 1965 anti-war ballad "There's a War Going On."
Despite a couple of audio technical difficulties, the show went smoothly, and the notoriously agitated Newcombe showed no signs of drama (except during a brief exchange when he told Hollywood, who was talking to his bandmates between songs, that he'd prefer not to chat during the show). Overall, the band created an enthralling experience and played songs in a heartfelt manner, occasionally creating walls of sound that were euphoric. Newcombe's voice sounded healthy, as he hit every note and projected seemingly without effort. Every moment felt like a priceless gift.