Hey party people, it's Friday! As your reward for making it through the week, we found the five best events for you to check out this weekend:
Returning Current with Daniela Gesundheit and Katy Payne
In the 1960s, Katy Payne became one of the first researchers to discover that whales compose songs. Payne, a graduate of Cornell's music department, first heard the sounds humpback whales make husband through the work of her then husband. For fifteen years, she recorded and studied the music of two different whale populations, discovering that whales create complex, lengthy sequences of phrases and notes that repeat. At 
BAM/PFA 
, she'll deliver a lecture about her work, while Daniela Gesundheit (of the Toronto-based pop duo Snowblink), a choir, and instrumentalists recreate the whalesongs. Payne taught the performers the principles, structures, and techniques of the cetacean-created music using spectrograms and deep listening exercises with audio recordings she took in the field. The performance should be transfixing. Friday, May 9. 7:30 p.m, $7. 
BAMPFA.Berkeley.edu
 —
Madeleine Key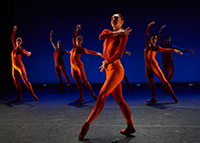 The Save a Kitten at OakCatVidFest
Home to the second-largest Internet cat video festival in the world and a (soon-to-open) cat cafe, Oakland is becoming a go-to place for cat lovers. Last year, 6,000 people came out for the city's first cat video festival, which screened the Internet's best cat videos, as selected by curators from the Walker Center for the Arts in Minneapolis. This Saturday, the festival will return to the 
Great Wall of Oakland
 with about forty new cat videos, plus a visit from beloved perma-kitten Lil Bub, who will be available for "meet and greets" (tickets are limited). Before the video screening, there will be performances by local bands, an aerial cat-themed dance, and cat-related arts and crafts activities. In addition to appealing to the cat-crazed masses, organizers also hope to bring awareness to the growing need for kitten foster parents. Local shelters will be on site with kittens and cats up for adoption, and all event proceeds (after costs) will benefit the East Bay SPCA. Saturday, May 10. 3-10 p.m., $75 VIP admission, $10 for general admission, $5 for seniors and children between the ages of four and twelve, free for children under the age of three. 
OaklandCatVidFest.com
 —
Zaineb Mohammed
[jump]
Berkeley Poetry Festival
Ten years ago, Louis Cuneo and Marcia Poole founded the Berkeley Poetry Festival with the intention of celebrating, promoting, and strengthening the city's vast literary scene. A decade later, the event has more than made good on that goal, while still maintaining its DIY roots. This year's festival, held at the 
Berkeley City College Auditorium and Atrium
, will feature readings by the likes of Aya de Leon and Adam David Miller, booths from various local 'zines and journals, an open mic, a lifetime achievement awards presentation, and more. Saturday, May 10. 1-4:30 p.m., free. —
Ellen Cushing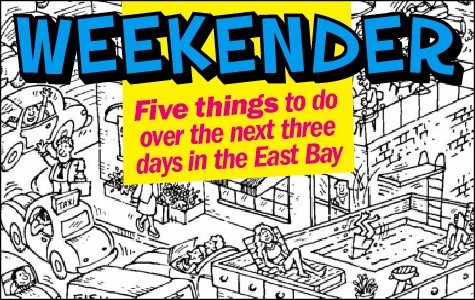 Company C Finale
After enriching the East Bay's cultural life for the past dozen years, Walnut Creek's Company C Contemporary Ballet is calling it quits — or, rather, undergoing a reincarnation. Catch the adventurous chamber troupe one last time during its spring season, this weekend at 
Lesher Center for the Arts
. As always, the show includes crowd-pleasing pieces and experimental new works, with Maurice Causey, Patrick Corbin, and Charles Moulton contributing commissions set to music by Gabriel Prokofiev, Marsha Groethe, and Chris Thile and the Punch Brothers, respectively. The fourteen dedicated dancers will also perform
Aposiopesis
and
What's Behind Door #3
by founder and artistic director Charles Anderson, who is following his artistry in new directions that will be revealed in the coming months. Thursday through Sunday, May 8-11. Thu.-Sat. 8 p.m., Sun. 1 p.m.; $25-$48. 
CompanyCBallet.org
 —
Claudia Bauer
Joey Anderson
The Shuffle Co-op is a new Oakland-based dance music collective whose aim is to "build the right atmosphere for a crowd to make them feel comfortable enough to let loose," according to co-founder Adam Carlisle. For the co-op's inaugural party last month, longtime Detroit DJ Mike Huckaby performed in a high-ceilinged Jack London district warehouse outfitted with custom LED lights and an OPUS sound system. This month, the co-op has booked rising New Jersey-based house music producer Joey Anderson, who recently released his debut album,
After Forever
, via Denmark's Dekmantel label. It's dark, trippy, and percussion-driven, as well as sophisticated and soulful. The event's location will be announced the day of via 
The Shuffle Co-op's Facebook page
. Amourette and Joe Babylon will open the show. Saturday, May 10. 10 p.m., $10, $15. 
Eventbrite.com
 —
M.K.
Plus… Get your cheapskate on: This is how much we love you guys: Here are our searchable listings of 
every single free event
 happening in the East Bay this weekend.
Feed Us: Got any East Bay news, events, video, or miscellany we should know about? Holler at us at
[email protected]