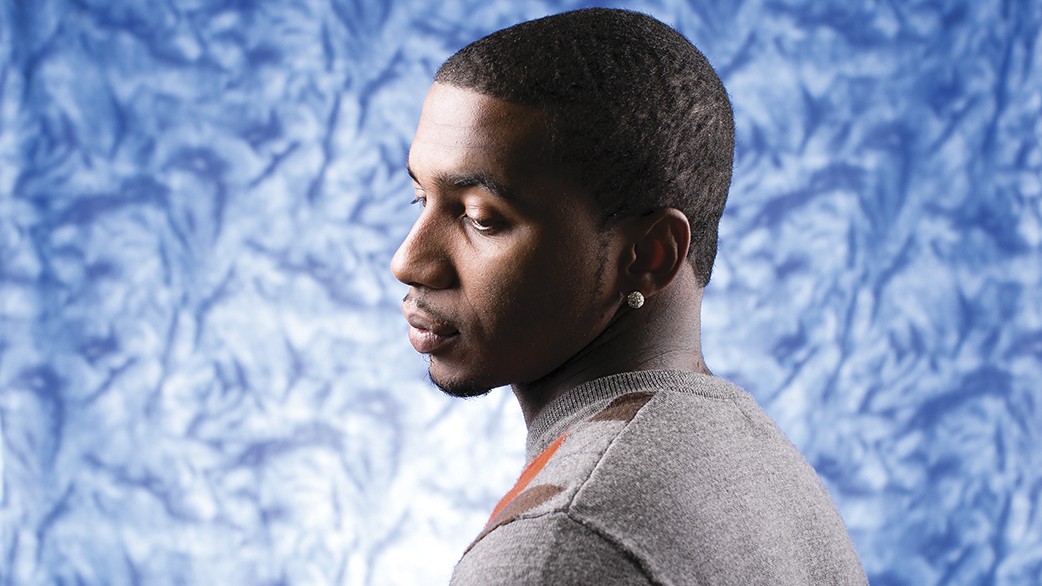 One afternoon recently, a security guard at Whole Foods in Oakland named Reggie excitedly approached the rapper Lil B and let loose a torrent of meme-speak — "taskforce," "based," "rare," et cetera. Reggie then told Lil B how a lot of the people he grew up with in Pennsylvania went to prison on nonviolent pot charges, inspiring his interest in drug-law reform. It's Reggie's positive contribution to the world, he said. Clad in a beige velour tracksuit, Lil B nodded approvingly, his braids bobbing, and then agreed to appear on Reggie's Snapchat. Holding up his one purchase, he shouted out coconut water.
The encounter illustrated the weird world of Lil B the BasedGod, the hip-hop enigma from Berkeley who's been feted by critics as a post-internet auteur and inspired countless other artists — all without a manager or a record label. Fans adopt his lingo. The sports world considers him supernatural. And hip-hop in 2017 — say, the scrappy outlandishness of so-called "SoundCloud rap" or the anime effervescence of Lil Yachty — was unthinkable without the persona and voluminous, self-released output of Lil B.
During a year when Lil B's influence was perhaps felt more than ever, though, the 28-year-old artist practically reinvented himself on Black Ken. It was the first full-length since 2015 from someone who used to release hundreds of songs annually. There was less madcap spontaneity, more composition. He produced all 27 tracks himself. And though Lil B has long alternated between styles — performing exaggerated or otherwise askew versions of rap braggadocio, inanity, density, and other tropes — Black Ken really revealed the doting study of hip-hop history at the core of his catalog.
Knuckle-dragging funk grooves cede midway to hyphy exuberance (ace Keak da Sneak impression), while the backside features decidedly contemporary production (even gratuitous auto-tune), plus some international dance experiments. Slow-rolling opener "Still Run It" is such a careful homage to the early Town sound that it name-checks Eastmont Mall, birthplace of the sideshow some three decades ago. The production on "Free Life" couples gurgling bass and fluttering horn samples like a cracked, g-jazz chimera. If Black Ken is a roadmap of East Bay rap across time, it fittingly leads to the charmingly clunky "Rare Art" — which sounds like no one aside from Lil B.
The icy "Ride (Hold Up)," meanwhile, illustrates the literary subtlety for which Lil B is rarely credited. It's written from the perspective of someone with a romantic attachment to his gun, clinging to it at the club, in the car, and during First Fridays. He likens its constant companionship to a cellphone. But how should we understand the dispassionate delivery of the verses and the desperation gnawing at the chorus? The way Lil B numbly raps feelin' so hostile after threatening to open fire over a slight offense suggests emptiness behind the swagger. The melancholy whistle conveys the mood of a wake, as if Lil B is eulogizing men who mistake hair-trigger violence for power and self-respect.
Outside Whole Foods, Lil B told me that Black Ken is one of his only releases that he reflects on critically, citing individual notes he'd like to change.
So, is he interested in producing for other rappers? "I definitely am for select artists," he said, mentioning Lil Wayne and Axl Rose. "But, you know, literally the same hand I use to produce with, I use to write lyrics with and also to follow a million people on Twitter one at a time."
"Based," one of the words Reggie used to signal his fandom, dates back to Lil B's teens — a drug lingo-derived dis that he and his friends reclaimed to own their own zaniness. Born Brandon McCartney, Lil B grew up in an affordable housing complex in South Berkeley, and formed The Pack in high school amid the hyphy moment of the mid-2000s, scoring a hit with the svelte sneakers ode "Vans." The Pack's hybrid rap-punk style, steeped heavily in Bay Area skate culture, foreran an aesthetic that was more widely popularized by others (particularly Odd Future), a recurring theme of Lil B's career.
If Lil B is embodying the attitude and flow of past rappers he admires on Black Ken, it's just a different expression of his long-mutable identity as an artist: Gaining traction in the late-2000s, he used to literally declare himself Ellen DeGeneres, Bill Clinton, and Paris Hilton in songs. Another alter ego is Dior Paint, his stylist. Sometimes the BasedGod is not the same person as Lil B. He eschewed record labels and A-list collaborators, mostly opting for slapdash production and friends. Lil B's propensity for freestyles, meanwhile, yielded the elliptical, spoken-word, and keyboard statement Rain in England. Reporting on a college lecture Lil B gave in 2012, a New Yorker writer dubbed him "transcendently dumb."
Lil B was one of the first rappers to bypass industry gatekeepers online, and he remains generally optimistic about culture in the digital era. "Once you're online, you can bring people to where you're at," he said. To that end, he became a masterful self-promoter, dispensing all-caps tidbits of dada-dippie positivity to a cultish internet following. (I don't do interviews/Cus' every time I talk, I make the news, he raps in Black Ken's "Bad Mf," showing some social-media insight that occurred to him very early on.) As The New Yorker's bemusedly backhanded compliment illustrates, though, jocular media analysis of Lil B's online eccentricities often supplants genuine engagement with his music.
Reviews of 2015's Thugged Out Pissed Off, for instance, mostly center on his public appearances and his rate of releases instead of their content. One goes, "First off, I want to state that I listened to this mixtape in its entirety." (Congratulations?) Another glibly insists that the "message" of Thugged Out Pissed Off is that "he's thugged out, and he's pissed off." I couldn't find a review that takes seriously the critique of toxic masculinity threaded throughout the full-length, which is why the common argument that Lil B the "motivational speaker" is as artistically significant as Lil B the rapper is probably bullshit peddled by bloggers whose job it is to make news posts out of his tweets and feuds.
Black Ken has next to no features and no singles or music videos. Unlike Thugged Out Pissed Off, there are no gossip-baiting disses, either. Lil B's care to preserve Black Ken's integrity as a full-length statement seems like a reaction to the way his promotional gambits sometimes draw more attention than his music; he called the album "one of the purest things I've ever made." Still, Lil B only spoke negatively about the internet regarding one recent experience. Facebook posts of his about racist double standards around gun-ownership were deemed "hate speech," and his account was temporarily suspended. "I just wanted to start a discussion," he said. "Now, I'm scared to talk."
Being an internet rap pioneer also seems financially disadvantageous. Lil B has remained an independent Bay Area artist while many of his spiritual offspring (Lil Uzi Vert) and onetime peers (Soulja Boy) leveraged viral fame into more traditionally successful careers. Clearly, credit for influence isn't the same as compensation; after Lil B's apartment in Concord burned down in 2015, he asked fans for money via PayPal. (He's since moved "closer to Berkeley," he told me. "I wanted to be near the water.")
That same year, Lil B infamously cursed James Harden of the Houston Rockets for stealing his signature "cooking dance." When the Rockets lost the finals to the Warriors in Oakland, Lil B was in attendance. The whole ordeal, which garnered Lil B an unexpected degree of mainstream notoriety, seemed freighted with symbolism, as if it was retribution not just against Harden but also against rappers who've jacked his style.
About his high-profile disciples, though, Lil B is pretty gracious. "This generation after the BasedGod is great," he said. "They're more positive." His eagerness to support and relate to just about everyone yields beaming songs such as "No Black Person Is Ugly," as well as awkward proclamations that he loves everyone, including Klansmen. But he's also refreshingly willing to be wrong, to learn in public. In 2015, some insensitive tweets made it seem like he didn't know the difference between gay and transgender; hours later, after interacting with followers, he apologized, calling himself "transphobic."
I asked Lil B, who supported Bernie Sanders, if he considers his work protest music. He said he prefers "inspiration music." Asked about his politics, he said he doesn't know about politics; he cares about "social issues." And then he revised that response, saying that, rather than social issues, he's interested in "people and their experiences." He was admiring a creek near Lake Merritt. "It's nice to hit the streets and see the people around here," he said, suggesting we walk toward Oakland's historic Grand Lake Theatre.
"I do rock with architecture," he said. He mentioned Julia Morgan and Bernard Maybeck, early 20th-century architects associated with the East Bay, bringing to mind the local references on Black Ken: Eastmont Mall and Fruitvale BART, First Fridays and the Ocean View Gardens Apartments. He never really thinks about moving away. "I haven't really explored the Bay," he said. "There's cool places in, like, Fremont where I haven't been." I quoted a line from Black Ken: Gentrify me?/I beg your pardon. "I'm out here," he said, mentioning his sideline gig as a landlord. "I own property. I'm not going anywhere."