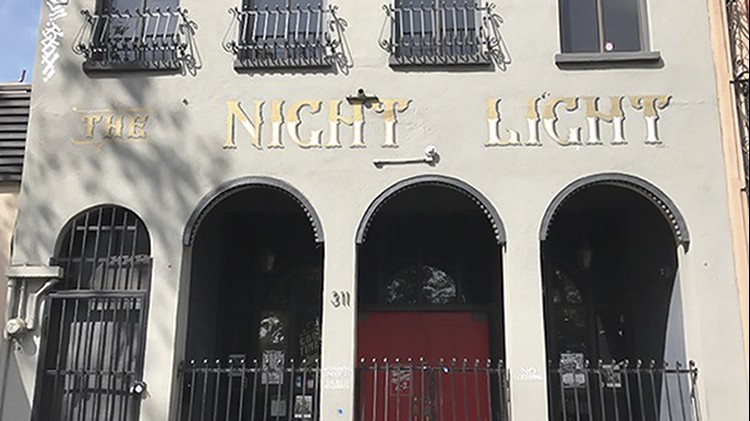 Jack London district bar and venue the Night Light shuttered without warning in mid-September, its steel gate chained shut and a near-full calendar of events still posted online. But the closure was no surprise to its former employees, who said that owner Doug Kinsey had accrued debt to vendors and bartenders, managing the nightlife hub erratically since the departure of his partner. Kinsey, for his part, acknowledged his managerial shortcomings in an interview with the Express. "I have to look inward for the answers," Kinsey said. "It really comes down to my leadership and management."
But bedtime for the Night Light means a new day for the Elbo Room.
The owners of the storied Mission District dive, which is slated to be demolished in order to make way for housing after its lease expires at the beginning of 2019, recently bought the business, and they intend to reopen it in January as Elbo Room Jack London. "We've both known [Kinsey] for some time," said Matt Shapiro, who owns the Elbo Room alongside Erik Cantu, adding that he was groggy after celebrating the announcement the night before. "We love what he's done there. Now, we'll add our personal touches."
Shapiro said that Elbo Room Jack London's cocktail menu will change dramatically from the Night Light's, though he declined to elaborate, and that the decor will change more subtly. They're interested in retaining some of the Night Light's regular downstairs dance parties, and Shapiro will be booking the upstairs venue himself, though he doesn't expect concerts to begin before March. "I'm really excited to book that room," he said.
The Night Light opened at 311 Broadway in 2012. (A double-homicide the year prior effectively shuttered a bar and restaurant at the same location.) At the helm were Kinsey and John Nackley, both familiar from the East Bay music scene and from their earlier roles at downtown bars Ruby Room and Radio. They installed custom brass-tacked leather chairs, lit the place with bare-filament bulbs, and stuffed the cocktail menu with whiskey. That year, the Night Light earned a "Best New Bar" award from the Express.
The 100-capacity upstairs venue was a welcome addition to Oakland's surprisingly low stock of small rock clubs. Early on, bookers such as Bobby Martinez, who spins power-pop and glam as DJ Stand-In, helped make it a regular venue for all-local punk and garage-rock bills. More recently, booker Jason Kick reanimated upstairs programming. A three-day benefit festival for Planned Parenthood and Dakota Pipeline protesters in November 2016 featured noted locals such as Mall Walk, Brasil, and Baus. Lately, The Night Light also hosted popular dance parties such as Fresh Jamz and Hanging Garden.
[embed-1]
But Kick, who booked and ran sound upstairs until July, said that the business destabilized after the departure of Nackley, who'd been bar manager, in early 2016. "After that, Doug was trying to do two jobs himself, plus he was working at an auto-shop part time," Kick said. "There were days at a time when no one could get ahold of him."
Kinsey agreed with Kick's assessment about the difficulty of having two jobs at once, adding that misfortune in his personal life diverted his attention from the bar during a period when it was needed most. "Personal trauma, house burglary, injuries, bogus lawsuits, losing my best friend — it was a tough year," Kinsey said.
Months after Nackley left, bartender Heiko Schrepel, a longtime friend of Kinsey's, died of complications related to liver cirrhosis. And then there were the two lawsuits: one brought by someone who slipped, and another by someone who was ejected by security. Kinsey said he was forced to switch insurance companies; the premium more than doubled. "I may have definitely underestimated what a great manager [Nackley] was," Kinsey said. "Frankly, I probably should've put the bar up for sale earlier. … I couldn't pay the bills."
Jonathan Hall, who bartended at the Night Light between January and August, said that he's owed more than a $1,000 in hourly wages, while two other former employees are also out smaller sums. Kinsey said he told the three employees they'd be paid once the bar sold, noting that he repaid part of the debt this past week. "I do owe them, and I've been open about it since the financial troubles started," Kinsey said. "My income is what I have to pay the bills, and the bar has been losing money for two years."
Kinsey started soliciting potential buyers this summer and received a lot of unappealing pitches. "A lot of people wanted to do a neighborhood bar, then sublease the venue upstairs," he said. "That'd be kind of sad. We've done over a thousand shows." He called Cantu and Shapiro "ideal" buyers. "People have compared our bars in the past," he said.
"I had some other options, but it wouldn't have been the same." He added, "Well, it won't be the same — probably, it'll be something better."