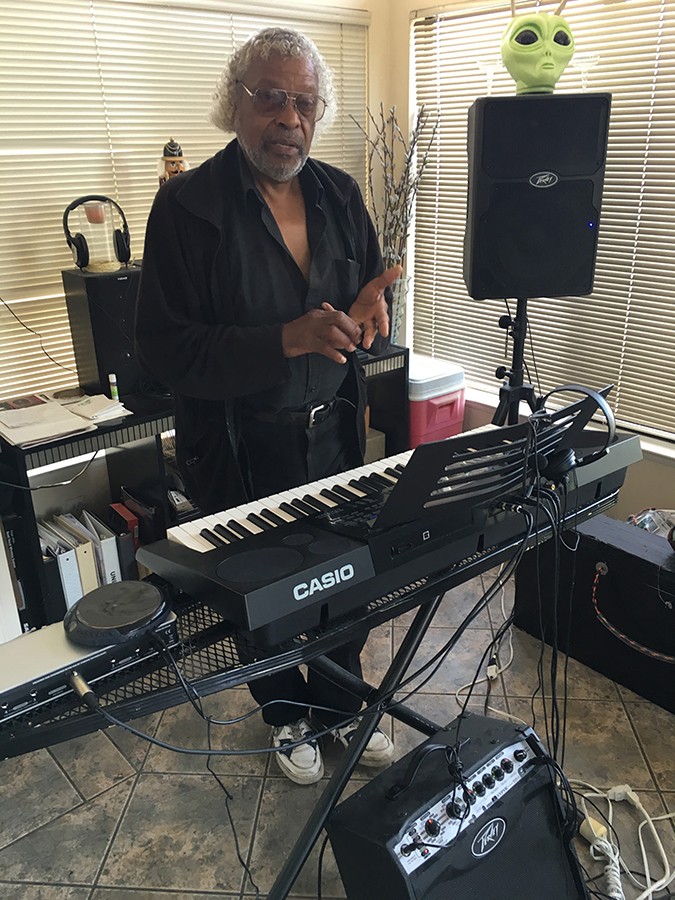 Tim Jones was soloing atop a shuffling blues vamp one evening recently at The Layover — playing all of the instruments himself. The 71-year-old one-man-band wore wire-rimmed glasses with a headset microphone straddling his salt-and-pepper beard. Behind him was an alien skull. Jones had the slick banter of a longtime emcee, ribbing the crowd between verses, yet he also seemed distant, enthralled with his own music. "Nothing came first," he intoned, hands gliding on the keys. "And space came after nothing."
Since the 1970s, Jones has been building keyboard-and-drum-machine hybrids, performing with a ventriloquist dummy, and self-releasing idiosyncratic home-recordings. In the audience at The Layover, where Jones now has a Wednesday evening residency, was Will Louviere, whose Companion Records recently reissued Age of Individualism, Jones' 1979 album as TJ Hustler's Metaphysical Synthesized Orchestra, which has become an unlikely hit among fans of so-called "private press" obscurities.
"You can't overstate how one-of-a-kind this record is," Louviere said. "It's sort of like the period's homespun new age stuff, but no one was putting that message over club music."
Age of Individualism's test-tube funk has the secluded-seeming peculiarity of bedroom projects that find cult followings decades after they were originally released to no fanfare; it's of its time, yet it sounds steeped in isolation. The vocals are half-spoken and half-hummed, with ad-libbed exclamations, while the puttering drum-machine and chintzy keys lend it the oddness of a disco demo — pulsing music that's usually made to sound big and slick, instead rendered with homemade haze and grit. And then there are the lyrics, koan-like slogans that have lately puzzled and enchanted collectors online.
Louviere first heard Age of Individualism about a decade ago after a friend bought copies from Record Man in Redwood City, curious about the unusual, binder-like packaging. At the time, no one knew anything about it, but the album's reputation swelled once some tracks hit the internet, prompting collectors to also rediscover Jones' strange, self-produced music videos from the 1980s. The value of originals soared; one fetched more than $2,000. Companion Records' first-time reissue of the album sold out in weeks, and the local label recently pressed another 500 copies to meet demand.
Age of Individualism represents just one era of Jones' work. The through-line is his interest in new technology and distribution; he was early to synthesizers as well as the internet. Lately he likes to compile his work, including performance clips and instructional videos, on USB sticks that he tapes to postcards adorned in spooky fonts. "Age of Individualism, you know, I heard a lot of philosophies back then — plant your seed, back to basics, do it yourself," Jones told the Express in what was his first-ever interview. "And then I was in the corporate world, too, and they had their own philosophies."
Jones grew up in Fresno, playing keys in local combos while still in high school, and he moved to the Bay Area in 1970 in order to pursue music and to work as a technician for IBM. "I lugged a Hammond B-3 [organ] around for 10 years, trying to play like Jimmy Smith," he said. Dawn and Sunset, his early 1970s group, self-released two now-collectible funk singles and gigged regularly at hotels and clubs such as the Elbo Room. "I was technical," Jones said. "So, I rigged my organ up to sound like a bass."
Dawn and Sunset split when he "got tired of the ego tripping," so Jones coupled his musical skills with his electrical engineering knowhow and went solo. He installed the guts of cheap keyboards in his B-3. He combined the Hammond bass pedal with a Moog bass pedal in order to play multiple octaves with his feet. And then, inspired by an organist at Pizza and Pipes in Santa Clara, he also added buttons to the foot pedals to trigger drums. He called it the "OMB-3," as in one-man band. "The only problem was that I wasn't a front act," he said. "So, I got a front act." By that he meant the dummy.
Going solo reflects Jones' preference for working alone. He also thought it'd make him competitive for gigs at the dawn of disco. "You look like a DJ but you sound like a band," he said. He calls his home-recording technique the "one-pass internal mix," and, when the time came to release material, he also did that himself. Age of Individualism came in a hand-bound jacket with two 12-inches and extra compartments. "I thought every time I made another record someone could add to the binder." He estimates that he made fewer than 50 copies. "I took 'em to a few record stores, and then I just forgot about it."
Jones played the OMB-3 as TJ Hustler, often with the ventriloquist dummy, at Oakland clubs such as Sweet Jimmie's in the 1970s and 1980s. Eventually, he started driving cabs and limousines for a living, adopted the moniker Preacherman, and segued to more modern equipment. Digital keyboards caught up with his vision of a band-in-a-box; nowadays he plays a Casio CTK-7200. "It's three keyboards in one," he said reverently. "The orchestra guy with the wand, the studio guy — with this, I can be all that myself."