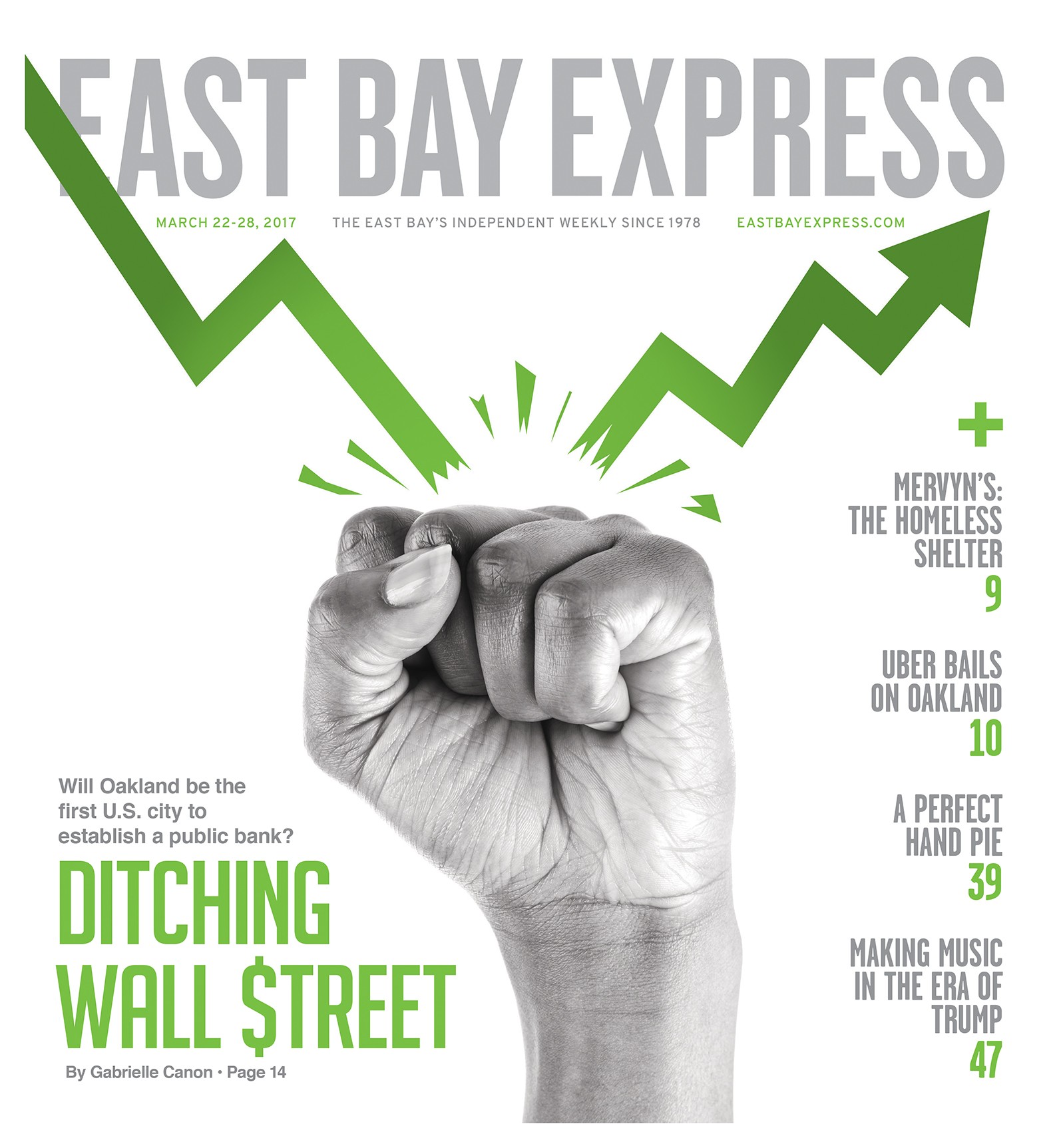 "Will Oakland Become First U.S. City To Ditch Wall Street And Establish A Public Bank?" by Gabrielle Canon, News, March 19:

Don't Rush Public Bank

I agree with all the commenters who have a healthy dose of skepticism. Oakland government seems financially illiterate (and also governance illiterate, at least when it comes to filling potholes, or inspecting buildings for fire safety, the pension crisis, the myriad ways in which Oakland city government has shown its ineptitude). Then there are the ethical challenges Oakland officials have, as well. I wouldn't rush in a public bank; some things just have to be sorted out. Why not make a requirement of Oakland city officials, at least some, to as the story says "have strong backgrounds in finance but also be dedicated to the mission of public service."
Doubts About Bank

After reading Ellen Brown's book, I thought that a Bank of Oakland could be a good thing for Oakland's finances, and thus our social and environmental foundation.
     However, we need to keep in mind the history of Oakland's financial dealings, and many high expectations profoundly dashed because of management incompetence and a failure of elected officials to think critically.
     Finally, I have doubts about the projected income from the cannabis industry. Right now, with cannabis somewhat decriminalized and the medical pot biz maintaining high prices, selling pot may be a good business. When recreational cultivation use becomes legally less restrictive next year I wonder whether potheads will continue to pay $200 or more an ounce for a plant that is as easy to grow in a garden or a flowerpot as basil, chives or parsley.
"Berkeley's New Progressive Majority Gets Serious About Homelessness Solutions" by Emma Courtright, News, March 21:

Follow Up, Express

As someone who heard the loud press fanfare for the "Berkeley Cares" voucher program in 1991, but also the deafening press silence when all the little donation boxes got the boot, I'm hoping the Express will encourage writer Emma Courtright to continue to cover the micro-home project when it actually has a budget, a location, and a plan for the 90 percent left on the street who will still have nowhere to go. The city's plan is not the campground we need.
     The City of Berkeley gets a lot of applause when it unveils a shiny concept. But since this, too, is temporary shelter, the writer should have asked where the rest of the people huddled in doorways are supposed to go, let alone people who hit their time limitation. Berkeley has yet to vacate its many laws aimed directly at ticketing (and eventually jailing) the poor it has deliberately priced out of town; the "Pathways Project" assures anyone who reads it that the city will continue to use its "anti-camping" laws.
     The fallacy of Berkeley and Oakland's plans are that a city needs land to address homelessness by presumably building brand-new housing. Those who know this issue well know that rehabbing existing apartments is much cheaper, even cheaper than those fashionable tiny homes.
Addiction Treatment?

This really does a lot to show how out of touch the city of Berkeley is with their homeless community. One visit to any of these camps and you can immediately see that any solution to this problem must first include drug and alcohol treatment. Let's make a realistic path to end homelessness, not just build nicer homeless camps.
Berkeley Needs Housing First

Lousy idea. Kennel homeless people in sheds? Other places have been markedly successful with the "housing first" approach, which provides people real homes like other people have. Former Mayor Tom Bates said Berkeley has been receiving multimillions of dollars every year ostensibly to "help the homeless." But try to find a cogent line-item budget for just how all that money's been spent. There's little to no excuse for why Berkeley has not already been using the proven "housing first" way.
Integrate Housing

Regarding Berkeley's plan to build "stackable micro-PADS," Berkeley should integrate this housing into regular neighborhoods. A distant relative acting as a consultant to the city of Chicago in the 1940s informed the city that building low-income high rises would be building high-rise slums, and advised the city to build mixed-income housing instead, in order to avoid that result. This was not what the city of Chicago wanted to hear, so they ignored my relative and instead built low-income high rises that instantly became infamous high-rise slums, like Cabrini Green.
     Concentrating poor people in an area creates slums. I realize that homeless people need services, but Berkeley is not that large, and if the proposed housing is built near public transit, getting to and from those services should not be a problem. What would be a problem is building housing that almost certainly will become slums. This proposed housing should be integrated into regular neighborhoods, not segregated into homeless housing.
Regional Approach, Too

Micro pads sound like an excellent step for Berkeley. But a regional alliance could also be formed to plan for housing so that a coordinated approach can be taken. I wonder if proponents of tiny homes are taking into account utility hookups and earthquake engineering, which will require a set foundation. Adding those items in will make them as expensive as any other type of construction on a per-square-foot basis.
"Oakland Officials Question Police Partnerships with Federal Immigration Agents and FBI" by Darwin BondGraham and Ali Winston, News, March 9:


More Oversight Of Fed Task Forces

The article confirms my impression of City Hall's institutionalized ineptness. The city's and Oakland Police Department's agreement with the FBI has no expiration date. How could that happen? The city/OPD's agreement with ICE is "ambiguous," according to Councilman Abel Guillen. Councilwoman Annie Campbell Washington says "[e]ven the police department can get the wool pulled over their eyes in this moment." All this raises the question of whether the city has any systematic process to supervise and monitor the outcome of task force agreements. The city council states its policies, but those policies are not necessarily reflected in the final agreements. These agreements that can result in fear and chaos in our community, and subject residents to unconstitutional law-enforcement practices. Shouldn't the city be providing the necessary oversight and direction to avoid such negative results?
Correction

Due to a mistake in the editing process, an offensive submission accidentally was published in last week's Letters section. The letter has been deleted from the online version of our Letters of the Week. We apologize for this mistake, and for upsetting our readers.