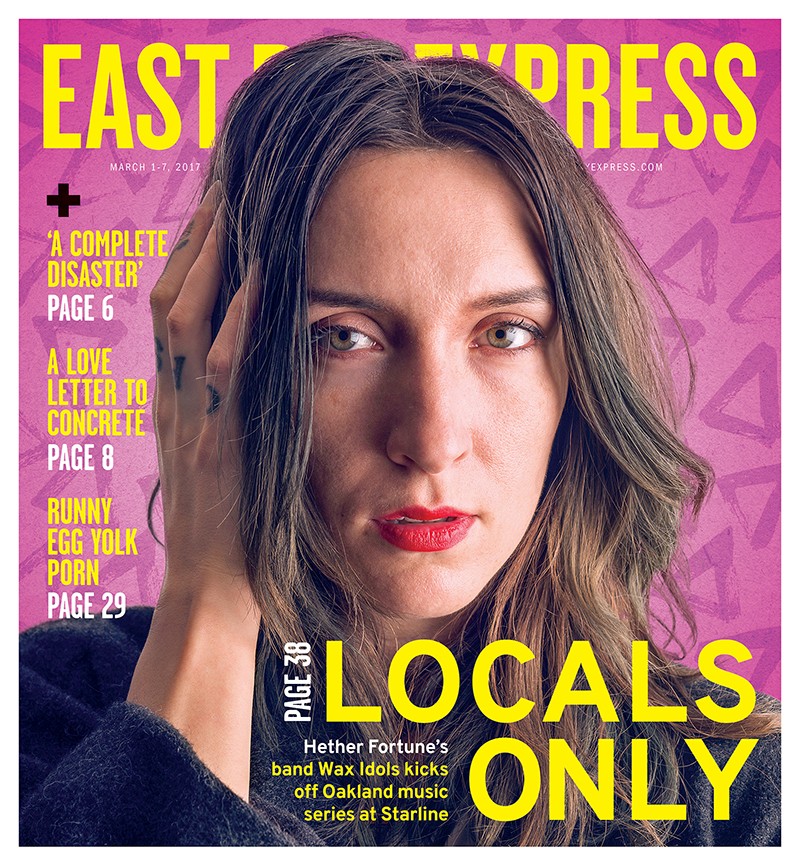 "In Oakland, a Tale of Two Breakfast Sandwiches" by Luke Tsai, Restaurant Review, March 1:


Nope

No, I will never order a "Baconslut."
Jono Schneider
"Alameda County Officials Say Repealing Affordable Care Act Would Be 'Devastating'" by Alice Feller, News, March 1:


Welfare State?

More and more people on food stamps. More and more people unemployed. More and more people in need of welfare from the government. That is the legacy of Barack Obama.
Now, the working citizens need to foot the bill for those who have not taken care of themselves and their families. These people are in such great need and are helpless like children. When are they going to grow up? When will our society demand that these "helpless" adults take care of themselves and not be dependent upon others? The working people of the country have spoken with the election of Donald Trump. Being a citizen in a free society requires that the citizens assume the responsibility of liberty and freedom. Freedom is not "free," it requires responsibility and independence of the individual.
Jerry Udinksy
Time For Single-Payer?

Could be an opportunity to finally get California on single-payer. It's been bandied about for decades. It may finally be time. Many economies smaller than ours already have it: Canada, Taiwan, many European countries. We are the sixth or seventh largest economy in the world. If smaller countries can do it, we can — although we still have to "pay our dues" to the country as a whole, which takes a chunk of change.
Chris Gilbert
"New Oakland Police Chief Talks Cultural Change and Compassion for the Homeless" by Darwin BondGraham, News, March 1:


New OPD Chief Won't Change 'Boy's Club'

This chief will need more than luck. Contrary to the powerful impression I get from San Francisco's new chief, Anne Kirkpatrick's experience, grasp of the challenge, and presence is much less inspiring. She seems like a nice person, but why she is the best candidate escapes me. …
The big challenge for a chief in Oakland has always been to appease the bosses at City Hall, while convincing your street officers that you also have their back. Kirkpatrick seems to be somewhat naive to this history, and will have a difficult time with command staff, who are always the defenders of the culture. She will need to kick some butt and fire some folks to actually change the day-to-day culture. My concern is that her seemingly non-confrontational style will never be respected or effective. She may be able to fool Schaaf, but will that translate to actual change inside the department?
Gary Patton
"Developer Wants to Stick MacArthur BART Tower's Affordable Units Entirely in Bottom Quarter of Building" by Darwin BondGraham, News, March 6:


Bad Architecture Is Forever

The concessions by the developer seem absolutely miniscule considering the value of the housing he will be allowed to build. I live three blocks away and dread seeing a 25-story eyesore plunked down in our neighborhood of two- and occasionally three-story buildings. I guess nothing talks like money talks. The worst thing about bad architecture is it ends up being around forever. Oakland planning really took a dump with this one!
Jeff Kao
Affordable BART Access?

Also, Trying to "jam" them into the bottom quarter? Would they have more space if they were "jammed" in the top quarter? The units have the same amount of space, no matter where they are in the building. Quit trying to imply that the affordable units are somehow substandard or smaller because of the location within the building. Affordability is a premium, views are premium. Whether you like it or not, more expensive units are subsidizing the affordable ones, the way it should be. Could have easily been the headline: "Developer insists affordable units having most convenient access to BART."
Clarence C. Johnson