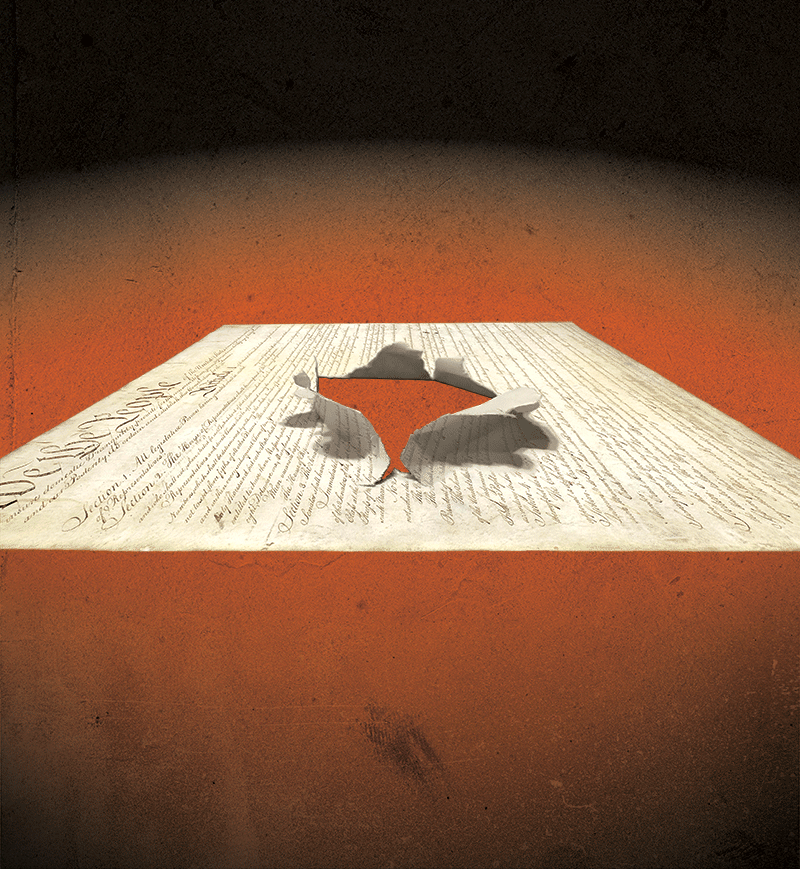 It's shortly after 9 a.m. inside immigration Judge Anthony Murry's courtroom in downtown San Francisco. Murry, a former federal prosecutor, dispatches cases briskly. His orders exude confidence. Like many senior judges, Murry is relaxed, cracking jokes with attorneys and offering impromptu commentaries on intricate legal questions. This December morning, he's trying to contact the lawyer for a man held in an Immigration and Customs Enforcement jail near Bakersfield. But after multiple calls, he can't get anyone on the phone. "Nice start to the day, with a twenty-four case master calendar," Murry quips.
The ICE attorney sitting in the courtroom chuckles. "I can be here all day," he says.
The government lawyer will in fact be here all day, every day, for every case. He shuffles through two boxes of files, and types notes on his ICE-issued laptop computer, which features a desktop image of the 9/11 memorial lights piercing the Manhattan night sky.
"We'll order lunch in. We can have sandwiches, truffles," Murry kids. The ICE attorney laughs.
No one is sitting at the opposite table for the defense.
That's because those facing deportation in the Bay Area's only federal immigration court often don't have an attorney. In fact, many are denied what we commonly think of as the most basic legal rights, such as a guaranteed right to counsel, bail, and a speedy trial.
Many of those facing deportation, called "respondents" in legal parlance, appear on a videoconferencing screen instead of in-person. Some languish in jail for months. There are no Eighth Amendment protections against excessive bonds, fines, or cruel-and-unusual punishment — even though some of these individuals have lived in the country for decades, nearly all their lives.
Yet the deportation status quo persists, despite criticism by mainstream legal organizations such as the American Bar Association, and even the leadership of California's state Legislature.
[pullquote-1]Back in court, Judge Murry finds his groove. A man's image appears on a screen, and in less than five minutes the judge handles his case. The next person appears. Then, the next. And then, the next. For some of them, Murry offers more time, so they can seek legal counsel, even though the odds are they won't find an attorney they can afford. Others are deported.
It's obvious that few, if any, of the respondents understand the law. They're at a great disadvantage. The legal proceedings, despite Murry's explanatory efforts, are rapid-fire.
"Number 235, Mr. Gonzales," Murry calls out. On screen, a private security guard escorts a man to a plastic chair facing the camera. "Do you want to fight it, or do you want to just go back to Mexico?" Murry asks.
"No, I don't. I'm ready to leave," the man responds, in English, his first and best language.
Murry reads his rights, limited as they are under immigration law, and also the government's allegations, which boil down to: He entered the United States without authorization. Murry also explains to Gonzales that, if he's ordered deported, he can't come back to the country legally for ten years. If he does, he'll serve up to 20 years in prison.
"I was raised here in California. I was a little child," Gonzales explains to the court. He's in disbelief. It's uncertain whether he understands that he can seek relief and try to avoid deportation.
It's abundantly clear that he's desperate to get out of jail.
Murry orders the man deported, due to previous criminal convictions and lack of citizenship.
"I don't know anything about Mexico," Gonzales announces, defeated.
Then, he disappears from the screen.
So Bad, Some Beg to Be Deported

Despite the extreme consequences of being deported, including separation from family, loss of employment and property, and banishment from one's community — which Supreme Court Justice Louis Brandeis once described as a stripping of "all that makes life worth living" — the United States doesn't consider deportation a punishment. Instead, it's defined as an administrative action that simply "returns" a person to their "home" country.
Because deportation is classified as a mundane function of state bureaucracy, decisions don't have to be reached through the same process that ensures Constitutional protections in other courts.
[pullquote-5]"Lack of counsel makes the system fundamentally unfair," explained Raha Jorjani in a recent interview. Jorjani joined the Alameda County Public Defender's Office in 2009, as part of an effort to advise defense attorneys about immigration consequences clients face in criminal courts. For example, when defendants accept a certain plea deal, they might inadvertently trigger mandatory removal in immigration court, because they are admitting to what's defined in immigration law as an "aggravated felony." These types of convictions strictly limit the relief an immigration judge can grant if ICE moves to deport.
Jorjani launched California's first immigration-representation project in 2014, to defend those caught up in the courts after facing charges in Alameda County. She speaks frequently about the need to reform the immigration courts.
In addition to the sheer lack of attorneys, explained Jorjani, there's also no right to a speedy trial: A person can languish in detention for months. Those not detained will likely have their cases strung out over several years.
The shift to piping in detained respondents through video to the courts is troubling, too; it can deprive an immigrant of subtle advantages that can only be had by appearing in-person.
There's also no statute of limitations for an immigration-law violation. As a result, people who entered the United States without authorization can be hauled before the court and ordered deported any time, no matter how long they've been here.
There's no Eighth Amendment protections against practices such as extended detention because, again, the courts don't try criminal cases — and because incarceration under civil immigration laws is not legally classified as punishment.
Also, people can be deported for old criminal convictions. Even though they served their time in jail and have been rehabilitated, per the criminal system's rules, they're still targeted for deportation.
This is akin to double punishment, especially for people who are in ICE detention, Jorjani says. "It feels like you're being punished twice for an offense you already served time for."
What's more, Congress can expand the types of criminal convictions that lead to detention, refuse to grant bail, and mandate deportation with few or no routes to relief. And Congress can, and has, applied these rules retroactively.
This began during the height of the Drug War in 1988, when all drug convictions, including marijuana, were classified as "aggravated felonies" requiring deportation. In 1996, Congress again dramatically expanded the list of "aggravated felonies" to even include certain misdemeanors.
ICE attorneys are also allowed to use police reports as evidence in immigration court, even though it is not a criminal proceeding, to argue why a person shouldn't be released on bond.
"Police reports are instruments of the prosecution and not the result of any fact-finding by a neutral arbiter," Jorjani said. "Any system that permits reliance on mere allegations by one party in making final decisions about whether someone should be removed violates the most fundamental notions of due process."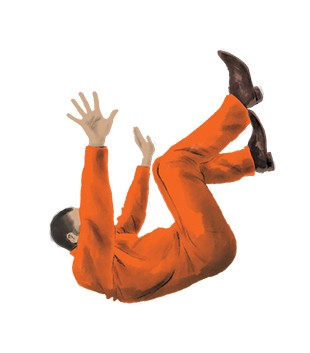 Ilyce Shugall can rattle off a similarly long list of due-process problems. The directing attorney of Community Legal Services in East Palo Alto, Shugall is one of a couple dozen pro-bono lawyers who try to provide counsel to a fraction of the people facing deportation in San Francisco.
"Procedural protections don't really exist, despite the consequences of banishment," she said at a recent legal symposium held by the Thelton E. Henderson Center for Social Justice in Berkeley. "There's no right to an attorney, but the government is represented in every case by an ICE attorney."
As Shugall sees it, the ICE attorney also has a kind of home-field advantage: Being in the same courtrooms day-in, day-out, allows an attorney to establish better rapport with judges.
And the judges and ICE attorneys all have the same boss: The President of the United States.
The immigration judges are employees of the Executive Office for Immigration Review, which is overseen by the attorney general — they're not members of the independent judicial branch of government. The ICE attorneys work for the Department of Homeland Security.
Over her career practicing immigration law, Shugall said she's seen ICE attorneys frequently miss filing deadlines without consequences; file motions on the day of a hearing, preventing review by the defense; and withhold records in a case from the person being targeted for deportation, thereby forcing them to file a burdensome Freedom of Information Act request to get the documents.
She's also seen extended detention result, countless times, in what Mr. Gonzales apparently did in Judge Murry's courtroom this past December: Give up on his case and beg to be deported, just to get escape the misery of jail.
The Missing Defense Counsel

Immigration Judge Valerie Burch is a former ACLU attorney from Pennsylvania. She previously defended immigrants' right to obtain drivers licenses, and once even sued ICE for allegedly racially profiling and detaining a U.S. citizen. This morning, however, one of her cases will illustrate why it's so hard for immigrants jailed by ICE to find an attorney.
A man appears on the videoconferencing screen from an ICE detention center in Mesa Verde. Burch reminds him that she rescheduled his last hearing so he could find a lawyer. "Have you found an attorney?" she asks.
He hasn't, but wants to go ahead with his hearing, anyway. He's sworn-in, and the government's allegations are read. The man admits to entering the United States illegally.
"Are you afraid of returning to Mexico?" the judge asks.
"Yes." He then elaborates, through a court interpreter, telling his story in short, incomplete sentences that are terrifying, but hard to follow: "What happened in 2010, I lost a daughter. She was killed. People raped her. Took her own life. And they threatened me if I return. They will harm me."
Burch orders a guard at the detention center to provide the man with an I-589, the asylum application form. She explains in detail how to fill it out. It must be completed in English. The man must show, through evidence and testimony, that he could be persecuted or tortured if he's forced to relocate to Mexico.
But even if an attorney helps him, there's no guarantee that he'll be granted asylum. Approval rates vary dramatically across the immigration court system's 200 judges, according to data compiled by the Transactional Records Access Clearinghouse of Syracuse University, which monitors the courts.
For example, Judge Murry denied 97.7 percent of asylum applications he heard over the past five years, making him one of the toughest in the nation. By contrast, Judge Dana Leigh Marks, also of San Francisco, approved 83 percent of applications. (Data isn't available for Burch and the other recently appointed judges named in this story.)
"A nonprofit attorney may be able to assist you," Burch says.
The man squirms in the chair. "I've spoken with those attorneys three times, and they haven't helped me. I am here alone," he says.
The benefits of having an attorney in immigration court are profound, according to Siobhan Waldron and Laura Polstein, attorneys with Centro Legal de la Raza, a nonprofit based in Oakland that provides free legal services.
"Really, only an attorney can figure out what sort of relief someone is eligible for," Waldron told the
Express
. "Immigration law is arcane, complex, and even professional attorneys and judges struggle with it."
Nationally, only 37 percent of immigrants are able to hire an attorney to represent them in immigration court, according to a recent study by the American Immigration Council. In San Francisco, the number of immigrants able to obtain a lawyer is much higher than most other places: 78 percent of non-detained people had an attorney at one point or another in their case, compared to 66 percent nationwide.
But only 15 percent of people detained by ICE will succeed in obtaining legal counsel to navigate the San Francisco court.
And if someone in ICE custody is unfortunate enough to have their case heard in a place such as Lumpkin, Georgia, where only 6 percent of detained people get a lawyer, it's virtually assured they'll go unrepresented.
Beyond just briefly talking to an attorney, there's the question of whether a person will actually be able to spend time with counsel developing their case.
Polstein said that being able to work with someone to prepare their testimony is key. Often, individuals without an attorney won't know what to say when a judge questions them. And the ICE attorneys won't make the sorts of inquiries that might indicate whether a person is eligible for asylum.
"The judges stop asking questions that would reveal paths to these forms of relief when a person simply answers 'no,'" Waldron said.
For instance, Centro Legal assisted on a recent case involving a transgender person that ICE wanted to deport. When asked by the judge if they "feared returning" to Mexico, this individual answered "no." But according to Waldron and Polstein, they had never lived as a transgender person in Mexico, where the police and prosecutors often don't protect trans people from violence.
After consulting with an attorney about how they could become a victim of hate crimes, the person realized they would be endangered and asked for relief.
Polstein also recently represented a mother and her adult son, who had fled their home country after being physically abused by a family member. The police didn't protect them. When they were questioned in immigration court about any possible fears, they were confused, and didn't tell their story intelligibly. It wasn't apparent they were eligible for humanitarian asylum.
"The judge couldn't figure out what questions to ask, so they just about gave up," Polstein recalled. "But an attorney will figure out a way to get the testimony that needs to come out."
[pullquote-3]One possible solution to the dearth of attorneys for indigent and detained immigrants is Senate Bill 6, a proposed law introduced at the Capitol last December. Called the "Due Process for All Act," its authors (which include Sen. Pro-Tem Kevin DeLeon and Assembly Speaker Anthony Rendon, plus Sen. Ben Hueso) have called the existing immigration court system unfair.
The Due Process for All Act would create a fund, starting with $12 million, to pay for attorneys to represent people in the courts.
And a similar bill, introduced by East Bay Assemblymember Rob Bonta, would create and fund regional centers to educate public defenders on the immigration consequences of criminal convictions.
The benefits of having a skilled attorney were on display in Immigration Judge Victoria Argumedo's courtroom last week.
Andrew Fishkin, a former Immigration and Naturalization Service agent who later worked for ICE, is now an immigration defense attorney who knows the system inside-out. He no sooner walked into court than he began trying to cut a deal with ICE attorney Elizabeth Gross.
Fishkin wants bail for his client. But Gross won't have it. She claims the man is "a danger to the community."
Judge Argumedo, a former immigration attorney with a private practice in San Francisco, enters the courtroom and casually takes a seat. She tries dialing the Mesa Verde detention center to connect with Fishkin's client. But there's been a mix-up; ICE failed to provide G4S, the private security firm that runs that facility, with the list of people it needs to appear. Argumedo exits the courtroom to try to solve the problem. The ICE attorney also leaves for several minutes.
And, in that short span of time, Fishkin realizes he can save his client.
When the ICE attorney returns, Fishkin explains how the man's previous attorney gave advice that led to a plea on charges that automatically triggered a removal hearing — the exact kind of bad criminal-defense advice that Jorjani tries to mitigate in Alameda's public defender office. Fishkin vacated the first plea, an "aggravated felony," and planned to submit a different one that better allows the man to defend himself against being deported.
"But, as of right now, he's not deportable at all," Fishkin argued.
Argumedo re-enters the court and Fishkin relays his "interesting discovery." The ICE attorney considers the facts and agrees. A rare success story for a defendant, made possible also by the fact that Fishkin was actually in court.
But the prior week, in another judge's courtroom, things went very different for a man who didn't have an attorney.
Cruz Rodriguez appeared before Judge Murry via videoconference from an ICE detention center in Sacramento. He told Murry that his sister was trying to find him an attorney. But she was having difficulty.
Murry floated the idea of continuing the case for several more weeks, to give the man time. Flipping through his case file, Murry told the ICE attorney that it appeared Rodriguez was "eligible for doing away with the removal."
But then, just before Murry could break this good news to Rodriguez, the ICE attorney interrupts: "He's not eligible." The lawyer cites an obscure section of federal code. Murry pauses and thinks deeply. "Interesting," he says.
He then tells Rodriguez that he can't apply for cancellation of removal after all. Just like that, and without a defense attorney's input, a potential route to relief is closed, and other alternatives aren't explored.
"This is why it always pays to have multiple eyes look over these things," Murry says.
"Yeah," the ICE attorney agrees.
Odds Are, They'll Lose

Two private security guards escort a shackled elderly man into Judge Scott Simpson's courtroom on a recent February afternoon. An armed DHS agent stands nearby. The man sits at the table, where his pro-bono attorney, Waldron of Centro Legal de la Raza, is reviewing notes.
Simpson, who worked for ten years as an ICE attorney before becoming a judge, speaks in a quiet but sharp voice that exudes seriousness. The case before him is riddled with fundamental due-process issues, and he knows it.
"I'm concerned about my client's long detainment," Waldron tells the judge. "It's unclear if anyone will be able to interpret. I struggle to see how due process can be had for our client in these proceedings."
The man the government is trying to deport immigrated to the United States in the 1990s as a refugee from the mountainous region bordering Vietnam, Thailand, Laos, and Myanmar. He was convicted of a serious drug crime in 2002. He did his time and was released. But then, in 2013, ICE initiated a case to deport him. During that immigration case, while he was not in ICE custody, he was convicted of what Waldron characterized as a very serious domestic violence charge. He went to state prison, served his time, but upon release he was immediately jailed by ICE.
In court, the man gazes down at the table, occasionally looking up, wide-eyed, apparently not comprehending his surroundings. He speaks no English or Vietnamese, nor any of the major languages of Southeast Asia. He's been in an ICE jail for more than nine months, awaiting trial by the immigration court.
Judge Simpson asks the ICE attorney a rhetorical question: The man has a right to have the government's allegations against him read to him, yes? The implication is that, if it is not read in a language the man understands, it would be a violation of federal immigration law.
But for months the court has failed to find an interpreter.
"This case has been going on for a very long time," Simpson admits.
Waldron wants the case terminated. The man served his criminal sentence already, she argues, but he's been in an ICE jail an extra nine months.
Simpson continues the case "one last time." The man is shackled, then led away by guards to his cell, where he will wait, alone and unable to communicate.
The next case is much clearer in Judge Simpson's eyes. He calls the detention center in Bakersfield, where a young man awaits his hearing.
A pro-bono attorney, Tess Feldman, was able to briefly speak to the man beforehand. Simpson asks if he would like time to consult further with an attorney, but the man has waited in jail for a long time.
"I want voluntary departure," he tells the judge, referring to an option that allows people to exit the country without a deportation order. Willingly leaving doesn't incur the same ban on re-entry, for ten years, or a 20-year sentence if convicted of illegally returning.
"Just because you ask for it doesn't mean you can get it," Simpson warns. If it's denied, he'll be deported. The man agrees to proceed, anyway.
Simpson reads the government's allegations: He's a citizen of Mexico, and crossed the border in September 2014. "In simple terms, the government is saying you snuck into the country."
The man admits this.
Then, suddenly, his hopes are dashed. "Your I-213 indicates you have a criminal history, two separate convictions for drunk driving, and you have a recent conviction related to selling marijuana?" the judge asks.
"Yes," the man admits.
"With the aggravated felony, I don't think he's eligible for voluntary departure," says the ICE attorney about the marijuana conviction. Judge Simpson agrees: "Your request for voluntary departure is denied. I will order your removal."
"I need to come back to this country, because I have son," the man pleads.
He might appeal the ruling, but it's unclear. Simpson allows Feldman to counsel him in a separate videoconferencing room. If he does appeal, he could be stuck in an ICE jail for many more months.
[pullquote-4]A similar drama played out in Judge Murry's courtroom this past December.
"737, Santana," Murry says to the guards in Bakersfield. The judge is thinking out-loud, saying that Santana appears to be eligible to request a pardon hearing, which would allow him to remain in the country. But the hearing would be weeks in the future, and a decision could take even longer. Santana would have to stay in jail the entire time.
"I just want to get out of jail," Santana tells the judge over a videoconference call. "I'll sign anything." He has no attorney present.
Although he legally entered the United States some 30 years ago, in 1987, and obtained a green card, his two criminal convictions from 2015 and 2016 make him removable.
"Do you have any fear of returning to Mexico?" Judge Murry asks.
"Yes," says Santana. "But I don't want to be in jail."
The judge advises him several more times that he's eligible for relief against being deported. He could apply for asylum, for example. But the prospect of languishing in jail for an unknown amount of time, to fight a case using laws he barely understands — laws that many attorneys describe as being second in complexity only to the Internal Revenue Code — apparently doesn't appeal to Santana.
"I want to get out [of jail] as soon as possible," Santana says.
Murry signs a deportation order.
After this, it's another case, and another deportation order is signed. Then, another.
Twelve more cases were heard before lunch that December morning, several concluding with deportation orders. For the rest, people from Guatemala, Haiti, and mostly Mexico, the judge granted more time so they can try to find attorneys, or attempt to fill out complicated forms and applications.
Odds are, most won't succeed.
Because they're in a detention center, or too poor, they won't find a lawyer.
Or they won't successfully complete their applications.
And, when their final hearing commences, they'll bungle their own testimony. Or they won't understand how to object to an ICE attorney's allegations, and they won't introduce the right kind of evidence to support their claims.
And they'll lose.