Democratic Presidential candidate Bernie Sanders electrified the pot law reform community Wednesday with a speech at George Mason University in Fairfax, Virginia, where he became the first presidential candidate to support fully ending federal pot prohibition.
"A criminal record stays with us for our entire life," Sanders
told
the crowd. "A criminal record destroys lives."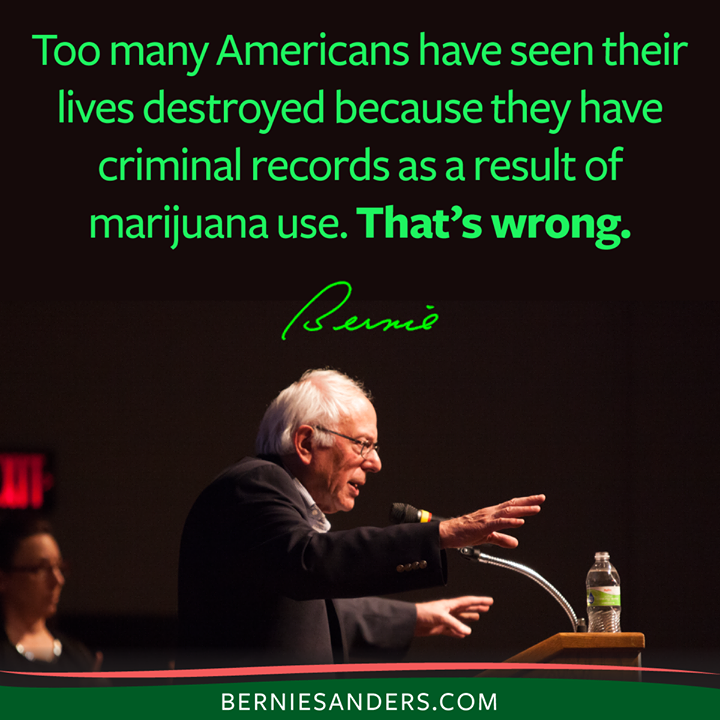 [jump]
Doug McVay from
Drug War Facts
, had Sanders' full remarks:
BERNIE SANDERS: 
Now let me begin tonight in a little bit different way than I usually begin. I want to talk to you about a paper we released just earlier today on what I think is a very, very important issue. As many of you know, in the United States, we have over two million people in jail today. That is more than any other country on earth. China has four times our population. It is a communist, authoritarian society. We have more people in jail than China. And on top of that, we are spending eighty billion dollars a year in federal, state, and local tax payer dollars, to lock people up. Eighty billion a year. Our criminal justice system is broken, and we need major changes in that system, including changes in drug laws.

In 2014, the latest statistics that I have seen, there were 620,000 arrests for marijuana possession. That is one arrest every minute. According to a report by the American Civil Liberties Union, there were more than eight million marijuana arrests in the United States from 2001 to 2010, almost nine in ten of those arrests were for possession. Arrest for marijuana possession rose last year nationwide, even as Colorado, Washington, Oregon, Alaska, and the District of Columbia became the first states to legalize personal use of marijuana. And let us be clear, as is the case in many other areas, that there is a racial component to this situation. Although, although about the same proportion of blacks and whites use marijuana, a black person is almost four times more likely to be arrested for marijuana possession than a white person.

Too many Americans have seen their lives destroyed because they have criminal records as a result of marijuana use. That is wrong, that has got to change. Let's be clear that, I think a lot of people may not fully appreciate this, is that a criminal record record could mean not only time in jail, but a criminal record makes it harder for a person to get a job, harder for a person to get public benefits, harder for a person to even get housing. A criminal record stays with a person for his or her entire life. It is a serious business.

Right now, marijuana is listed by the federal government as a Schedule One drug, meaning that it is considered to be as dangerous as heroin. That is absurd. In my view, the time is long overdue for us to remove the federal prohibition on marijuana. In my view, states should have the right to regulate marijuana the same way that state and local laws now govern the sale of alcohol and tobacco. And among other things, that means that recognized businesses in states that have legalized marijuana should be fully able to use the banking system without fear of federal prosecution.

In addition, in those states that decide to go for it, and I'm not here advocating that states do it, that is the decision of the individual states within our federal system. But those states that choose to go forward, can then tax alcohol like they tax — can tax marijuana like they tax alcohol and cigarettes and in fact earn a substantial amount of money. Colorado is making right now about fifty million dollars a year through the taxation of marijuana. And in Colorado, and I believe other states, some of that revenue is being used to fight the effects of substance abuse, of hard drugs like opiates that are harming so many communities.

In the year 2015, it is time for the federal government to allow states to go forward as they best choose. It is time to tax and regulate marijuana like alcohol, it is time to end the arrests of so many people and the destruction of so many lives for possessing marijuana.
The
Washington Post
notes
: "future marijuana-legalization scholars won't soon forget the first presidential candidate to publicly support removing marijuana from the government's list of dangerous drugs. It currently resides on that list; Sanders wants it off entirely, which is a political turning point in our relationship with pot."
Hillary Clinton has supported states rights on marijuana, and a watch-and-see approach,
saying
vaguely that "we need … the federal government to begin to address this."
The Post
's Christopher Ingraham has more on the
implications
of a full federal truce with weed: no more DEA raids on lawful state providers; better cannabis industry record-keeping and transparency through the use of the banking system; industry tax breaks; and most importantly — a lift to the federal blockade on research into cannabis' role in treating cancer, epilepsy, and other untreatable conditions.
In related news, Sanders' team
hired
San Francisco pollster Ben Tulchin — a leading analyst of public sentiment on pot. Tulchin will talk US legalization on November 20 in downtown San Francisco at the
New West Summit
. (I'm helping helping program the Summit).
Meanwhile, reform opponents literally don't know what day it is.
Smart Approaches to Marijuana (SAM), told supporters in an email Thursday that
Sanders now comes in last
in their anti-legalization scorecard for his "apparent sympathy with creating a new corporate marijuana industry on par with Big Tobacco."
However, the Smart team listed the wrong date at the top of their press release, claiming that today is in fact, "September 29, 2015".