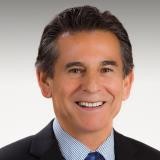 One of the oddest pieces of political chatter over the past few months in Oakland went like this: Councilmember Noel Gallo was planning to quit after just one term in office. The rumor, no matter how ridiculous it seemed at first glance, began to grow feverishly among City Hall politicos.
Preceding Wednesday night's state of the city speech by Mayor Libby Schaaf, numerous City Hall insiders expressed certainty that Gallo was out of the race for 2016. And it turns out there was a good reason for why Oakland's political class was sure that the Fruitvale district councilmember was going to retire.
Gallo said Wednesday that he was seriously thinking about not seeking reelection and broached the subject with some community members. However, he has now decided that he will run again for the District Five seat. "Man, it's frustrating being on this council," Gallo said while wearing a Raiders T-shirt over his dress shirt. In the past few weeks, Gallo said he changed his mind about quitting. "I'm running for sure," he said.
[jump] Voters should expect a grassroots campaign, he added, much like his weekly Friday night walks on International Boulevard highlighting the neighborhood's crime problems. Gallo has also led a tireless campaign to deal with illegal dumping in Oakland. But he hasn't made many legislative inroads at City Hall.
His outsider rhetoric was apparent following Mayor Libby Schaaf's address focusing on Oakland's rebirth, reduced crime, and housing. "We're challenged a little differently than what Libby was talking about tonight," Gallo said of his Fruitvale district. "I'm living there. I see what's going on every day."
Gallo's level of exasperation with the city council might sound familiar to some Oaklanders. District Seven Councilmember Larry Reid is also contemplating retirement after twenty years on the council. Two weeks ago, Reid expressed a similar inability to collaborate with current councilmembers. "This job is getting more stressful every day," said Reid. "I'm telling you. It's a different council than councils in the past."