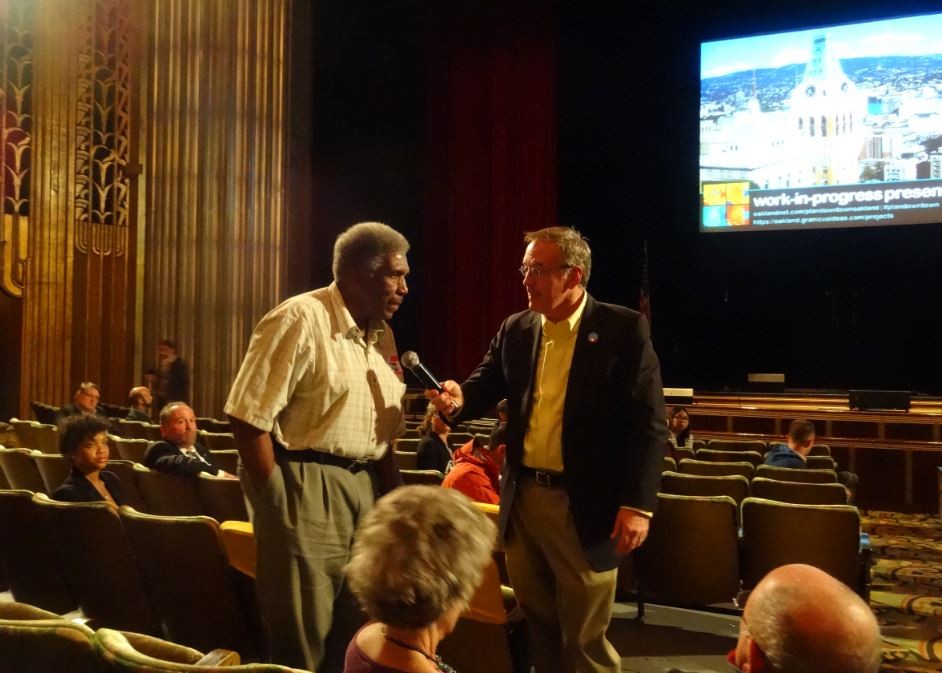 Downtown Oakland is going to be a very cool place in the future. There will be expansive parks, tree-lined boulevards crowded with store fronts, bustling sidewalks, protected bicycle paths, and nightlife. Lots of nightlife. But many Oaklanders fear they won't be around to enjoy it, unless the city does more to provide for existing residents, rather than moving them out to cater to wealthy newcomers.
That was the main takeaway from last night's "work in progress" presentation on the downtown Oakland specific plan at the Paramount Theatre.
See also:
Oakland Launches New Planning Process for Downtown
[jump] During the presentation, planners with Dover Kohl, a Florida-based design firm hired by the city to sketch ideas for the future of Oakland's urban core, clicked through slides depicting how streets and city blocks currently dominated by asphalt and parking lots could be transformed into welcoming public spaces and dense new housing and retail.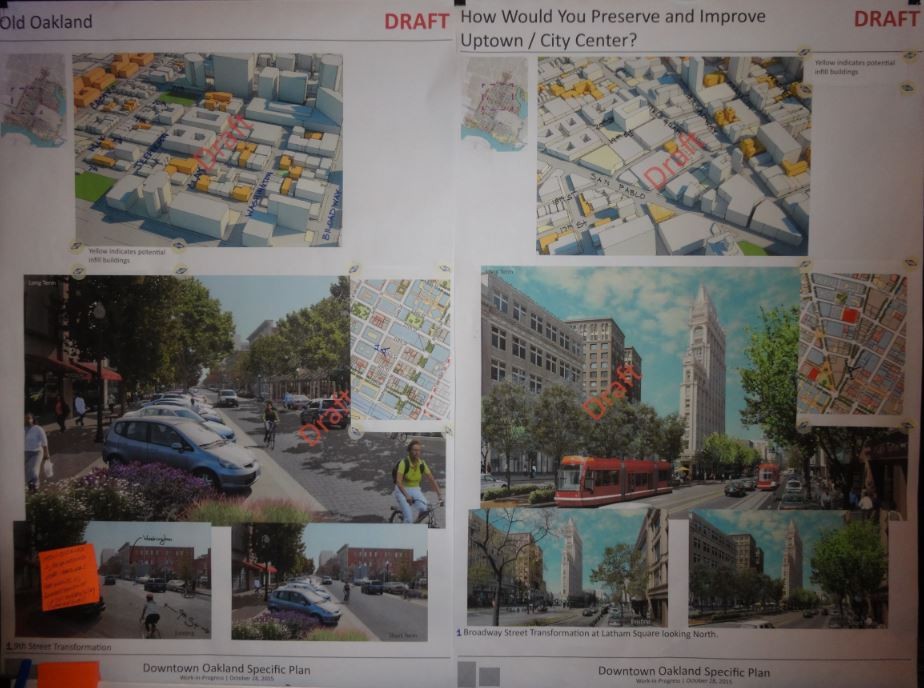 Victor Dover, one of the principals of Dover Kohl, emphasized that all the ideas are "just a draft," and subject to change. Among the draft ideas were depictions of what the downtown could look like with Interstate 980 ripped out and replaced with a forested boulevard lined with low-rise town homes and apartment buildings, all re-connecting downtown to West Oakland. Howard Terminal at the port was pictured with a waterfront baseball park, or, alternatively, a recreation complex. Intersections along San Pablo were morphed into European-style plazas with fountains and cobbled streets. Another rendering showed what Broadway would look like with Portland-style light rail running parallel to cars and bike lanes, all flowing harmoniously past the Cathedral Building.
But many in the audience said the planning process was disconnected from the city's real needs.
"Forget all the pretty pictures," said Michael Pyatok, a longtime Oakland resident and architect. "New buildings cost a lot, rents are escalating, and many cannot afford to participate in this new economy, this new world that you are depicting here."
Pyatok said that what the city needs right now is the implementation of policies to ensure that the wealth being poured into Oakland results in equitable growth without displacement of lower-income communities.
"We want to see real policy changes to shift this wealth into the hands of the people who aren't being paid their fair share," said Pyatok.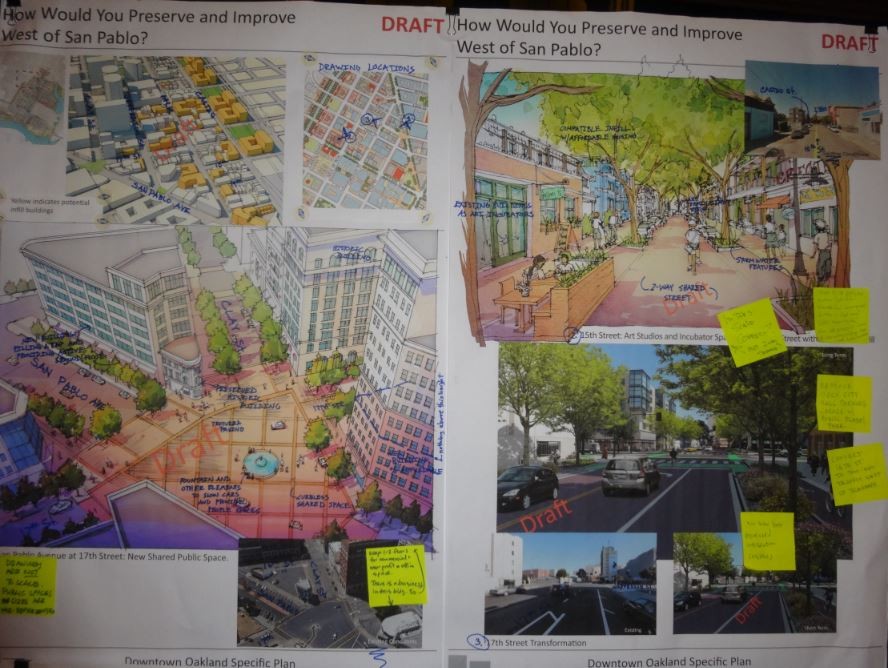 James Vann of the Oakland Tenants Union echoed Pyatok's comments. "To do a plan, it's got to have commentary on social and economic policy to preserve Oakland for the people who are already here." Vann said last night's presentation was missing these types of policies that could protect lower-income communities while fostering growth.
Oakland resident Emily Butterfly expressed concern that the Paramount Theatre's 2,807 seats were not filled. In fact there only appeared to be a few dozen attendees at the presentation. Butterfly questioned the outreach done so far for the planning process and said the city needs to do a better job bringing residents to the table – before any plans are drafted.
In response, City Council President Lynette Gibson McElhaney, whose district includes downtown Oakland, urged those in the room to take more ownership of the process. "It's not their plan," said McElhaney about the Dover Kohl team. "It's our plan. They need to reflect what we say."
The downtown area plan is being undertaken as part of a broader
city-wide planning process
begun years ago. Already the city has completed plans for the Lake Merritt BART station area, which includes Chinatown; West Oakland; the Broadway-Valdez District; and the Coliseum area in East Oakland. The main purpose of these area plans is to encourage real estate developers to invest in Oakland. The area plans include environmental studies that streamline approval for development projects.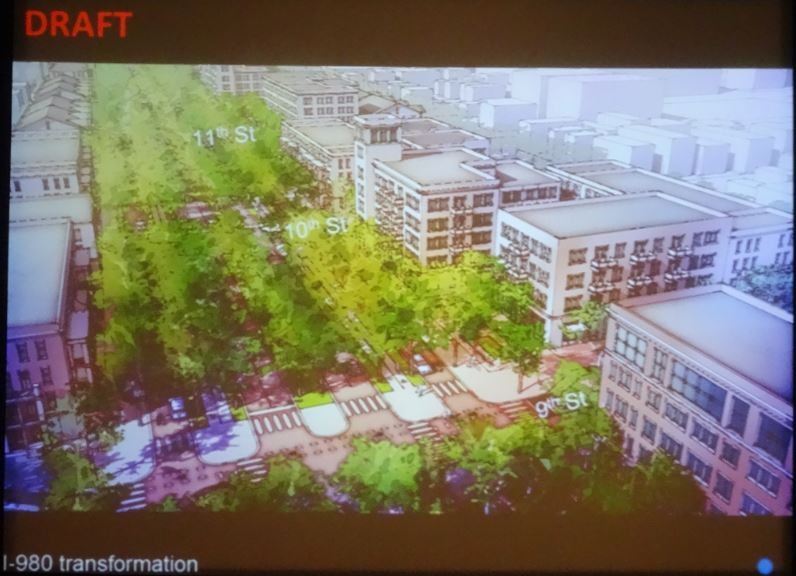 Even without a completed area plan, downtown Oakland is already experiencing a surge of investment, including the recent purchase of the Sears building by Uber. In September the Oakland City Council voted to sell
1.25 acres of public land
downtown to the Strada Development Group for construction of 262 market-rate apartments and a hotel. And earlier this month, a 38-unit SRO that is currently home to low-income Chinese residents
was bought by an investor
who plans to refurbish the building and rent it to more affluent residents, including tech workers.
Oakland Mayor Libby Schaaf hurried from her state of the city address at City Hall earlier in the evening to address the gathering at the Paramount Theatre. "This is an incredible moment of growth for our city," said Schaaf in her brief speech. But Schaaf, echoing comments she made in her state of the city speech, said the city must work to ensure that residents and existing businesses are not pushed out by increasing rents and other pressures.
Hiroko Kurihara, an artist who is part of the 25th Street Collective located in a warehouse that straddles the Uptown and Broadway-Valdez areas, told the audience that her rent shot up 40 percent this year. "What many of us feel to be the realness of Oakland, it is now undergoing this typical gentrification model," said Kurihara.