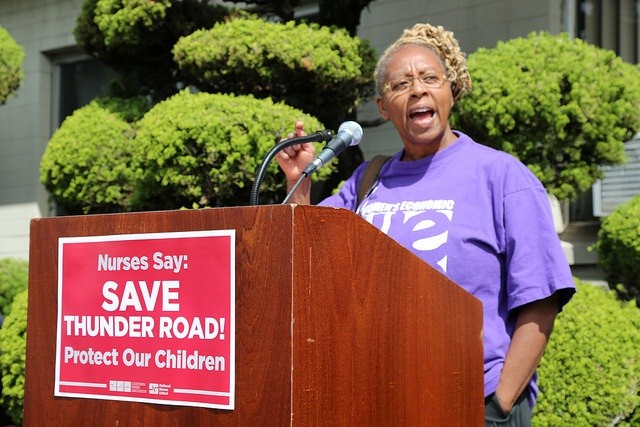 Last week, advocates urged Sutter Health not to close its
Oakland-based residential drug and alcohol treatment center for adolescents
, a vital program for low-income youth in the East Bay. Supporters of the Thunder Road Adolescent Treatment Center argued that Sutter Health — one of the largest nonprofit hospital systems in California, with a total 
income
of $419 million last year — has an ethical obligation to provide this kind of community benefit and has the finances available to keep the doors open. 
This week, critics are citing this potential closure as further reason that California needs to pass legislation aimed at encouraging nonprofit hospitals to do a better job at providing community benefits and care for low-income and uninsured people. On Wednesday, lawmakers will host the first hearing on
Senate Bill 346
, a proposal from state Senator Bob Wieckowski (D-Fremont) to establish stricter standards for the community benefit obligations of nonprofit hospitals.
[jump]
See Also:
Alta Bates in Oakland Fined for Safety Violations
Senator Proposes Limits on Solitary Confinement in Juvenile Facilities
Supporters of the legislation — which is co-sponsored by the California Nurses Association, the Greenlining Institute, and the California Rural Legal Assistance Foundation — have long argued that private nonprofit hospitals, which benefit from massive tax breaks each year, have failed to provide meaningful community benefits and operate more like profit-driven corporations. As outlined in our recent cover story, "
Fatal System Error
," nonprofit hospitals in the East Bay provide relatively low rates of care to poor and uninsured people (compared to struggling public hospitals) and by some measures are no different than for-profit hospital corporations in terms of the community benefits they provide to the sickest and most disadvantaged people. 
SB 346 aims to reform the system by creating clearer definitions for what hospitals can report to the state as "community benefits" (which typically has included a wide range of health programs and initiatives) and "charity care" (which generally refers to services provided to uninsured or underinsured patients). The current law is fairly vague. In exchange for the tax breaks they receive, nonprofit hospitals have "a social obligation to provide community benefits in the public interest" and must regularly assess the healthcare needs of their local communities and submit "community benefit plans" outlining their investments. SB 346 would create more stringent reporting requirements aimed at preventing hospitals from claiming community benefits for investments that actually do little to support vulnerable patients (such as advertising campaigns).
For example,
the bill
would define "charity care" as the direct provision of care to uninsured or underinsured people and would prohibit hospitals from counting their "bad debt" from uncollected patient fees as a charity investment. The bill would also require that at least 90 percent of the available community benefit funding go to efforts that "improve community health for underserved and vulnerable populations or that address a specific need identified in the community health needs assessment." And the draft legislation further states that at least 25 percent of a hospital's community benefit money must go toward programs that are geographically located within underserved and vulnerable populations. The bill would additionally establish so-called "community benefits planning committees" aimed at increasing community involvement in hospitals' processes for evaluating local health needs and planning their charity investments. 
The bill would not apply to children's hospitals, public hospitals, and small rural hospitals. And since I last
reported on the proposal
, the legislation has been amended to allow hospitals to count as community benefits certain shortfalls in reimbursements from government programs — meaning some of the financial losses that hospitals face when programs like Medi-Cal and Medicare don't cover the full costs of care. Hospitals that help employees pay off student debts can also count those investments as a community benefit in the revised version of the bill. The
full text is available here
. 
In the wake of fierce opposition from the California Hospital Association, similar legislative efforts have failed in recent years. But advocates said they are hoping this time will be different — in part, because there is increasing attention around the questionable charity investments provided by large health organizations that are classified as nonprofits. Notably, the California Franchise Tax Board recently
revoked the tax-exempt status of Blue Shield of California
, a nonprofit health insurer that has faced increasing scrutiny for its massive rate hikes for consumers despite having billions in financial reserves. Additionally, 
Attorney General Kamala Harris
recently demanded high standards of charity care and community benefits as a condition for approval in the sale of six Daughters of Charity Health System nonprofit hospitals.
The Senate Health Committee will review SB 346 — also known as the "Community Benefit and Charity Care at Nonprofit Hospitals Act" — on Wednesday in a hearing at 1:30 p.m. in Room 4203 of the State Capitol.