A blanket of cheese sat on every table at Azit on a recent
Thursday night — and no one was even drunk yet.
At nearly a year-and-a-half old, Temescal's Azit is one of the newer soju bangs in the area. Compared to Oakland's other Korean pubs, the food is a notch more outrageous — and for that, I love it. I especially love that I can count 21 ways on the menu to consume cheese on any given night.
Azit's menu is enormous. Much of it will feel familiar to soju bang fans: fried meats, gurgling stews, giant pancakes, and other forms of drinking food. There are also some tempting, reasonably priced rice bowls and Japanese-ish dishes, as well. But who are we kidding? I came for soju and cheese.
The deservingly popular Azit Rice is basically kimchi fried rice on steroids. Mixed with thin shreds of bulgogi and Spam, the red-tinted rice is already meaty, spicy, and somewhat over-the-top. Then, a thick, hot quilt of melted cheese — my guess is mozzarella and good ol' American — covers the whole thing.
Let's talk about cheese and Korean food for a minute. Yes, it's a thing — and it's not just corn cheese, the common drinking snack of corn (often canned), mayo (potentially lots), and mozzarella (most likely pre-shredded).
In recent years, South Koreans have been eating record amounts of cheese. According to last month's USDA <i style="mso-bidi-font-style:
normal">Dairy: World Markets and Trade report, 16 percent of United States cheese exports go to South Korea. The only foreign country to consume more of our cheese is Mexico, a country with a much longer tradition of cooking with cheese, as well as one with a significantly larger population. Overall, South Koreans are eating 34 percent more cheese in 2017 than in 2013, and importing 41 percent more to keep up with that demand.
All of that cheese is going into far more than corn. Chefs, particularly in Gangnam, Seoul — yes, as in "Gangnam Style" — have been serving the likes of octopus with cheese fondue, cheesy ribs, and deep-fried pork cutlets stuffed with cheese.
Azit embraces this phenomenon. Some of its offerings are heavy on the fusion — bulgogi nachos,for example — while others are more classic, but with the option to add melted cheese on top.
One of my favorites is the spicy carbonara rice cakes, which I acknowledge might seriously offend Italian food purists. It starts with the chewy, tubular rice cakes that are usually doused in a bright red, gochujang-heavy sauce with fish cakes. Here, they act more like gnocchi, soaking up a carbonara sauce that I suspect heavily deviates from traditional recipes — in other words, lots of cream and no eggs, and maybe even that powdery, fake Parmesan stuff — and includes a fiery jolt of gochujang. Thin slices of bacon, mushrooms, onion, and jalapeño get thrown in the mix, as well as a still-in-a-rectangular block of instant ramen noodles. Those al dente noodles worked so well that I started second-guessing my reliance on Italian dried pasta at home.
Azit's portions are generally enormous and intended to be shared, making visits especially fun with groups. Otherwise, expect leftovers.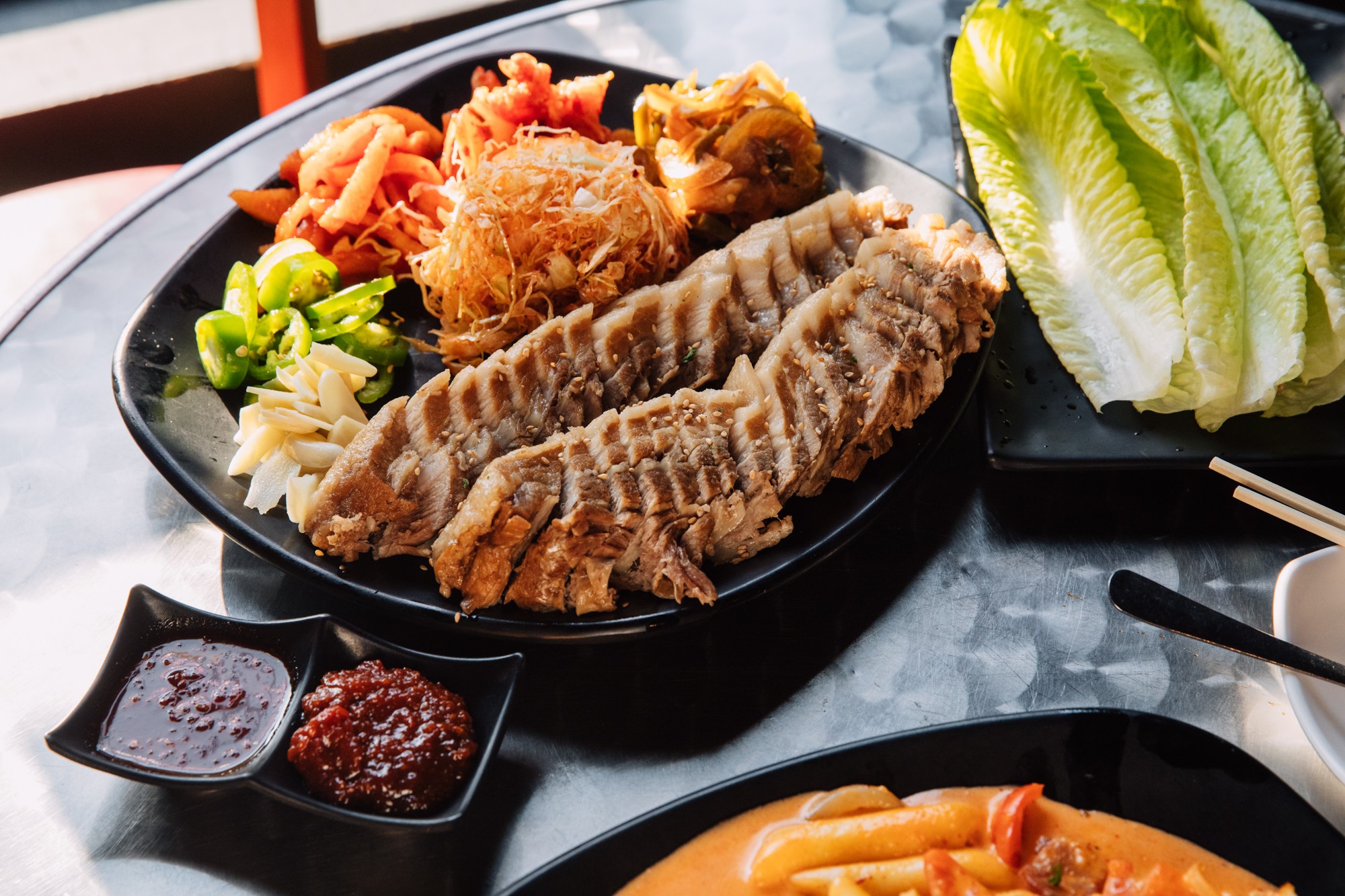 In the more typical Korean drinking-food realm, the kitchen specializes in jokbal (pig's trotters) and bossam (boiled pork belly). The bossam is excellent — and could function as a complete meal for three people — with seemingly endless slices of smooth, tender pork belly on a platter alongside two styles of
kimchi, a sesame-gochujang cabbage slaw, raw garlic, and jalapeños. To eat, you make your own wraps with romaine lettuce, slathered in a fermented chili sauce. For even more flavor, and extra sweetness, order the garlic bossam.
I devoured the simple kimchi pancake, vividly red, massive, and studded with jalapeños. It was thinner than most versions, which resulted in shatteringly crispy edges. At $10, it felt like a steal.
I wish I could say the same for the fried chicken. Korean fried chicken is almost always a treat, characterized by an unusually thin but still super-crunchy crust. Instead, Azit's boneless fried chicken was drenched in so much gloopy, sticky sweetness that the crust quickly turned to mush. My fault, perhaps, for choosing the hot and sweet sauce, which reminded me of General Tso. The soy garlic sauce might be less compromising to the crunch — on both the chicken and its accompanying fried rice cakes, which add a nice textural component.
For some diners, banchan is a main draw at Korean restaurants. Don't count on much in the way of those complimentary side dishes at Azit. On one visit, I received a single little dish of fish cakes. On another, nothing.
Unfortunately, I couldn't get much clarity on whether there's supposed to be banchan service — or how the carbonara is made, or why there are Jordan sneakers prominently displayed on the walls. Interview requests went unanswered, and the Korean-speaking staff hung up on me on the phone. They were sweet in person, though.
The service style at soju bangs tends to be pretty hands-off, which rings true at Azit. That also means you won't be rushed out after you eat. Sit back, graze, and maybe order another pitcher. In addition to a generic Korean lager, there's some decent craft beer on draft.
Azit opens at 5 p.m. but frankly feels awkward at that hour. In contrast to the blinding sunlight peering through the windows, the restaurant's black walls and ceiling give the impression of a sinking hole — or a dark movie theater that left the doors wide open. The atmosphere improves as the hour grows later. At 8:30 p.m., the lights darken to match the sky outside. The K-pop becomes louder. And later, the crowds pour in — Azit stays open until 2 a.m., seven nights a week, and it gets bumpin'. Don't be startled if a karaoke session breaks out in the middle of your night cheese.
Azit
4390 Telegraph Ave, Suite A, Oakland
510-250-9988
Hours: 5 p.m.–2 a.m. daily
Cash, all major credit cards

Sample Menu
Azit Rice … $15
Garlic bossam … $28
Spicy carbonara rice cakes … $17
Kimchi pancake … $10