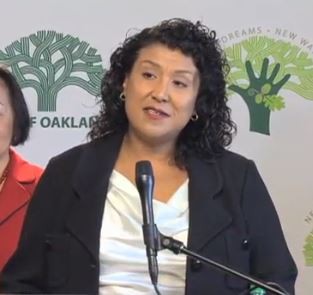 The City of Oakland lost a big whistleblower lawsuit yesterday in federal district court.
The case, brought by Daryelle Lawana Preston, Oakland's former director of employee relations, included allegations that a top Oakland official pressured her to falsify reports to the city council, and that other Oakland officials improperly negotiated labor contracts with city unions, and willfully violated labor union contracts. Preston said she was punished, and ultimately fired, for speaking up about these activities. A jury agreed with Preston,
awarding her $613,302 in damages.
Allegations in 
the lawsuit
hint at the power struggles and intrigues happening within Oakland City Hall in 2012 and 2013. Preston said that former City Administrator Deanna Santana pressured her to lie on multiple occasions in order to get Councilmember Desley Brooks ousted from office. According to the lawsuit, "defendant Santana asked Ms. Preston to falsify a report about East Oakland's Rainbow Teen Center ("RTC") and state that City Councilwoman Desley Brooks intentionally and knowingly engaged in hiring practices and purchasing at RTC that violated the City Charter."
[jump] Preston also alleged that Santana asked her to lie in an oral report to the city council. The lawsuit charged Santana with depriving Preston of her federally protected right to free speech. The judge dismissed this charge against Santana, however, leaving only the city of Oakland as the defendant.
Preston also alleged that Oakland Fire Chief Teresa Deloach Reed improperly negotiated with the city's firefighters union without authority to do so, and that Santana condoned the activity. Finally, Preston alleged that City Treasurer Katano Kasaine violated the city's contract with the union SEIU 1021 by refusing to collect dues from part-time employee salaries for several years.
After speaking up about these activities and refusing to cooperate with actions she believed to be illegal, according to the lawsuit, Preston was fired by Santana on October 13, 2013.
"Clearly Santana's decision to fire Ms. Preston was wrong," said attorney Dan Siegel, who represented Preston. "The actions that Preston was complaining about were condoned by Santana."
Santana left Oakland in March 2014 to become the city manager of Sunnyvale. Reached by email about the jury verdict, Santana provided the following statement:
"I agree with the Judge's action to dismiss the federal whistleblower/first amendment portion of the lawsuit and all lawsuits against me mid-way through the trial. The Judge's dismissal displayed a clear application of the law and the compelling facts surrounding the lawsuit. I deeply respect the jury process, but I think it is inconsistent with the actions of the Judge."
Oakland City Attorney Barbara Parker issued the following statement today about the jury verdict:
"We respect the jury process. However, we do not agree with the jury's verdict. Plaintiff was an "at will" department head in the City of Oakland. That means the City Administrator could terminate her for any reason or no reason at all and without notice. Plaintiff had the burden of proving that the City terminated her for unlawful reasons. We believe the evidence was clear that the City was fully within its rights to terminate Plaintiff."
Complaint Preston v Oakland by darwinbondgraham