After months of trying to forestall the inevitable — of negotiations with Alameda County health inspectors, aborted architectural plans, and last-ditch fundraising campaigns — Jodie's Restaurant (902 Masonic Ave., Albany) has announced that its last day of business will be Saturday, June 14.

The decision comes on the heels of a health department ultimatum that the restaurant install a new hood ventilation system by June 16. Lacking the funds to do so, the owners told What the Fork that they have no choice but to close the restaurant. They'll now begin searching for a new location.

[jump]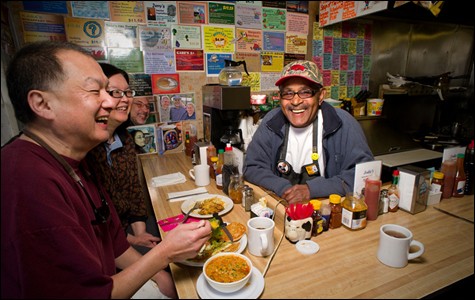 Owner Jodie Royston, in his element.
The tiny, family-owned spot has served one of the best greasy-spoon breakfasts in the Bay Area since it first opened at its current location, tucked under a BART overpass in Albany, 25 years ago. As I wrote in my
review of Jodie's
last year, owner Jodie Royston and his grandson, Charles Garrison, excel at inspired, but unpretentious, riffs on traditional American fare: crispy hash browns, drool-worthy Eggs Benedict, and English muffins grilled to a perfect golden-brown.
But the business has faced serious challenges for the past several years, starting with a 2011 health department ruling that Jodie's could no longer serve fried chicken — the restaurant's most popular item — because there wasn't room in the kitchen to prep the meat on site. (It turned out that Royston had been the prepping the chicken at home.)
Sherrylyn Larkins, Royston's daughter, said that while the business has remained viable without the chicken, it hasn't been nearly as profitable. Meanwhile, the health department began pressuring the restaurant to complete a series of other repairs and building upgrades — a process that prompted various
"Save Jodie's" campaigns
, but that culminated with a last-straw ultimatum that the Royston family received from the health department early last week.
While the restaurant could, in theory, still be saved if the owners came up with the money to install the hood, Larkins explained that the renovation project would also trigger health department mandates for a number of other upgrades, including the installation of a handwashing sink and a handicapped-accessible bathroom. Given how old and beat-up the building is, it's hard to know what other problems they would find once they started looking. It would be like a "multiple-car crash," Larkins said.
The situation is also complicated by the Roystons' relationship with their landlord, who, by their account, has been mostly unresponsive. Since Jodie's currently doesn't have a long-term lease, the owners fear they could put in tens of thousands of dollars into a major renovation project only to find out months later that they have to leave the building anyway.
Berkeleyside Nosh
that the family is also open to the idea of converting Jodie's into a food truck. But much of the restaurant's charm is tied to the tight confines of its six-stool counter, where young and old sit shoulder to shoulder, everyone eating up the tasty, unpretentious food and Royston's steady patter of small talk and corny jokes. It has always been an easy place to make a new friend.
Now seems as good a time as any to point out that restaurants like Jodie's — old-fashioned lunch counters and genuine greasy spoons (as opposed to new restaurants that affect a carefully crafted greasy-spoon vibe) — are a dying breed, and not just in the Bay Area. Food writers in
Portland
and
New York
have tossed around the idea of creating a registry of sorts geared toward preserving historic restaurants deemed to have sufficient cultural significance and culinary merit — particularly, to prevent these kinds of places, with their tight profit margins, from being priced out of their respective neighborhoods.
It's hard to say whether Jodie's, a restaurant whose infrastructure problems extended beyond rising rent costs, could have been saved by such a registry. Suffice it to say that I'm hoping that Jodie's finds a new home sooner rather than later — preferably one with a kitchen hood already installed.
In the meantime, the restaurant will be open its regular hours through Saturday. Donors, prospective silent investors, and anyone with a lead on a promising location can reach the owners of Jodie's at
[email protected]