Welcome to the Mid-Week Menu, our roundup of East Bay food news.

1) So it looks like a Taiwanese restaurant is coming to Uptown Oakland after all. Inside Scoop reports that new owners are taking over the half-finished space at 412 22nd Street, which was slated to become Pi Dan Noodle House until proprietor Allison Chen died unexpectedly just weeks before the restaurant was scheduled to open. The new owners, first-time restaurateurs who have no direct ties to the Pi Dan project, plan to serve Taiwanese beef noodle soup and to-go bento boxes for the downtown lunch crowd. Fittingly, the restaurant will be called Taiwan Bento.

Is Taiwanese cuisine on the rise in the East Bay? This news, combined with my recent discovery of Dragon Gate — a karaoke bar with a surprisingly vast (and good) Taiwanese menu — has me feeling hopeful. In the meantime, stay tuned for further details about this intriguing new bento shop.

[jump]
Berkeleyside Nosh
notes South Berkeley's latest:
Hoi Polloi Brewpub and Beat Lounge
(1763 Alcatraz Ave.), which opened this past weekend, and touts itself as a brewpub, nanobrewery, and neighborhood gathering place.
3) It looks like West Berkeley's Tomo's Japanese Cuisine (2026 San Pablo Ave.) has closed. When I passed by yesterday, the windows were papered over and a "For Lease" sign was up, and
Yelp reports
going a month back allude to the shuttering. According to
Berkeleyside Nosh
, there's a rumor that owner Tomo Owada might reopen somewhere in San Francisco, but that's unconfirmed as of now.
4) As reported
yesterday
, Oakland
salumeria
Adesso
(4395 Piedmont Ave.) will celebrate next month's World Cup by opening special hours in order to screen all 64 matches, and by offering food and cocktail specials during game time. Read the details
here
.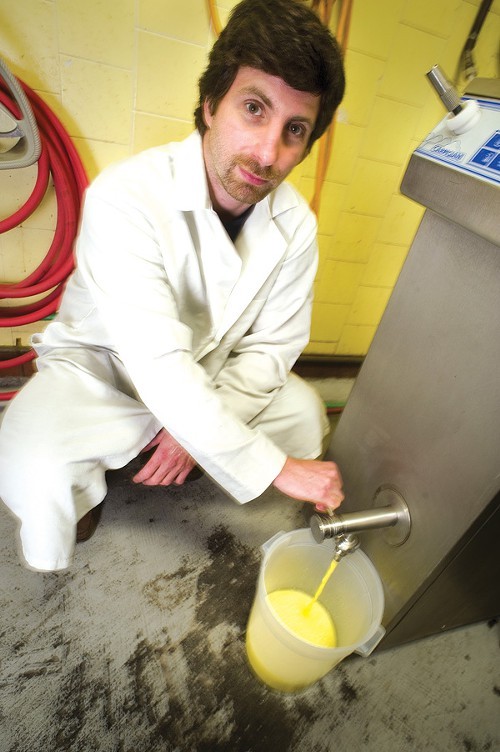 5)
Lush Gelato
, which has shops in Oakland and Berkeley, is planning to expand to San Francisco,
Inside Scoop
reports. When I profiled owner Federico Murtagh (the
"mad scientist of gelato"
) back in 2010, he was making all of his from-scratch gelatos and sorbettos in the back room of a beat-up warehouse in West Oakland. Now, Murtagh wants to open a third shop in San Francisco, on Polk Street, that will be big enough to house his production kitchen as well. There's a
Kickstarter campaign
to raise the $35,000 that Lush needs to get the project off the ground.
6) In other ice cream news,
Curbside Creamery
(482 49th St., Oakland) — featured in my
recent story
on new East Bay ice cream shops — is facing
slight delays
in opening its brick-and-mortar shop in Temescal Alley. Owner Victoria Wentworth tells us she's now looking at an opening date sometime around the end of June.
7) Hey vegans, this Saturday, June 7, there's a food and beer festival especially for you: The
Oakland Vegan Beer & Food Festival
will take place from 11 a.m.-5 p.m., at Classic Cars West (411 26th St.). Featured vendors include the
Hella Vegan Eats
food truck,
Timeless Coffee
, and the aforementioned Curbside Creamery (with its selection of cashew-based vegan ice creams), plus beer and cider from
Commonwealth Cafe and Public House
. A portion of food sales will benefit
Rocket Dog Rescue
.
8) Saturday, June 7, is also the date of the Institute of Urban Homesteading's annual
Urban Farm Tours
(covered by
What the Fork
two years ago), which offer a glimpse at the kinds of creative gardening and animal husbandry practices that are possible in urban lots of all different sizes. This year, the Institute is featuring
eight sites in Oakland and Berkeley
, with guided tours at each site starting every hour on the hour from 10 a.m. to 4 p.m. Sign up for the Institute's
mailing list
to receive the specific locations of each farm. You can pay as you go ($5 per tour) or buy an
advance ticket
.
9) The
Marketplace
podcast explains why green olives come in jars but black ones come in cans. The answer, surprisingly, has its origins in Oakland, where the black olive — also known as the California ripe olive — was invented in the 1890s.
10) Finally, ICYMI, here's everything you need to know about
The Dock at Linden Street
, Oakland's latest high-profile beer garden. Also, Berkeley's
Norikonoko
is ready to reopen after a fire last fall.
Got tips or suggestions? Email me at Luke (dot) Tsai (at) EastBayExpress (dot) com. Otherwise, keep in touch by following me on Twitter @theluketsai, or simply by posting a comment. I'll read 'em all.