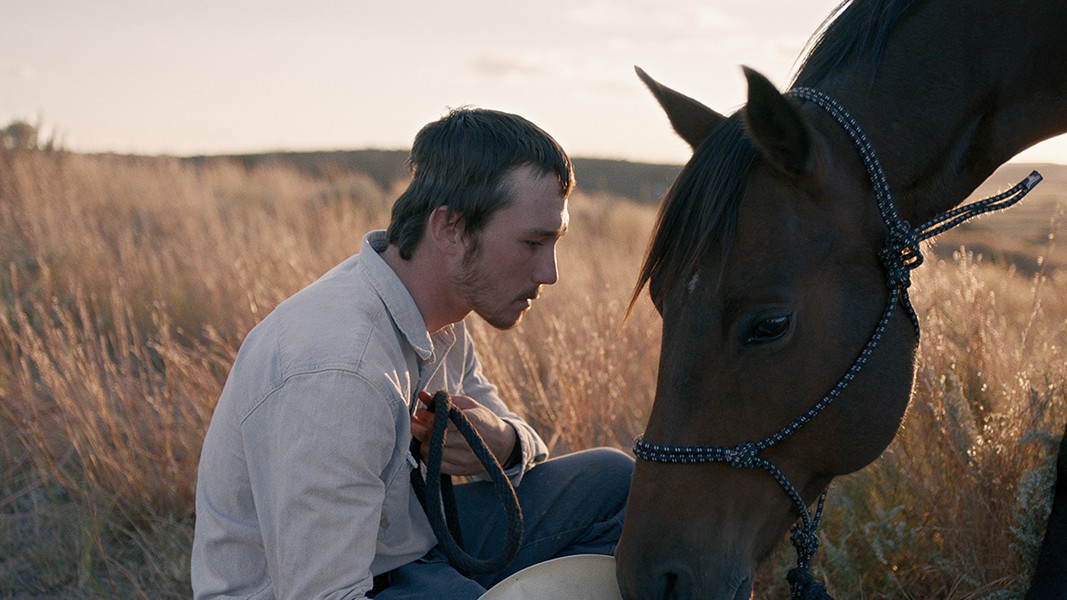 Chloé Zhao's The Rider, a character study of an injured rodeo rider readjusting to his new reality, has the contours of a scripted documentary with "actors" essentially playing themselves. It's one of those slow, quiet movies in which a certain share of the dialogue consists of a man talking to a horse. If you're looking for a brisk, witty, urbane set of situations with snappy, rapid-fire interpersonal communication, podner, you're in the wrong pasture.
That said, writer-director Zhao's portrait of busted-up cowboy Brady Blackburn (played by non-actor Brady Jandreau) builds an impressive, moving drama of everyday life from its unflashy ingredients. Brady wakes up dreaming of horses. His daily recuperation routine of pills, weed, disorientation, and stitches in his gashed scalp is a reminder of the day his horse stepped on his head and cracked his skull. In addition, a "partial complex seizure" affects his hand coordination. The doctor orders him to give up rodeos and even horseback riding altogether — but money is tight, and he and his father (Tim Jandreau) and his developmentally challenged sister (Lilly Jandreau) have bills to pay. And besides, Brady would rather give up living than give up working with horses. He has the knack for calming down even the wildest stallion.
The setting and mood are similar to a classic western, except that not everyone carries a sidearm. The sweeping South Dakota prairie scenery imbues its inhabitants with an eloquence brought out not in their dialogue, but in their actions. Brady and his buddies swap injury stories — his best friend Lane (Lane Scott), an ex-bull rider, is near-totally incapacitated from his own rodeo mishap. When the cowboys pray together, it's in a Native tribal dialect. Brady makes do with a grocery clerk job, but that bores him and he naturally gravitates back to the stock corrals.
The movie's best scene shows what happens when an unruly horse named Apollo meets Brady, the calm, confident horse whisperer. Filmmaker Zhao, a Beijing native who came to the U.S. for college, previously made Songs My Brothers Taught Me, which takes place on a Native American reservation. In common with that movie, her new release displays a gratifying affinity for wide-open spaces and the plain-spoken people who live there. Zhao and her films are worth discovering, and The Rider is a welcome surprise.

[embed-1]