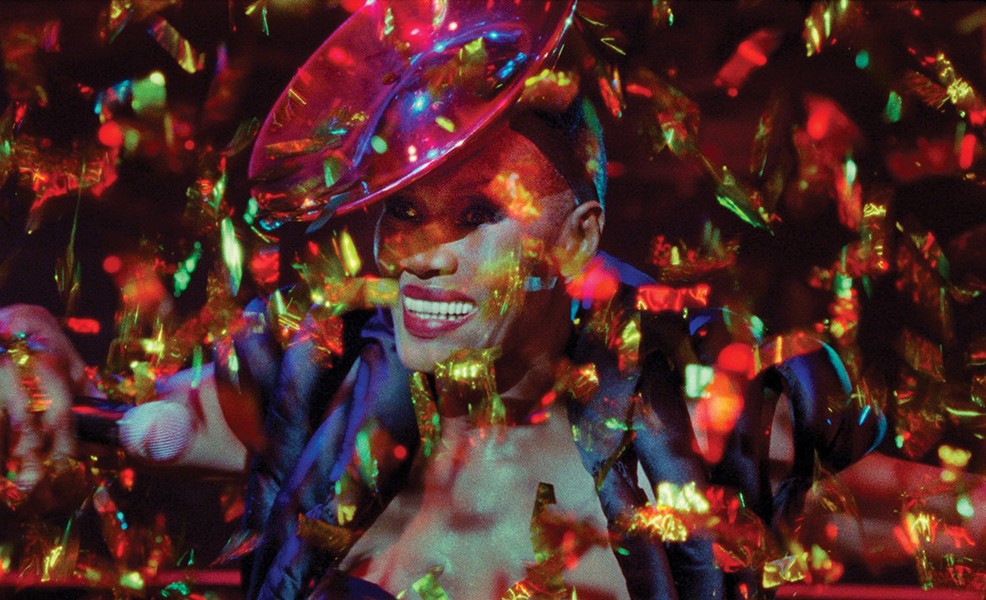 Once upon a time, singer-actor-model Grace Jones, subject of the new documentary Grace Jones: Bloodlight and Bami, strode the pop entertainment world like a colossus of glamour and sex. Her iconic face and statuesque physique evoked ancient deities — some would say that's still true — and her vocal style, set somewhere between Donna Summer and Eartha Kitt (with a whisper of Nico), filtered into discotheques (remember them?) as the voice of fashionable decadence.
She inspired, and was inspired. Andy Warhol, Robert Mapplethorpe, Issey Miyake, former husband Jean-Paul Goude, Giorgio Armani, and Lady Gaga, among many other artists, musicians, and fashionistas, lined up to kiss the hem of her garment. There wasn't a nightclub anywhere, from Paris to Dallas to Hong Kong to Moscow to Kingston, that "Pull Up to the Bumper" didn't penetrate during Jones' glory years in the '80s and '90s.
But that was then. Jones turns 70 this year. Bloodlight and Bami, the latest of more than a dozen films and videos with her name in the title (among some 200 in which she has participated), has a hurried valedictory feel to it. It's evidently meant to resemble stream of consciousness but instead comes across as slapdash. A handful of her greatest hits — performed especially for this film on stage in Dublin, Ireland — is cut together by director-editor Sophie Fiennes with candid-looking scenes of Jones visiting relatives back in her native Jamaica and gazing out hotel windows, with snippets of stage patter sprinkled in. No gossipy tidbit is too insignificant. Jones tries to shuck some raw oysters in her dressing room, but they're as tough as she is: "They got some tight muscles. I wish my pussy was this tight."
The long stretches of concert footage alternate with long stretches of nothing going on, as when she gets into a phone argument with her frequent collaborator, reggae producer Robbie Shakespeare. There's generally more chaff than wheat here. The doc is padded out shamelessly. Worse, when it's not dwelling on random incidents, it's worshipful to a fault. And yet it doesn't tell us much we need to know to understand Jones' mystique, even when ex-spouse Goude and their son Paulo show up.
For Jones aficionados, the musical clips are where the action is ("Amazing Grace," "La Vie en Rose," "Love Is the Drug"). Even without makeup she's dramatic looking, but with it, in the right lighting, she's an African idol come to life, with a lithe, muscular body she obviously works hard to maintain. Full frontal nudity, in tiny glimpses, is part of the show. If Grace Jones had never existed, she would have to have been invented.
Filmmaker Fiennes, sister of actors Ralph and Joseph Fiennes, has profiled other socio-cultural disturbers. Fiennes's docs The Pervert's Guide to Ideology (2012) and The Pervert's Guide to Cinema (2006) riff on philosopher Slavoj Zizek and his pessimistic studies of communication and ideology. Indeed, Jones's ubiquity in pop culture could, with the right lubricant, dovetail into a discussion of the media theories of the late French intellectual Guy Debord, founder of the Situationist movement, and his book The Society of the Spectacle. When it comes to commodity fetishism, diva and magazine-cover superstar Jones is in a spectacular category all her own.
Bloodlight and Bami is sure to leave audiences with unanswered questions. For the perplexed, consider Boomerang (1992), Conan the Destroyer (1984), or Christmas at Pee-Wee's Playhouse (1988). Jones' rendition of "The Little Drummer Boy" in the latter TV special, delivered robotically in a metallic helmet in front of Paul "Pee-Wee Herman" Reubens and the denizens of his whimsical toy land, tells us more about the role of spectacle in modern society than any philosophical treatise ever could.

[embed-1]