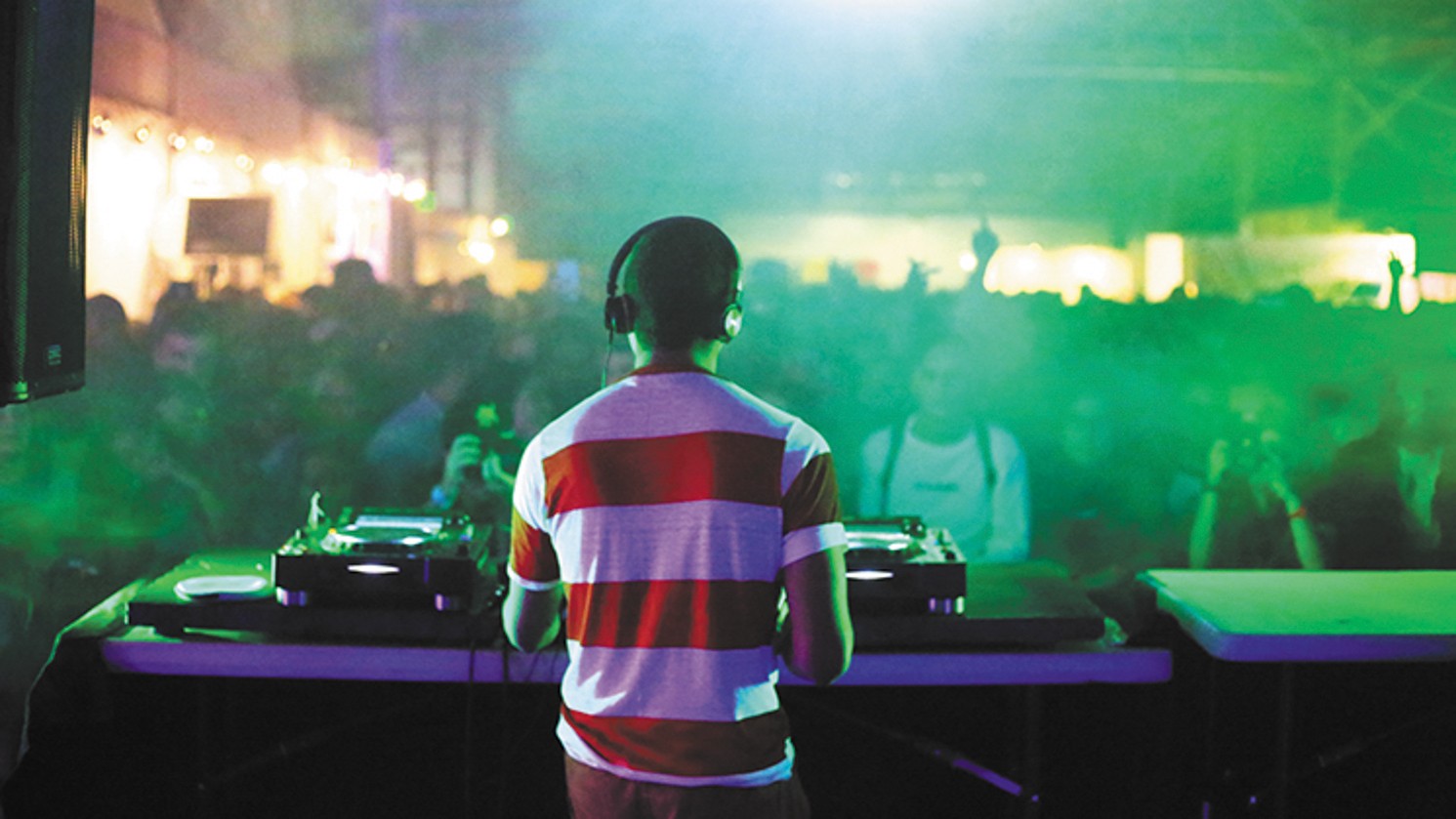 Will Bundy sat beneath a skylight in his West Oakland warehouse home, flanked by a careful selection of houseplants. The setting evokes the nearby, improvised venues that hosted early incarnations of Feels, the homespun art and music festival he co-organizes through culture platform Wine & Bowties. But Bundy is hunched over a floor plan, scuffed with pencil and eraser marks and tiny sticky notes, for a 45,000-square-foot, onetime Ford manufacturing plant on the Richmond waterfront, the Craneway Pavilion.
Bundy called the Craneway Pavilion a "perfect fit," describing adjacent stages, temporary walls for exhibiting art, and food trucks outdoors along the water, noting the importance of industrial ambience to a festival celebrated for scaling, without compromising, the feeling of an underground party in Oakland. "When we first saw the Craneway," he said, "we thought it was beautiful and ideal, but we wanted to keep Feels in Oakland."
Feels 6, which occurs this Saturday, presents a cross-section of independent hip-hop: Headliners include bravura, politicized rappers Princess Nokia and Mykki Blanco alongside chameleonic R&B great Kelis, with locals such as street favorite ALLBLACK, incantatory singer-songwriter Spellling, and left-field techno figure Russell E.L. Butler.
Performing as well as exhibiting visual art is Lonnie Holley, a maverick, Southern autodidact known for his haunting, formless songs and salvage sculptures alike. Oakland artists include painter and Unity skateboards founder Jeffrey Cheung and perceptive street photographer Sadie Barnette. A creative partnership with BAMPFA involves screening films culled from its sprawling current survey of Bay Area art, Way Bay.
The two-year gap between Feels 5 and 6, the longest yet, is partly due to dramatic changes in the landscape for festivals and warehouse parties following the Ghost Ship fire, which Bundy said complicated permitting and disturbed operators of a dwindling number of potential indoor venues with appropriate atmosphere. It's also due to the contentious sale of longtime West Oakland artist studio complex American Steel, which hosted the last three, increasingly popular installments of Feels.
Bundy said that the Wine & Bowties crew — composed of himself and Max Gibson along with Jesse Sachs and, on the art direction side, Ali Madigan — met repeatedly to discuss Feels with 11 West Partners, which purchased American Steel in the fall of 2016. But roadblocks emerged: already-tricky talks with the city's fire and police departments, which oversee event permitting at significant cost, got harder after the fire. "We were optimistic about working with 11 West at American Steel, maybe Pacific Pipe next door," he said. "But between the back and forth, sizing up permits, it got too difficult."
Bundy also remarked that the property changing hands — and reports of new policies rankling longtime tenants, with many feeling encouraged to leave — left him apprehensive. "It was a little sad reading about the change in culture there," he said.
They ruled out several other prospective venues: a Jack London Square office building, the historic 16th Street Train Station, the Palace Theater, the (old) Parkway Theater, and even several breweries and warehouses along the waterfront in Alameda. All were too expensive or difficult to rent and permit, Bundy said, or involved deal-breaker restrictions on sound and how late the event could go — Feels runs past midnight.
Ultimately, Bundy said they couldn't find a viable location in Oakland for the festival's particular needs. Feels is a loud, late-night, mostly indoor event with alcohol and an art exhibition component that draws as many as 3,000 people. It's not an outdoor, daytime event in the style of the similarly homegrown Hiero Day, which ends around 7 p.m., or something that'd feel right in a city park à la garage-rock favorite Burger Boogaloo.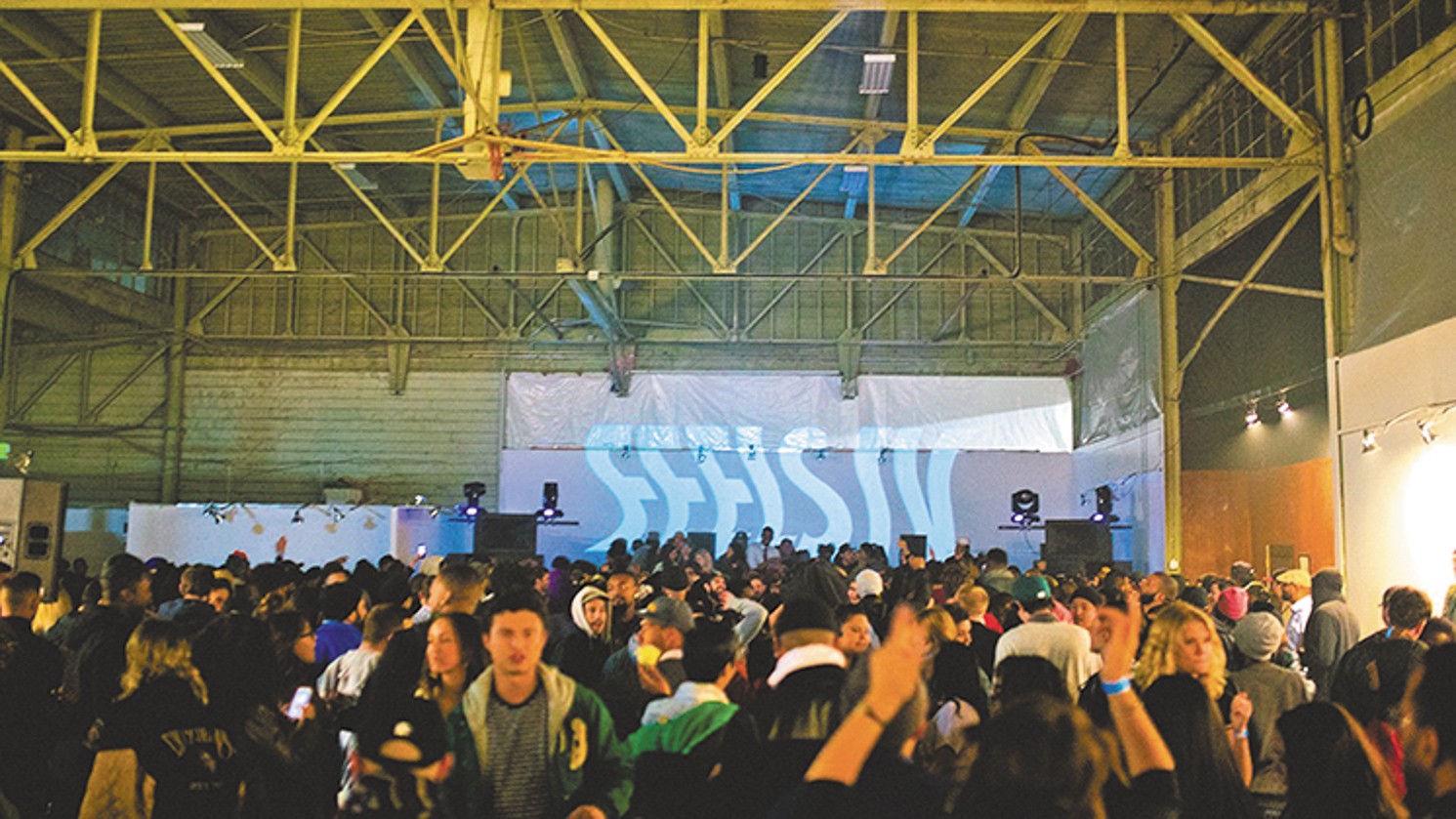 "Everywhere we looked, we were shut down before we got started. Most of these places wouldn't work due to permitting," Bundy said. "Feels is built in the tradition of underground warehouse parties in Oakland, calling back to that history. That's the issue."
With a limited budget, Feels also lacks the "loss-leader" model of corporate festival promoters such as Goldenvoice. About that: This year, Oakland is host to mega-fest Rolling Loud, which is coming to the Coliseum; Blurry Vision, a two-day festival at Middle Harbor Shoreline Park promoted by Coachella operator Goldenvoice; and, at the same park, the return of Noise Pop and Another Planet Entertainment's jointly operated Treasure Island Music Festival. Although the influx of corporate promoters doesn't directly affect Feels, Bundy is suspicious of what the trend means for Oakland.
"I don't see all that as a threat to what we're doing," said Bundy. "We're different in terms of scope and audience. But it's interesting to see what they're bringing to this market. What frustrates me is seeing a huge amount of resources deployed to festivals that don't really leave anything behind for people who live and work here in Oakland.
"I'll also just say fuck Rolling Loud," he added, mentioning an incident at last year's installment at Shoreline Amphitheater when East Bay icon Lil B was attacked backstage by New York rapper A Boogie wit da Hoodie and his entourage. Alluding to Rolling Loud promoting artists such as XXXTentacion, who's facing charges of assaulting and imprisoning his former girlfriend while she was pregnant, Bundy continued, "Nothing against SoundCloud rap, but their booking is super irresponsible. Get them out the paint."
For Wine & Bowties, booking Feels is personal. Madigan is friends with Blanco, and Bundy is friends with Kossisko (formerly 100's), a friend of ALLBLACK. Chaz Bundick, known for leading Toro Y Moi, became a friend and creative consultant after attending Feels 4. Bundy booked Holley, increasingly a fine-art world figure, after meeting the folks at Paulson Fontaine Press in Berkeley, then getting referred to collector family the Arnetts. "Lonnie was on the dream list, someone I totally revere," Bundy said.
There would've been plenty of opportunities to move Feels to San Francisco, Bundy said. "But it's important to stay in the East Bay, and Richmond shares a lot of history with Oakland." Plus, Bundy said that Orton Development, which renovated the Craneway, accommodated Feels with friendly terms regarding security and sound. He's hopeful the event's reputation will still entice Oakland devotees as well as new attendees from farther north.
"I'd be really happy to bring 3,000 people again," he said, referring to the turnout at Feels 5 in 2016. "I'd be really happy to have my shirt on my back at the end of the night."