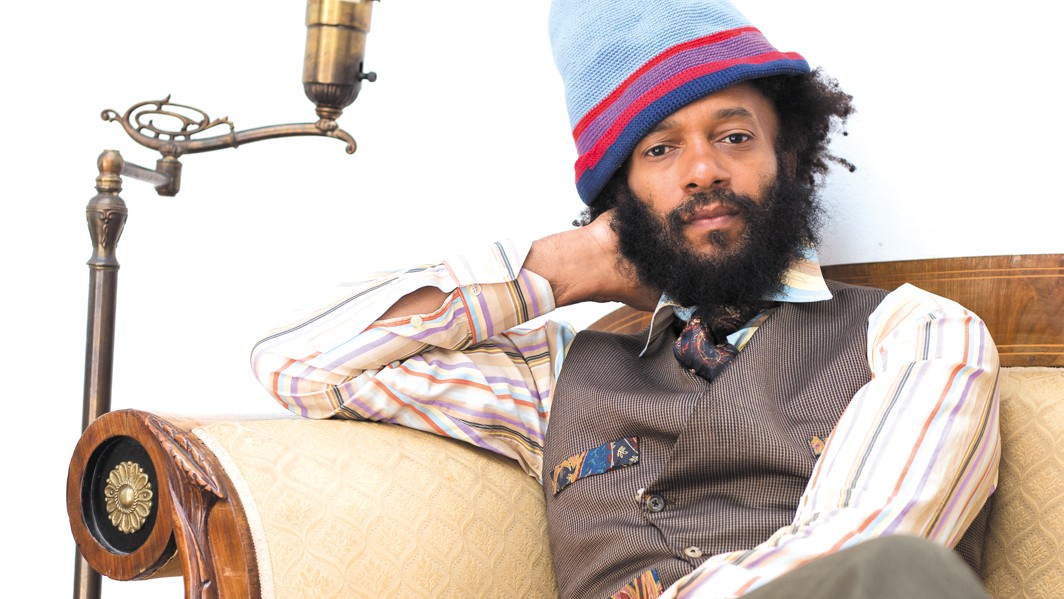 A lot has happened to Xavier Amin Dphrepaulezz, a.k.a. Fantastic Negrito, since the musician won the Grammy Award for Best Contemporary Blues Album last year with The Last Days of Oakland. Since this significant win — not only for the artist, but for the city of Oakland —Fantastic Negrito has also been touring non-stop and putting the final touches on his sophomore album Please Don't Be Dead, which will be released on June 15.
In the midst of all the success that music has given him, with songs about the political and socio-economic changes in Oakland, Fantastic Negrito, like many other artists of color in Oakland, has experienced displacement. In May, his music hub Blackball Universe was pushed out of the building he has occupied for the past six years in Jack London Square. According to Negrito, he was on a month-to-month lease and the landlord wanted him out to take advantage of the current booming real estate market.
Although Negrito is moving Blackball's headquarters to West Oakland, there wasn't an ounce of pessimism in his voice when talking about his personal situation. Instead, he reflected on how the Bay Area is becoming a place solely for the elite, where it's getting increasingly difficult for people of color to remain rooted. "I'm lucky I'm Fantastic Negrito, and it's easy for me to find a new place," he said during a recent chat at the former Blackball Universe site. "Let's shine the light on the people who can't afford to live in this city anymore."
Negrito is constantly finding ways to connect people not only to his music, but also with his mentality that there is a way to build a bridge between the old, pre-gentrified Oakland and the new Oakland that's being taken over by the wealthy. "I want to keep being that voice," he said. "It matters to me."
Negrito occupies part of his time farming near the Oakland Hills; he calls the land "Revolution Plantation." "It's taking back something that has a negative connotation," he explained. "Why is it that when I go up to Tilden and Redwood, I don't see diversity? I don't see any Latinos, any Blacks? Maybe it's because agriculture has Latinos traumatized, and we, as Blacks, we are traumatized with farming."
He described the feeling of being up there, touching the soil, listening to the birds singing, as cathartic. If you've been to a Fantastic Negrito show, you know his catch phrase: "Turn that bullshit, turn it into good shit." This phrase is synonymous with everything he does musically and outside of the music world, when he's just another citizen. It refers to how we, as individuals, can overcome struggles, racism, and displacement.
Fantastic Negrito's music video for "An Honest Man" depicts him in what is his purest and most natural state, humming a song, playing his guitar, and walking down the streets of Oakland. Someone sent the video to Chris Cornell, the Soundgarden singer who committed suicide last year, and he became a fan and invited Negrito on tour.
While overseas, he remembers how people on the street would stop him to ask, "What the hell is going on in America?" "These people look at America as this shining light on a hill," Negrito explained. "'Even when the world is unstable, we can depend on you, America.' Immigrants made America, so why are we now talking about building a wall? 'We don't want Muslims, America first.' This populist, nationalist crap."
It was this honest view of the current political climate in the country that prompted Fantastic Negrito's name for his new album, Please Don't Be Dead. "I looked at America from across the world and thought, 'America, please don't be dead. Please don't be dead, liberty, justice.'"
It's unusual to have a conversation with any artist and not have it turn political, but it is especially the case when talking to artists of color — despite their fame, many are still subjected to discrimination and gentrification.
"This is what prompted this album. I was holding on to this idea of, 'Please don't be dead, America,'" he emphasized. "I was talking to the country I'm from, talking to the people with love in our hearts, because we are out there."
Negrito talked about the fans he has in red states, many of whom probably voted for Donald Trump. He has a way of reaching those people, perhaps not politically, but through the power of music. "As I was in Europe and thinking of my fans, I thought, 'I bet you they like 'Johnny B. Goode.' You know that universal music riff," he said, imitating the riff with his voice while playing an air guitar. Negrito truly believes in the power of music transcending political differences.
"I remember playing 'Plastic Hamburgers' [the first single off the new album] in Norway, and I thought, these Norwegians are probably thinking, 'Who the fuck is this guy with the guitar?'" Negrito recalled. He knew that the crowd's reaction to this new song was another form of the bridge he constantly talks about.
Fantastic Negrito's relationship with music, his fans, and his love for Oakland is bigger than being a Grammy winner. He's not interested in money, fame, or going mainstream. He is a force of positivity using the avenue of music to talk to people, including the ones who might disagree with his views of the world.
"I'm from a unique tribe," he said, referring to Oakland. "We're from the greatest tribe ever." 
Friday, June 15, 9 p.m., $22.50, The Fillmore, 1805 Geary Blvd., San Francisco, FantasticNegrito.com