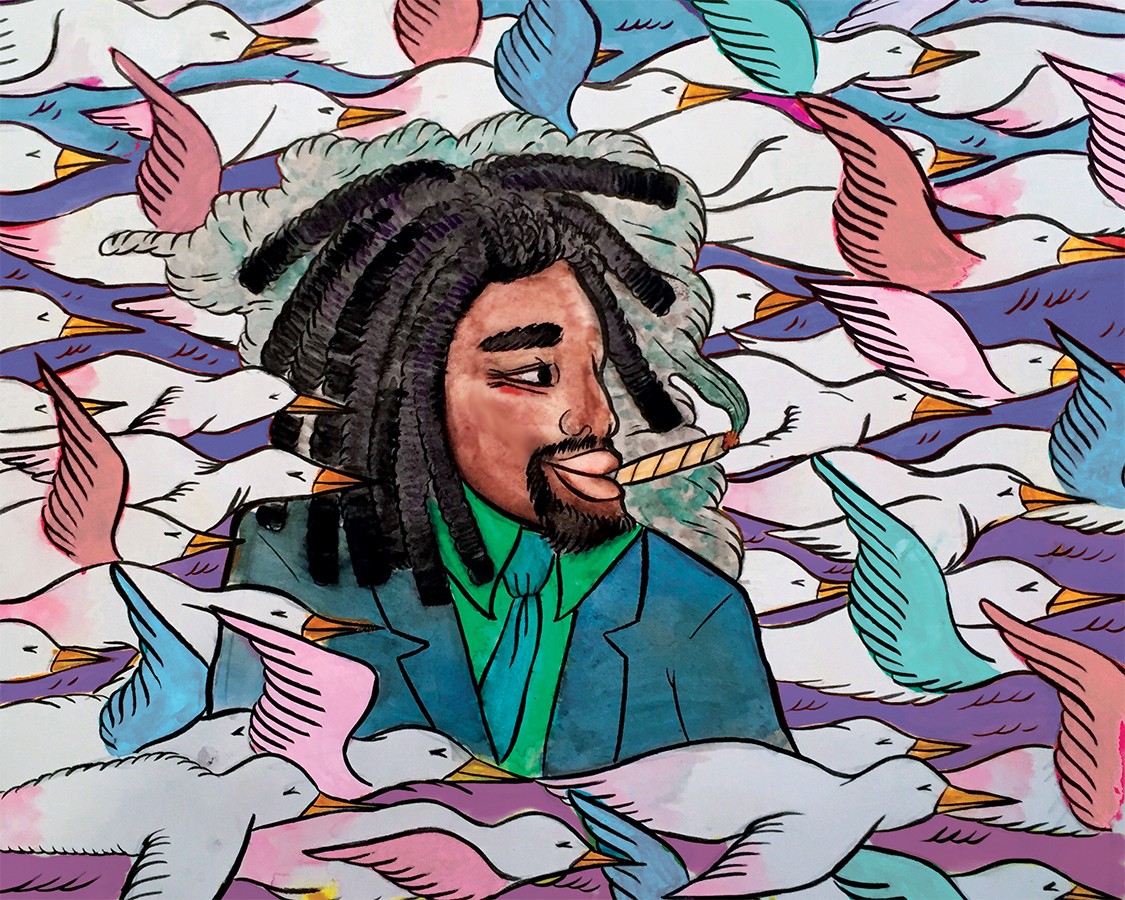 These days, weed and food pairings are all the rage. But what about weed and activities? Not trying to be all Jon Stewart in Half Baked ("You ever see the back of a $20 bill … on weed?"), but cannabis isn't just a drug for sitting around. This summer, make it a goal to get off of your stoned ass and do something:
Activity: Bird Watching at Lake Merritt
Strain: Green Ribbon
Oakland's Lake Merritt has been a protected bird sanctuary since 1870, and is home to more than 100 different kinds of avian splendor. Walk around the lake until you find the geodesic dome, then have a seat and burn one while you look across the water at the giant tree full of cormorants. Imagine what the egrets and herons are thinking.
The sweet sativa dominant flavors of the Green ribbon (née "Green Crack," but no one likes that name) will enhance your walk and make you think that all the bird-themed corny jokes and puns you come up with are hysterically funny. Learn more at GoldenGateAudubon.org's blog post on birding at Lake Merritt. Pro tip: Do this early on a Saturday, so you can walk over to the farmers market near the Grand Lake Theatre for brunch al fresco.
Activity: All the Pinball
Strain: Durban Poison
Come on. Yes, please. Weed and pinball go together like … weed and pinball. The Pacific Pinball Museum (1510 Webster St, Alameda, PacificPinball.org) has all the pinball games from all the years. Durban Poison is a landrace sativa that will get your muscles twitching and your reflexes popping. Look for a game from your birth year and go to town.
[pullquote-1]
Activity: Hiking
Strain: Various
Relax. You don't have to walk fast. Think of it as less of a "hike" and more of a "stroll." Take your time. A wander through Redwood Regional Park goes well with Strawberry Cough. I'm not sure why. It just does.
Try to find the water tanks on Skyline Drive. Stand there and count how many bridges you can see. Get high and stare at a leaf, or a line of ants, for as long as you need. Take a deep breath and enjoy creation.
If you head out to San Francisco to walk along the Embarcadero, I have heard that the strain known as J-1 makes the sea lions especially hilarious. Meander around Oakland looking for cool murals whilst enjoying the spicy goodness of the strain known as Gorilla Glue. Wear comfortable shoes, stay hydrated, and bring a few snacks in case you get hungry. VisitOakland.com has a story on the "most hella awesome" street murals. And you can learn more about hiking among the redwoods at EBParks.org.
Activity: Hiero Day
Strain: Granddaddy Purple and Cookies
Plan ahead, stoner. September 4 is Hiero Day, and you know the Hieroglyphics mob will keep it lit. Of course, if you are at an event dedicated to Oakland, you should smoke weed that typifies the Yay Area. Granddaddy Purple has that nice grape flavor — I got purple. I GOT GRAPES! — and a hella-smooth high perfect for hip-hop head-nodding. See if you can find the variant known as "Ken's Cut," a strain first cultivated by Oakland's infamous Ken Estes. Cookies, the strain made popular by Bay Area rapper Berner, will keep you steady and have you looking for the food trucks.
Activity: Amusement Parks
Strain: Vapes, Bruh
Being pleasantly stoned at an amusement park is one of the best feelings in America. And while many parks have started cracking down on patrons using cannabis, a resourceful stoner knows just what to do: Vaporizers are discreet and delicious. Find the smoking section and take a few puffs of whatever suits your fancy, then ride the roller coaster. Wheeeeeee! Indeed.
Some of you may ask: "Why not an edible?" Edibles are surely a discreet way to get high, but it is very easy to overdo it — and no one wants to be all queasy while riding the Lasso of Truth.
Activity: All the Museums
Strain: Edibles
Take all day. Read every tiny little notecard. The Bay Area is full of cool museums. Go to the African American Museum & Library in Oakland and pore through the archives looking for your relatives. Dress like a hippy and hit up the de Young in Golden Gate Park for the Summer of Love exhibition. Head out to the Exploratorium, or the Lawrence Hall of Science, and do some hands on type-ish.
Museums and edibles are a good mix because you almost always find somewhere to sit if you've accidentally overindulged (remember, 5 MG of THC per 100 pounds bodyweight is a good rule of thumb for first-timers), and they sell coffee. Edibles, coffee, and art is one helluva triumvirate. Edibles are also a great choice for watching movies at the New Parkway Theater.
Activity: Hit the Slides
Strain: Whatever You Like
Time for good old-fashioned fun. All you need is some weed, a good-sized piece of cardboard, and an old-school concrete slide, like the kind they used to build before things like "public safety" and "What about the children?" had any meaning. Golden Gate Park has some nice ones near the merry-go-round. Dorothy Bolte Park in Berkeley has some good beginner's slides. But everyone seems to think that the Cordonices Park Slides in the Berkeley Hills are the best ones in the Bay. Prepare for a few scrapes and bruises, and have fun. Sure, you've been on a long concrete slide before — but have you ever done it on weed? Learn more at 510Familiesc.om/Ride-Concrete-Slide.