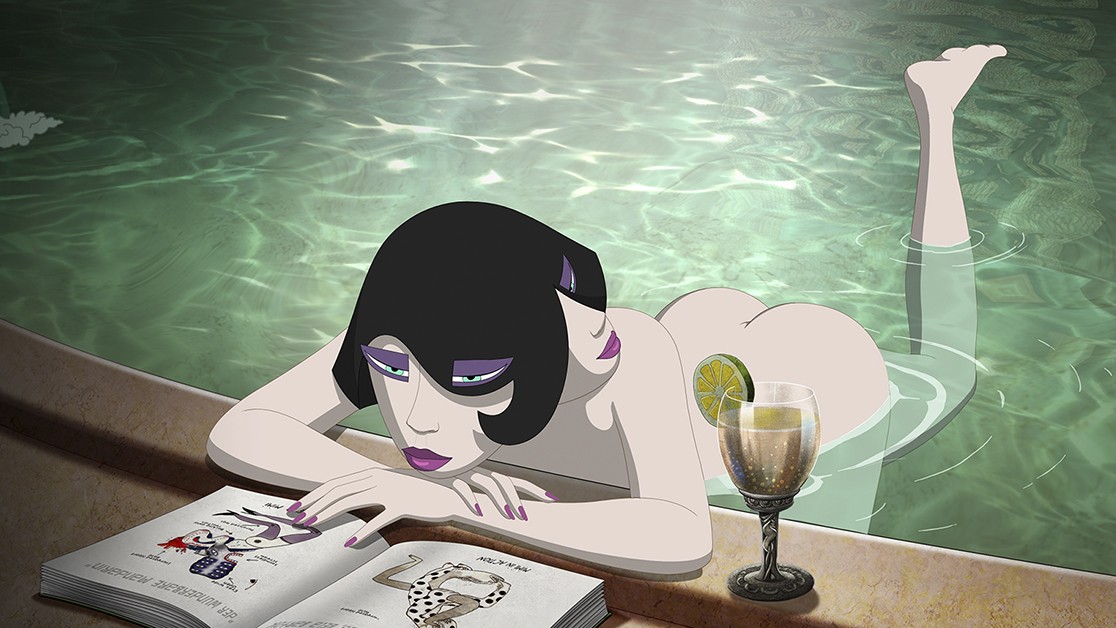 Milorad Krstic's Hungarian-produced Ruben Brandt, Collector runs against the grain of many of the animated fantasies for sale these days. It doesn't try to impart moral lessons or teach us to be kind. Instead, it's a dreamlike crime story, bizarre and violent, with a sophisticated stream-of-consciousness narrative that appeals to adult tastes.
The scenario is simple, with flourishes. At home in his luxurious estate, psychotherapist Brandt (voice of Iván Kamarás) is afflicted with vivid nightmares in which figures from famous paintings bedevil him. In order to stop the bad dreams, Brandt sends a team of agile thieves — led by a parkour-performing movie stunt double named Mimi (Gabriella Hámori) — to steal the offending artworks from museums all over the world, to decorate his walls. It's up to Detective Mike Kowalski (Csaba Márton) to stop them.
That plot line is an excuse for director Krstic and his production team to stuff as many visual-arts and cinematic quotes as possible into the chase, plus a smidgeon of sex. Brandt, Mimi, Kowalski, and the rest of the characters sport vaguely cubistic physiognomies, and what art pieces they don't steal, the filmmaker caricatures: Velázquez' Las Meninas, Warhol's Double Elvis, and Manet's Olympia, among many others, in addition to film tributes to Eisenstein, Polanski, Coppola, and Hitchcock (he appears in cameo as a tray of ice cubes). Special kudos to Marcell Laszlo's production designs. The classical musical cues in Tibor Cári's music score are just as lush.
A dedicated art lover in the mood for light-hearted fun could easily watch Ruben Brandt two or three times to catch all the riffs whizzing by. Endlessly referential, with nonstop spy-movie action and refresher-course Euro-culture intentions, Krstic's artsy caper pic is clearly a highbrow labor of love. It comes highly recommended.
Ruben Brandt, Collector.
Directed by Milorad Krstic. Opens Friday.