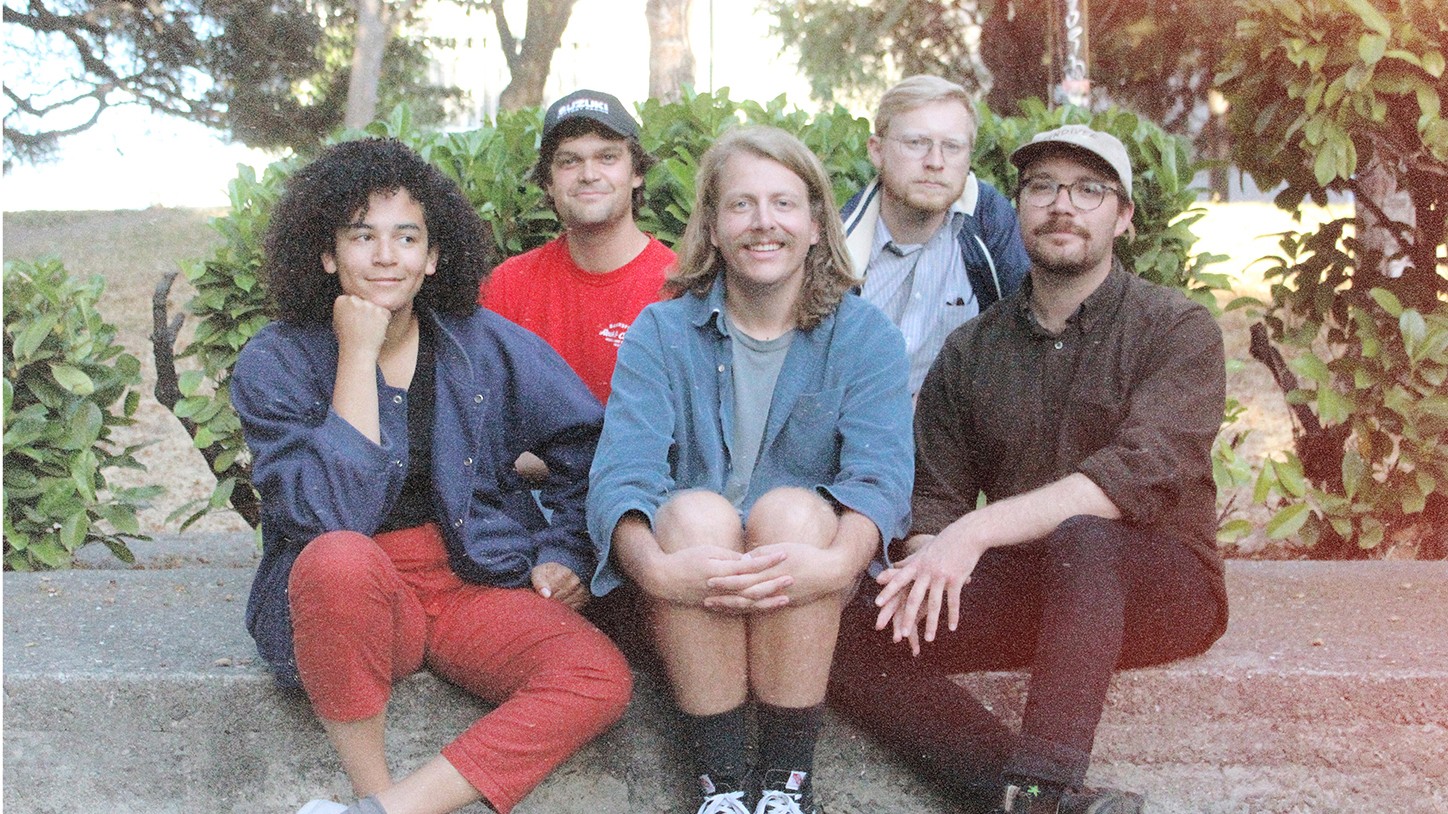 Judging from album artwork alone, the casual record store peruser might assume Half Stack hails from somewhere down South. The band's debut album, Quitting Time, evokes Wild West nostalgia in muted tones of blue and red, with a kitschy illustration of a cowboy lassoing a bull on the cover. Take a listen, and twangy, wistful vocals paired with steel guitar might transport you somewhere far away, lonesome, and with nary a tall building in sight.
But between dreams of the rodeo, a certain sun-soaked, reverb-y California power pop sensibility escapes through the cracks of Half Stack's sound. As it should — the band is based not in Texas or Tennessee, but in Oakland. In fact, Oakland-born indie rock powerhouse Melina Duterte of Jay Som helped record and produce their new album, and the bands even share a guitarist (Oliver Pinnell).
The five-piece met in their college years at UC Santa Cruz before moving back to the East Bay, where most of them are originally from. As they are well aware, country music is a rarity in Oakland, but they're not trying to be anything they're not.
"We would never lie to you in our songs," said guitarist Marley Lix-Jones.
"We don't sing about riding our ponies or raising broncos," joked her bandmate, singer and guitarist Peter Kegler.
Half Stack shares few peers in the local scene other than bittersweet country balladeer Dick Stusso.
"I think we have our own kind of lane in Oakland," Lix-Jones said. "For a long time in Oakland, it was really about post-punk and really loud, serious music. I think one of our goals is to be a counterpoint to that and play music that's honest but doesn't take itself too seriously."
Despite the change in pace from the laidback, jam band college scene of Santa Cruz to the more professional atmosphere of Oakland, the band members have retained their light hearted spirit. Over the course of an hour in a downtown Oakland cafe, they joked about what kind of cowboys they would be ("peaceful cowboys, just trying to raise their crops"), a "very stupid" chain chicken strip restaurant in the South they love to hate, and how they are "always accepting more guitar players" (three of the group's five members play guitar). Even the band's name refers to a goofy, half-baked visual Kegler cooked up but has yet to fully materialize: a stack of pancakes in the shape of a half stack amplifier.
They may keep things light in person, but Half Stack's music often veers toward the existential. Each of the band members also works a full-time job — thus, their album Quitting Time, which they released last month, refers to "pining for that end of the day bliss," explained bass player Callum Beals. It touches on the feeling of restlessness that comes with being stuck in a rut and the constant desire for the part of life that happens outside of work.
"It's not really morose or maudlin," Kegler clarified. "I think it's just being confused about yourself."
Opening track "Dually" sounds breezy, but a bit dissociative: "Is it real at all?" wonders Kegler in a shout-along chorus. A writer with the Fader speculates that "Dually" might refer to Descartes' mind-body dualism — but Kegler said it's not that deep. A dually is actually a type of pickup truck. And yet, the song doesn't have much to do with trucks, either — although there are some lyrics about driving around in a dually (probably while thoughtfully pondering one's existence).
In fact, many of the songs have odd, amusing titles that don't necessarily connect directly to their lyrics. Beals is apparently behind many of them.
"Callum will have a silly idea and then you'll kind of write a song that matches the name," Lix-Jones explained. For example, "Balmorrhea," another song on the album, refers to a "wacky" swimming hole in West Texas they all visited together.
Sonically, Half Stack draws its country-infused indie rock sound from a variety of influences. Beals likes dad rock; Lix-Jones prefers twee; Pinnell draws inspiration from arena rock; Kegler and drummer Digger Barrett both love country music and the Grateful Dead.
"I think initially that's why he and I wanted to start the band," said Kegler of himself and Barrett. "Because we both really liked country, which is kind of underrepresented here."
But none of them grew up down South. Why start a country band in Oakland?
Kegler said he gets his music taste from his father, who grew up on a farm in the Central Valley playing in country and bluegrass bands. He and the other members of Half Stack have an appreciation for old Western movies and the cowboy aesthetic, but without romanticizing it.
"Personally, I'm not too moved by the concept of cowboys, but I do find it kind of charming," Lix-Jones explained. She finds cowboy machismo problematic, but loves the melodrama of early country songs. "It's just straightforward storytelling about really emotionally vulnerable people."
The band members are quick to clarify the distinction between early, outlaw country and current pop country. Today, country music is largely affiliated with more politically conservative regions of the nation — but it wasn't always this way. In fact, prior to the late '60s, country music wasn't especially political at all. Some country musicians, such as Willie Nelson, were even liberal activists. Half Stack aligns themselves strictly with this earlier wave of country. Rather than today's country pop giants, they prefer the likes of Merle Haggard, The Flying Burrito Brothers, Jerry Jeff Walker, Lucinda Williams, and Bonnie Raitt.
"Basically, we're just trying to make music that's true to us," Lix-Jones said. "We're not conservative and shitty, so our music doesn't really pay any homage to that kind of music."
The Oakland cowboy might be a rare breed, but if such a character can exist, we hope he looks a little like the members of Half Stack: emotionally honest, politically conscious, and never taking himself too seriously.
Friday, Nov. 30, 9 p.m., $8, The Knockout, 3223 Mission St., San Francisco, TheKnockoutSF.com.

[embed-1]