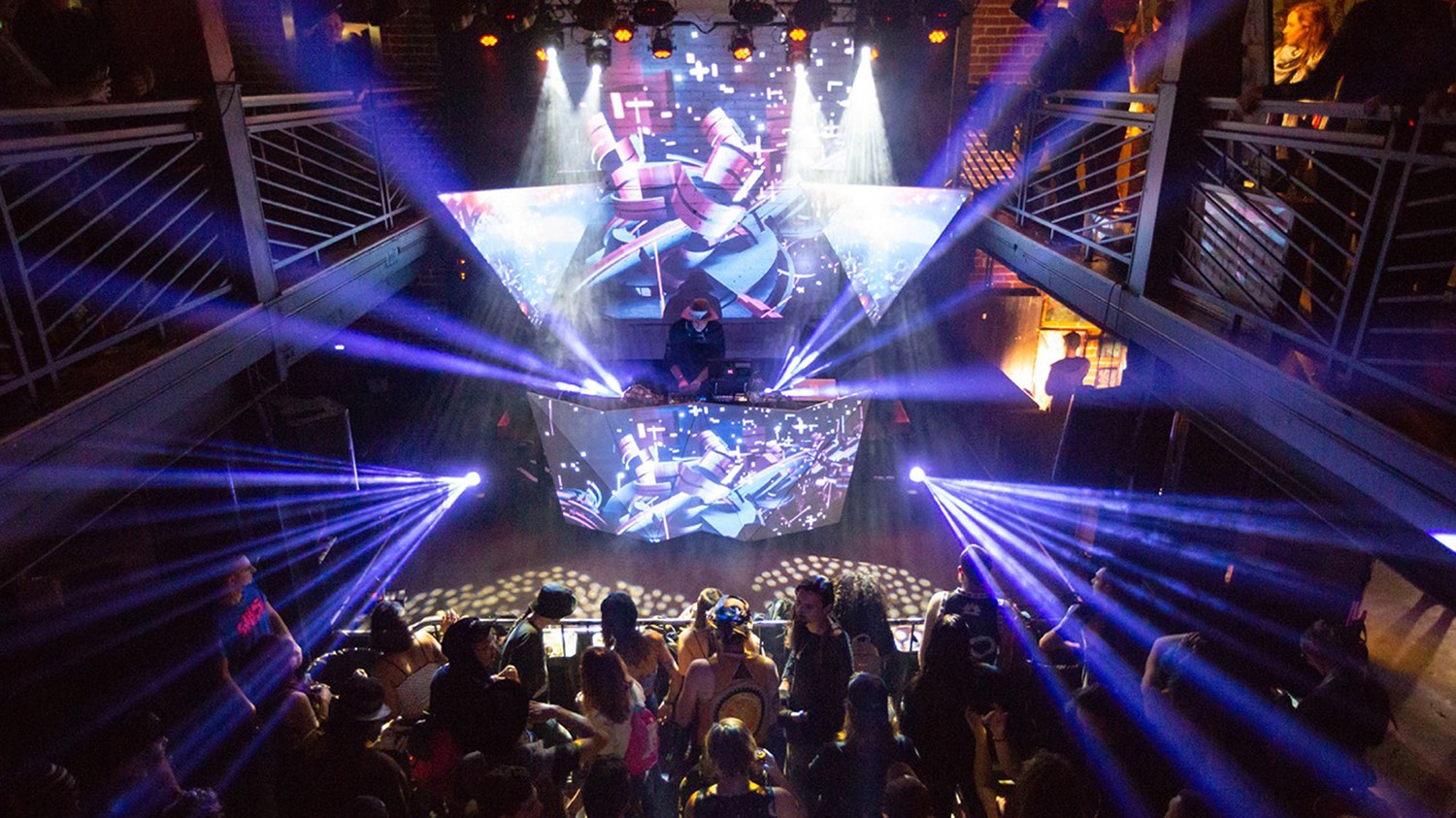 Stroll down the darkened, bunker-like hallway into The New Parish on a Wednesday night and you will inevitably be greeted by three things: throbbing Funktion-One subwoofers, psychedelic visuals melting on a 3-D projector screen behind the DJ, and the sage-scented fug of a transformational festival. It's Oakland's Wormhole Wednesday.
Last week's event, with glitch-hop producers Freddy Todd and kLL sMTH, marked exactly six years of weekly electronic music shows for Wormhole Entertainment. For many, however, it was bittersweet. The week prior, the production company had made an announcement like a bolt from the blue: The Dec. 26 event will be the last in its run of affordable, inclusive shows that have become something of a sanctum for Bay Area bass heads.
With acts ranging from hyper local — Wormhole has launched the careers of East Bay producers such as Duffrey — to international touring producers, Wormhole Wednesday showcases not only up-and-coming musicians but also visual artists, lighting designers, sound engineers, and dancers (think everything from pop-locking hoofers to elegant troupes of belly dancers), all seeking a platform for their creative work, each equally part of the show as the featured DJs. That's not going away, despite the end of the weekly event. Instead, Wormhole plans to refocus on bigger, more impactful shows.
"Our intention from the start was always to embrace and encourage creativity," the Wormhole team stated in a Nov. 7 email announcing the transition. "It seems that we've been pretty successful in doing that and to know this brings great joy to all of us that have poured our hearts and souls into this project."
Morgan McCloud, who runs the company's street team and manages the live painters and vendors at the weekly event, originally conceived of Wormhole in 2012. Then a young stay-at-home father with a 2-year-old, he was intrigued by a beer garden, Portal, in his new Oakland neighborhood and pitched an event to the general manager. Portal agreed to host on hump day—a slow day for business — and Wormhole Wednesday was born, the moniker a nod to the venue's sci-fi-sounding name.
"I had felt kind of disconnected from the scene, so I was very much seeking community," said McCloud. "From the very beginning, Wormhole was about community building."
McCloud, who has a film background, reached out to Gleb Tchertkov, whom he had met through the San Francisco music scene earlier that year. (Tchertkov eventually cut his teeth as a DJ at Wormhole, under the stage name Krakinov.) Benjamin "Benji" Hannus, who produces music and DJs as Secret Recipe — and who had more experience producing events — was involved with early events as a performer and attendee but did not officially come aboard until later, after Wormhole moved to Era Art Bar and Lounge. Today, the three men primarily run the show, although they're quick to note that the laundry list of people who helped found and grow the company would take pages to name.
The first Wormhole Wednesday, on Nov. 14, 2012, coincided with the birthday of a friend and early collaborator, Sam Lewis. Six years later, on Nov. 14, 2018, it did once again — and the whole crew was older and wiser.
"When we were at Portal, we did a Camp Questionmark takeover that got a few neighbor complaints," said McCloud, referring to a Burning Man camp infamous for blasting bass music. "The following week we still had another event, so I called around and last minute we moved to a Mexican restaurant called La Estrellita. They initially thought we were a small tech meeting, so they were a bit surprised to see us bringing in sound equipment."
After bouncing around Oakland venues, Wormhole landed at Era in late September 2013, then followed the bar manager to The New Parish in late June 2014 after they had begun to outgrow the space.
"When we started Wormhole, and even when we moved to Era Art Bar, we never expected to get more than a hundred people to come out to a bass-music party in Oakland, especially on a Wednesday," said Hannus. "As Wormhole rapidly began to grow, we quickly realized that there was a huge need for this type of event in the East Bay."
The brick walls of The New Parish proved an ideal home, allowing the collective to craft the aesthetic they desired by bringing in their own trippy visuals, artists, vendors, and — crucially — a sound system designed to play heavy bass with clarity.
In June, the Wormhole crew began temporarily hosting shows at Cornerstone, in Berkeley, due to renovations at The New Parish. Despite returning the weekly event to Oakland, however, they continued to book one-off shows at various clubs and theaters in San Francisco and the East Bay.
"The renovations forced us to move to Cornerstone for a while — which was definitely stressful for us — but the main reason we are ending the weekly is to free up time to work on bigger, more exciting projects," said Tchertkov.
The move will grant them more space, yes — anyone who's been to Wormhole's most sardine-packed events, like their Halloween shows, will attest that a bigger space is warranted. The team also hopes it'll enable future shows to be more lucrative.
"Ideally, we'd like to grow the company to a point where it can provide a full-time income," said Hannus. "A big reason for ending the weekly part of what we do is that it has proven to simply not be financially sustainable in the long run, and we want to focus on bigger events that are both more fun for the audience and more financially viable on our side of things."
The collective — which also runs an active record label, Wormhole Music Group — currently has a slew of live shows planned in the Bay Area, including Dimond Saints and Thriftworks at The UC Theatre and Coalesce, a three-night New Year's celebration at the Craneway Pavilion in Richmond. Produced in collaboration with Cosmic Synergy, it will feature big-name headlining artists like Tipper and Liquid Stranger.
"The one constant in this crazy world is change," read the email announcement from Wormhole. "Energy is never created or destroyed, it can only be transformed from one form to another. And so, it is with Wormhole Wednesday."