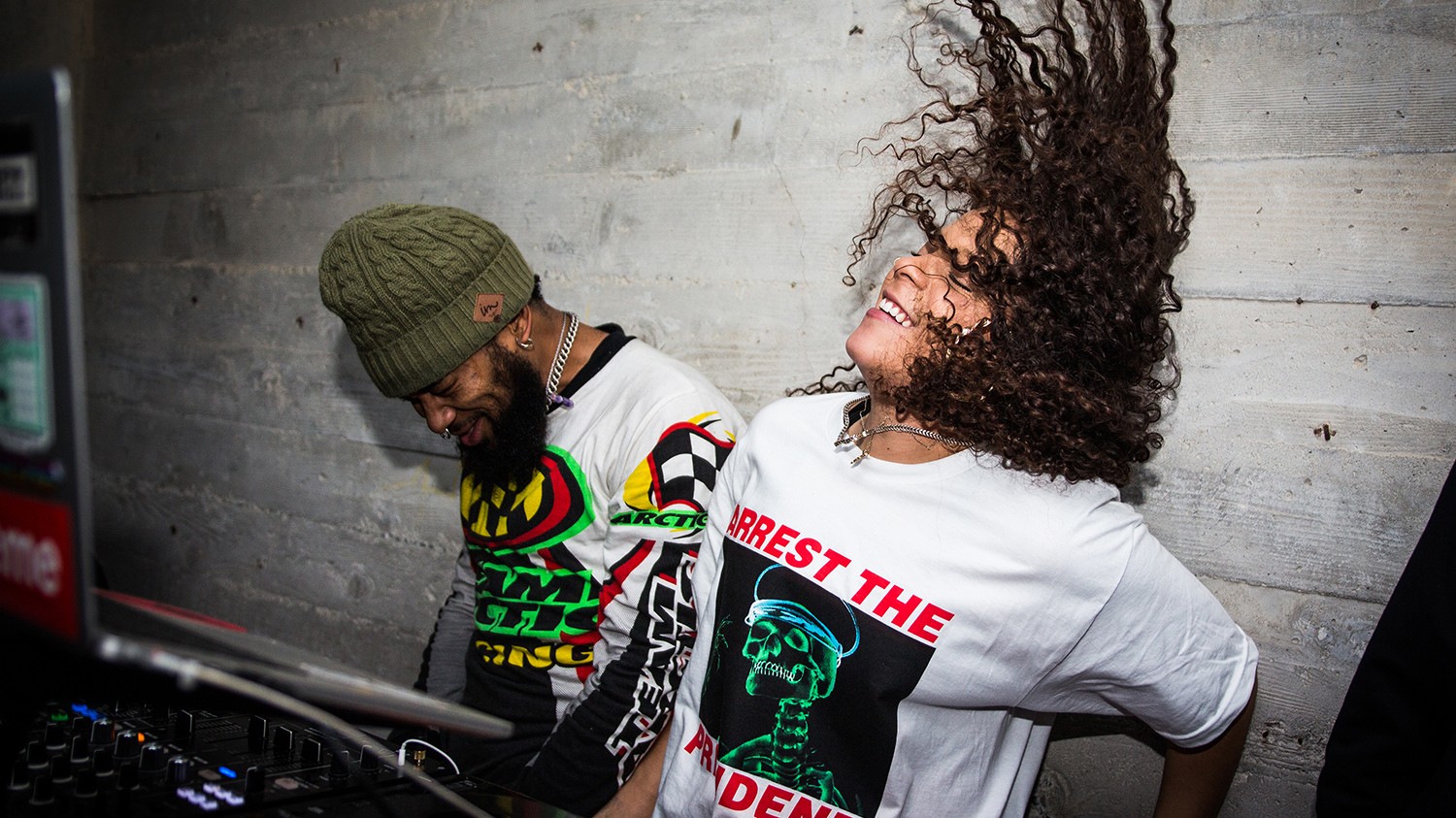 Up-and-coming DJ Krissy Marchante has done her part to elevate women rappers in the Bay Area — but she's sick of women not having each others' backs.
"Oh my God, women are so hard," she said. "It's like there's so little of us, and we are just so competitive."
From the few female faces populating the homepage of WorldStar, a hip-hop video blog, to large-scale celebrity rapper beefs between the likes of Cardi B and Nicki Minaj, the pressure doubles for women in the hip-hop world.
"We have to support each other," said Marchante. "How many guys can't rap that are making hella money?"
Last summer, Marchante dropped a mixtape, Poon Typhoon, starring six different rising local female rappers: DeOzene, Kay Bellz, Qing Qi, Coco Cissoko, Ray Banz, and Outrageous Karina. House beats provide a backdrop to deft rhymes mostly about making and flexing money. Marchante said she draws inspiration from Canadian DJ Kaytranada, but also from a lot of women artists — everyone from Missy Elliot to Tori Amos. Male rappers, on the other hand, start to get on her nerves after a while.
"It's like, shut up, how many times are you gonna diss me in a song?" she said. "I'm like, think about how easy it is for you to call us a bitch."
Marchante met most of the rappers featured on Poon Typhoon at an all-woman cypher DJ Shellheart held at Oaklandish earlier this year. Others she met by chance while driving Uber, or she'd already worked with them before: Marchante deejays regularly for rapper and Thizzler host Qing Qi.
While the Richmond DJ has been very supportive of other women in the scene, she doesn't deny that she's still extremely competitive. "I'm just trying to be the best that I can be, and I want to be on top no matter what. I don't care if you're a child, your grandma, or whatever," she said.
Marchante grew up in Albany's University Village while her mother studied at UC Berkeley. She described it as a very diverse community, where she played with kids from all kinds of different cultures, from Samoan to Filipino to Mexican families. As a kid, she aspired to be a pro skater — until she discovered deejaying.
At age 14, she stumbled upon a house music tent at Live 105's BFD Festival at the Shoreline Amphitheatre. She saw DJ AM perform, and that was the moment that sparked her interest in her future career. An older friend asked Marchante's mother for permission to buy her a small mixer, and she immediately began teaching herself mixing and mastering.
After Marchante's older brother died, her mother was very protective of her — "Every time I messed up in the slightest, she was like, 'You're grounded forever,'" Marchante said.
But being grounded constantly wasn't all bad — in fact, now she's grateful for her mother's strict parenting style. It gave her lots of time to practice deejaying. And even while keeping a watchful eye over her, her mother was always supportive of her craft. In high school, she would drive Marchante to house parties and drop her off around the corner — and, of course, be waiting to breathalyze her when the party got shut down for being too loud.
"I do it for not only myself but for her," said Marchante of her relentless hustle to succeed. "I told her I'm gonna build a house on Albany Hill for her."
She's got it all planned out, too. Step one: move to Los Angeles, play the big clubs there, get scouted. Step two: a contract in Las Vegas. Step three: get noticed, make beats for some big names. Step four: tour the world. And this isn't just a pipe dream — her move to LA is already well underway, and she hopes to relocate by next month.
Marchante prefers the laidback vibe of the Bay Area. "I don't even really necessarily want to go," she admitted. "You know, it's not like I have a fear of missing out, but I feel like it's more busy down there."
She's deejayed pretty much every club in the Bay, and has played shows with prominent rappers such as Saweetie and Princess Nokia. She's even delved into the LGBTQ club scene here a bit, having played at Oakland's newest queer dance party, UNIQ, at the Port Bar earlier this month. But she doesn't want to pigeon-hole herself as a "gay DJ." Marchante sees her potential as having a much broader scope than that, and thinks the Bay has done all it can for her at this point.
"I feel like I've done what I can right now and I can come back to it later. It's not going anywhere," she explained.
She figures LA is the best move for advancing her career right now. And she's prepared to do just about anything to make that happen. One of the things that sets her apart as a DJ, she says, is how badly she truly wants to succeed.
"There's nothing else in my life that I care about more. I'm obsessed. I don't want to go hang out with anybody," she explained. "I'm not satisfied unless I'm onstage making moves."
LA doesn't know what's about to hit it. Marchante has dozens of new projects she's almost ready to release, and she's working on getting support from a label down there.
"I'm definitely about to go stomp around in LA and create my presence down there," she said. "It's about to be 10 times more aggressive than what I'm doing now."

[embed-1]