Californians, meet your first-ever Medical Marijuana Regulation chief — Lori Ajax.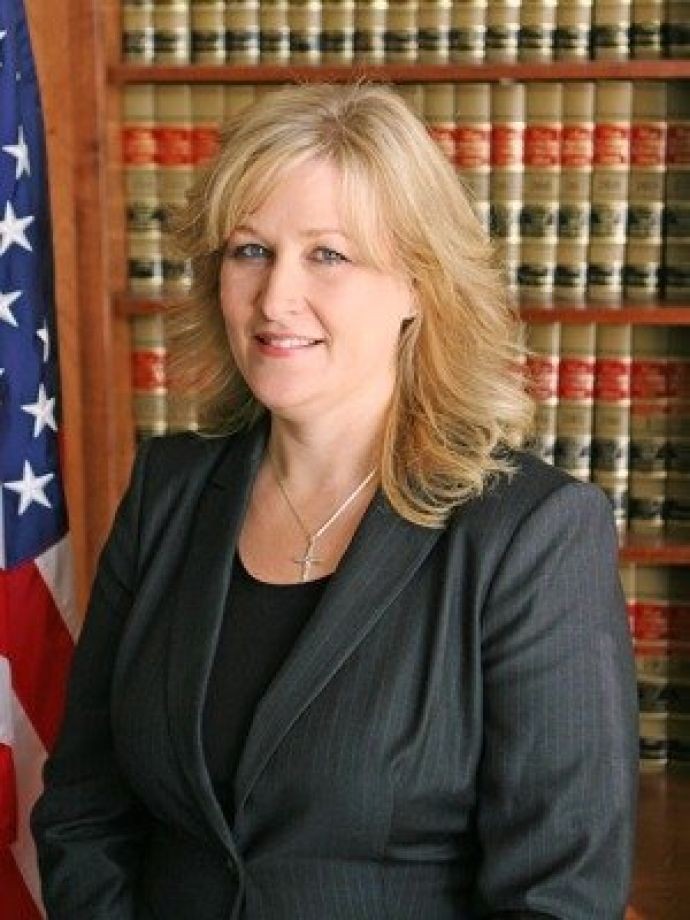 Yesterday, Governor Jerry Brown announced that Ajax — currently the chief deputy director of the Alcoholic Beverage Control (ABC) — will head up the new Bureau of Medical Marijuana Regulation. As chief of the BMMR, Ajax will oversee the implementation and administration of California's first-ever, seed-to-sale regulations on medical cannabis. Ajax's appointment is subject to confirmation by the state Senate.
The Governor's Office
announced Ajax's appointment
Thursday, stating:
"Lori Ajax, 50, of Fair Oaks, has been appointed chief of the Bureau of Medical Marijuana Regulation at the California Department of Consumer Affairs. Ajax has been chief deputy director at the California Department of Alcoholic Beverage Control since 2014, where she has served in several positions since 1995, including deputy division chief, supervising agent in charge and supervising agent. She is a member of the National Liquor Law Enforcement Association and the St. Sava Mission Foundation. This position requires Senate confirmation and the compensation is $150,636. Ajax is a Republican."
Cannabis industry reactions were enthusiastic, as a bureau chief is essential to making regulations work:
"We are excited to have an appointee so early in the year. Answers to a lot of outstanding regulatory questions depend on a functioning bureau," stated Hezekiah Allen, executive director of the California Growers Association. "Having a bureau chief is a critical next step on this process.
"Our members want to see a functioning bureau as soon as possible," Allen continued. "We are encouraged by Lori's experience with state bureaucracy and familiarity with rural counties. This skill set should prove valuable as the state works to create a Bureau capable of protecting public safety and patients while ensuring level playing for licensees of all sizes in all communities around the state." 
[jump] Ajax visited Harborside Health Center in 2014, reports state.
The appointment will also likely assuage cities and counties wary of medical marijuana. The ABC official is a fifty-year-old Republican from Fair Oaks, California — a mostly white, tiny Sacramento County suburb with
bans
on personal outdoor medical cannabis cultivation of a single plant. Unincorporated Sacramento County allows up to nine plants grown indoors.  In July, Sacramento County declared medical pot cultivation a form of
water waste
. (For reference, the Sacramento County region has at least twenty golf courses.)
Her background at the ABC has some political overtones. Some medical marijuana activists — and
police lobbyists
— had pushed hard over the last three years to keep badge-and-gun carrying liquor officials at the ABC out of medical pot enforcement. Brown's office had pushed for ABC control, sources said.
Ajax's Bureau will hire forty to fifty staffers, reports state.

In other news, Governor Brown signed a bill to that could help sooth
California's rash of medical pot bans
. The new law, AB 21, deletes a March deadline for localities to regulate medical pot or cede authority to state officials. Localities reacted to the deadline by banning most medical pot activity. The passage of AB 21 is already having an effect, with some localities tabling plans for bans.
Assemblymember Jim Wood urged local city council and Supervisors to listen to patients and move toward sensible regulations:
"Now that we have given local officials the time to take a thoughtful approach to regulating medical marijuana, I hope they will maximize that time by engaging with the public and having thorough discussions," said Assemblyman Wood.  "In 1996 the people of California voted to have a medical marijuana industry, but, frankly, state representatives dropped the ball.  Years of apathy led to black markets, unsafe neighborhoods, environmental damage, and a culture of criminality.  The historic regulations we passed last year put us on the path to fixing that and pushing the medical marijuana industry into the light. But to succeed, we need our local elected officials—both those who voted for outright bans because of deadline pressure, and those who are just now looking at the issue—to deliver solid policies that make sense for their communities."

  [embed-1]