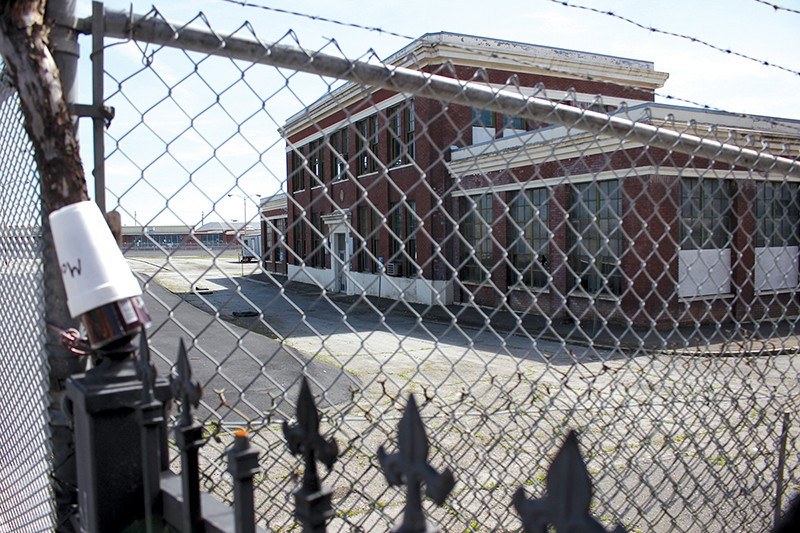 There's not much to the old brick buildings behind a tall metal fence at 5441 International Boulevard in East Oakland — broken windows, a few construction trailers, and lots of pavement. The only clue that there's something wrong with this abandoned property, besides an imposing reinforced metal fence, is the small sign affixed to it, which warns: no digging, no grading, no activities at all without first contacting state toxics regulators.
The place has been fenced off for decades due to extreme contamination. Polychlorinated biphenyls, or PCBs, that were used by General Electric to manufacture switchboards, transformers, and motors in the 20th century, have seeped into the groundwater. Other dangerous chemicals that soaked into earth include trichloroethylene and vinyl chloride.
The approximate 24-acre site has been listed by the California Department of Toxic Substances Control since 1980.
While GE's first local plant, the Mazda Lamp Works at 1600 Campbell Street in West Oakland, has since been converted into loft apartments, the property at 5441 International is currently too dangerous to do anything with. It will require significant investment to clean up, and make safe for anything at all.
However, a proposal submitted to the Oakland Planning Commission shows that GE is seeking permission to demolish the remaining buildings and "cap" the entire surface in concrete, so as to alleviate toxic substance concerns. Beyond that, there are no plans.
Some oppose both the demolition and capping without rehabilitating the site for a future use.
In a letter submitted to Oakland's planning commission, the Oakland Heritage Alliance said it is GE's responsibility to have a plan for the site that preserves the historic buildings and remediates the soil, so that it doesn't "remain the Chernobyl of East Oakland, and a permanent reminder of industrial toxicity."
"With its long history in the East Bay, we feel certain that GE can achieve a good outcome in this important part of Oakland," the letter states.
Naomi Schiff, who sits on the board of the Heritage Alliance, told the
Express
that the property is part of a historic district, so the buildings should be salvaged.
But one of the buildings that GE wants to tear down is rated as the highest importance in terms of historical significance. In fact, the building was built in 1924 to house the studios and offices of the Bay Area's KGO radio station.
GE previously demolished eight other buildings on the property. And Schiff thinks GE has enough money to do something with the site, other than paving over the ground and then leaving it empty.
"This isn't the only toxic site in Oakland, but it's so big, and on such an important street," she said. "They really shouldn't get away with this."
Some Oaklanders have informally discussed the possibility of building a solar-energy farm, or tearing up the pavement, cleaning the soil, and opening a public park. It could even become office space if the toxins were reduced to safe levels.
A GE spokesperson said in an e-mailed statement to the
Express
that the company has been having a "constructive dialogue" with the city, county, and state regulators to "manage historic environmental conditions and to reposition the site for productive reuse."
"As part of this ongoing process, we are open to exploring solar projects and other potential opportunities for future use," the statement said.
But those possible projects haven't been submitted to the city's planning commission for review, and GE's plan to demolish and cap the site aren't contingent on any commitment for a future reuse.
"This, to me, this feels like a way around having a project to evaluate," planning commission vice-chairperson Emily Weinstein said during a meeting on March 15.
Weinstein characterized GE's current plan as an "absence of a proposal," because it would create yet another empty lot on International Boulevard, posing all kinds of other problems for the city. For one thing, the site has been an illegal dumping ground for years, and trash would continue to accumulate if the property is left abandoned.
"If the buildings are considered a public nuisance, what's to say vacant land isn't a public nuisance?" she said.
Ndidi Okwelogu of the Dellums Institute for Social Justice said at the commission meeting that as East Oakland tends to be overlooked in development projects. She hopes the current eyesore can be put to good use.
"We honestly hope something is done after demolition so it's not just sitting there," she said.