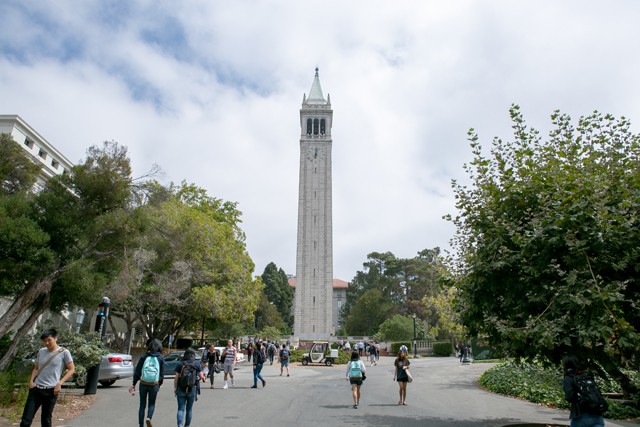 Arturo Fernandez has worked his way through five years of a statistics Ph.D. program at UC Berkeley. But now, he's not sure if he can be legally employed after college.
With U.S. Attorney General Jeff Sessions' announcement on Tuesday that the Trump administration plans to rescind the Deferred Action for Childhood Arrivals program, Fernandez's future and the future of thousands of other student Dreamers covered by the program are in flux.
For Fernandez, DACA has allowed him access to things that most people in the United States would take for granted: a social security number, a credit card, a driver's license, the ability to work.
"In terms of being able to stay in my Ph.D. program, DACA has been essential," Fernandez said, in an interview.
The program has allowed him to teach as a graduate student instructor and apply for fellowships to fund his education.
Of the estimated 500 undocumented students at UC Berkeley, about 400 have DACA, according to Meng So, director of UC Berkeley's Undocumented Student Program. For most undocumented students, the authorization to work that comes with the program is key to being able to attend a university as well as pay for food and rent, he said, in an interview.
Not only does the loss of DACA put students at risk of not being able to attend college, but additionally if these students' ability to work after graduation is stripped away, it could be nearly impossible for them to pay off students loans, according to So.
"I think this moment is a time of incredible frustration, disappointment, and grief for these students," So said. "The future that they've been planning for their entire lives has been ripped away from them."
For now, the hundreds of thousands of people nationwide with DACA protection are living in uncertainty. Sessions announced that the Trump administration plans to phase out the program with the intention of giving Congress a chance to act on immigration policy "should it so choose."
People whose work permits expire on or before March 5, 2018 can remain in the program for two more years if they file a renewal by Oct. 5, 2017, according to UC Berkeley's Undocumented Student Program website. But others who are not eligible for renewal, like Fernandez, could lose their ability to work as early as next year.
Following Sessions' announcement, Fernandez said he wants to continue focusing on the things that he loves: his research, his family, enjoying his 20s. He said that he and other DACA recipients knew that the program was only a temporary solution and he hopes the repeal will light a fire in people to push for more comprehensive reform.
"We get pushed down, we get back up, and we keep going," he said.
Fernandez has a research paper due this week, but he spent Tuesday night protesting outside the federal building in San Francisco.
So also noted that the repeal could be a chance to move beyond DACA and work toward a plan that benefits all the millions of undocumented immigrants in the United States — not just the fraction of them that are eligible for this particular program.
"The community is more resolved to fight," So said. "Many students went 18 to 21 years without Deferred Action and they've been through it before and they're going to fight after."