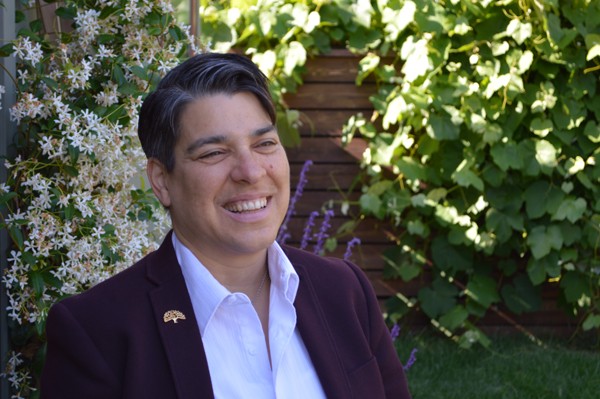 The Oakland City Council last night approved new financial assistance for renters displaced by certain types of no-fault evictions.
Under the new rules, if a tenant is evicted by
a landlord who is moving into the rental unit
, or whose immediate family member is moving in, the landlord must pay the tenant an amount between $6,500 and $9,875, depending on the size of the rental unit. Similarly, if a landlord evicts a tenant in order to
convert the apartment into a condominium
, the payments also have to be made.
The sponsor of the legislation, Councilmember Rebecca Kaplan, said the assistance is necessary to help Oakland tenants pay moving expenses, put belongings in storage, and make a security deposit on a new apartment. It's supposed to prevent residents from being displaced and falling into homelessness, or having to move out the city, which has become increasingly unaffordable.
Landlord groups
opposed the proposal
 and implied that it will cause property owners to hold apartments and homes off the rental market because they will not want to pay tenants to relocate if they or a family member eventually want to move into a home or apartment building.
Several landlords at last night's meeting requested the council to include a "means testing" in the legislation that would only provide relocation payments to lower-income renters. But for the most part, landlords urged the council to vote down the assistance.
One landlord proposal that was included in the final version of the law is a phase-in approach. Instead of becoming eligible immediately for relocation payments, tenants have to live in a unit for a certain amount of time.
Councilmember Annie Campbell Washington proposed phasing in the payments so that new tenants get one-third of the total amount if they're evicted. A renter will have to live in a unit for over one year before becoming eligible for two-thirds of the total relocation payment. After two years they become eligible to receive the total $6,500 to $9,875 if they're displaced by an owner move-in or condo conversion.
Kaplan accepted this amendment, and added one of her own to address another landlord concern. Some homeowners said they might not rent out their house when they go on an extended vacation or move out of city for several years if they have to pay thousands in relocation assistance when they move back.
"I'm trying to move to Ecuador for one to three years," said Jane Stallman, a homeowner who spoke at last night's council meeting. "I plan to come back, but I would have to add thousands to my rent to pay the tenant's relocation assistance."
In other words, a small number of landlords temporarily renting their homes might increase rents, or not rent their house out at all due to the relocation assistance.
The version of the law approved last night included included an amendment to exempt property owners who are moving back into what was formerly their primary residence from having to pay relocation benefits.
As a rule, any rental unit that isn't covered by
Oakland's Just Cause ordinance
is exempted from the new relocation assistance law. This include apartments built after 1995, single-family homes in which a landlord has roommates, and apartments buildings with three units or fewer, with one of the units being occupied by the owner.
Still, even with these numerous exemptions protecting small mom-and-pop landlords, and with the phase-in, and with Kaplan's primary residence exemption, leaders of landlord groups weren't happy.
"You're asking landlords to subsidize tenants," said Jill Broadhurst of the East Bay Rental Housing Association. She requested the council create a "small-owner exemption" that would allow landlords with fewer than five rental units from having to pay the assistance. She also requested a means testing for tenants so that middle class renters won't be helped by the law.
"Sometimes, they do make more than homeowners," said Broadhurst.
Councilmember Gibson McElhaney voted for the relocation assistance, but then added that she intends to bring legislation next year that would create hardship exemptions for landlords.
"We want to work on a hardship exemption," said McElhaney, and "some kinds of means-testing." She added that she believes hundreds of rental units are being held off the market currently because of "onerous laws" that penalize landlords and make it difficult for them to earn a profit.
Housing values have more than doubled in the past five years in Oakland,
according to Zillow
, and rents have gone up an average of 72 percent. Some neighborhoods, like West Oakland, have seen even more dramatic rental price increases.
Councilmember Dan Kalb said he would fight any attempt to impose means testing on any kind of tenant assistance.
"Means testing is a backdoor way to phase out rent control," said Kalb. He said it would create a discriminatory rental market in which every time there's a vacancy, a landlord would pick the highest income tenants. But Kalb said he is open to the idea of a hardship exemption for landlords who genuinely cannot afford to pay relocation assistance.